Amherst Pelham Education Association Rally For A Fair Contract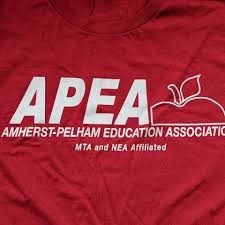 APEA asks the public to please stand with us and come to the APEA Rally for a Fair Contract! 10-11 a.m. on Saturday October 15 on the Town C
The Amherst Pelham Education Association has been working on an expired contract this year. In January the Amherst School Committee first proposed a 2.5% Cost Of Living Adjustment (COLA) and then this Spring they reduced their offer to just a 2% COLA even after all the challenges educaators have face these recent years and the current staffing crisis that we face.
In June, they claimed we're at an impasse and filed for mediation.
On October 11, APEA met in mediation and made a comprehensive offer to resolve every issue in negotiations. But the School Committee did not prepare any proposals or even offer a meaningful response to our proposal.
For more information contact:
Danielle Seltzer, Rep Council
Amherst Pelham Education Association
apeacontractactionteam@aepa