Colorado Sports Blog Trashes Amherst. We Have Last Word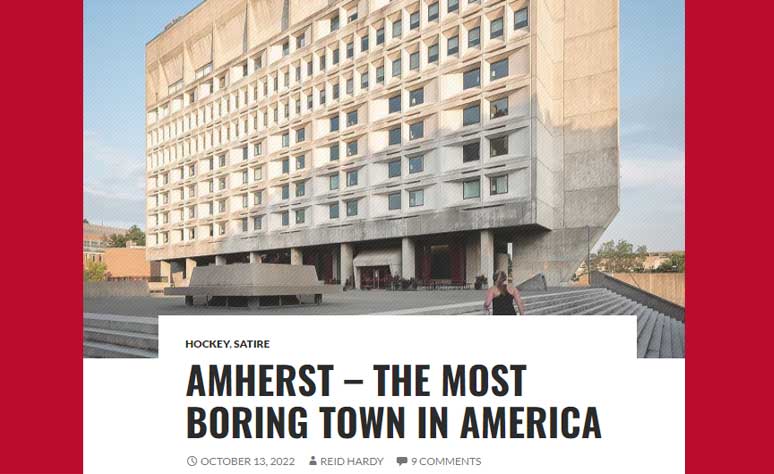 LetsGoDU, a fansite devoted to Denver University athletics, has thrown some shade at the city known as the town of Amherst.
A tongue in cheek post has cited Smart Traveler as recognizing Amherst as "The Most Boring Town In America." It refers to the town as "the city that interesting forgot," and describes UMass campus architecture as "reminiscent of post-World War II Dresden."
Smart Traveler is reported to have written of Amherst, "Just visit a local coffee shop for proof and listen to pseudo-pop academics as they pepper up their boring universe with talk about black hole evaporation, wormholes, and parallel universes."
The Amherst Indy has been unable to verify the existence of Smart Traveler or a "most boring town" review.
The Denver piece was published during the lead-up to a Oct. 14-15 weekend road series of hockey games between the 2022 Division I champion Denver University Pioneers and the 2021 champion UMass Minutemen.
Despite its drab and uninspiring locale, the UMass hockey squad succeeded in serving up a delicious humble pie with a side of crow. They won both games at the Mullin Center, 4-2 and 3-0, dropping Denver out of their #1 NCAA ranking. Last weekend's sweep of two games against Union College raised the Minutemen's record to 4 wins, no losses and one tie. The team is currently ranked the #5 Division I team in the nation.