Town Manager Report For November 7, 2022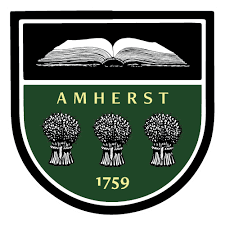 Source: amherstma.gov
Editor's note: Town Manager Paul Bockelman submits a comprehensive report to the Town Council at each of its regular meetings. The reports, usually 9 to 12 pages in length, provide up-to-date information on what is happening within and across town departments. The Manager's Report is usually one of the last items on the agenda and is often taken up late at night, leaving little time for Bockelman to do more than mention a few highlights and this is usually all that gets entered into the Council minutes. What follows is a complete, unedited version of the Town Manager's Report. All Town Manager Reports are available here on the Town's website
Outreach and Advocacy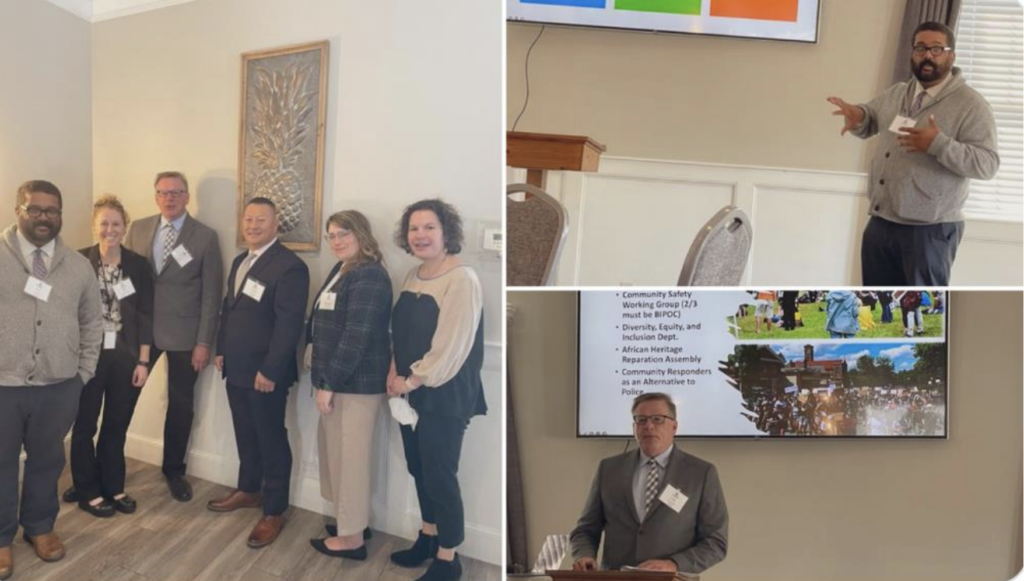 Speaking Engagements:

MMMA Boot Camp: I served on a panel at the Massachusetts Municipal Management Association's (MMMA) "Boot Camp" on September 29th in Sharon, Massachusetts. The topic was "Challenges & Opportunities: The Future of the Profession". The Boot Camp was organized by Communications Director Sunryd who co-chairs the MMMA committee organizing the event.

MMMA Monthly Meeting: The Director of Community Responders and I made a presentation to the MMMA at its meeting on October 20th in Bridgewater. The topic was "Community and Public Safety: the Origins and Development of Community Responders in Amherst". We included Police Captain Ting in the conversation, as well, as he was kind enough to join in the meeting.
Outreach:

Website: A kind resident wrote, "I'm writing today to report a broken link, but the main thing I want to say is how impressed I am with Amherst's websites! I moved here a year and half ago and have never encountered better government systems for everything. Taxes, property searches, payments, complaints, rights of way — everything is really great. Thank you!" I really wanted to share that as Town staff have put an enormous amount of work into making our online systems work better. So, thanks to I.T. and all of the departments that have been migrating their customer service systems online, making it easier for the public to connect with Town services!

Cuppa Joe with Paul:

The last Cuppa Joe was on October 28th at the Bangs Community Center and featured School Superintendent Mike Morris. (Thank you, Mike!) We had a very good turnout.The next Cuppa Joe will be held December 9th. Special guest to be determined.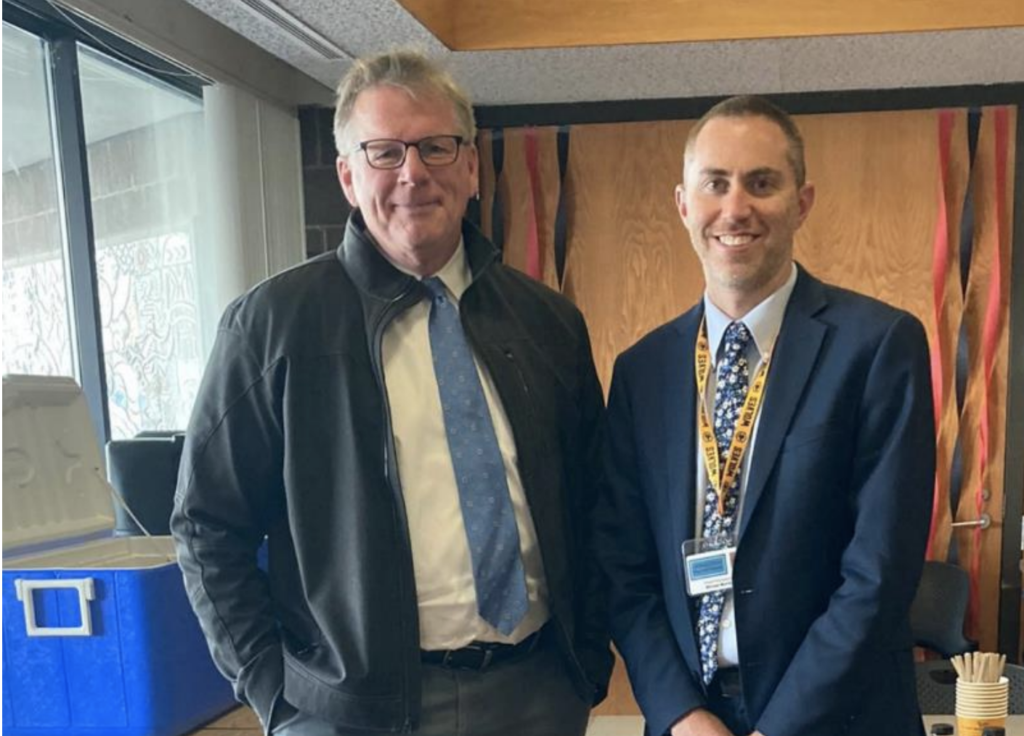 Presentations: Town staff and members of the community will be feature widely – the centerpiece, actually – at the Massachusetts Municipal Management Association's Fall conference being held at the University of Massachusetts at Amherst. This event is not open to the public.
Climate Resiliency:

What steps and initiatives are local governments taking now to mitigate the effects of climate change? Where can you find financial resources? The panel will share their experiences and allow time for questions and input from attendees.

Members of the panel include:

Dr. Stephen Roof, Professor of Earth and Environmental Science, Hampshire College, and member of the Town's Energy and Climate Action Committee

Stephanie Ciccarello, the Town's Sustainability Director

Diversity, Equity, and Inclusion 2.0:

Earlier this year, the Massachusetts Municipal Diversity Equity & Inclusion Coalition (housed at the Metropolitan Area Planning Council) released its DEI Guide. The Guide is written by local government DEI practitioners and includes discussion on how to develop a DEI role or department and how to evaluate DEI in your community and discuss where to begin with DEI in your community, the role of the DEI Director, how to assess your community's needs and how to best further your DEI goals.
Members of the panel include:

Pamela Nolan Young, the Town's Director of Diversity, Equity, and Inclusion.

Digital Engagement:

The Town's t Director of Communications and Civic Innovation Brianna Sunryd will lead this session for municipal leaders.

MMA Legislative Breakfast: The Town hosted the first of several Legislative Breakfasts offered by the Massachusetts Municipal Association. Thanks to the Jones Library for coordinating and the Town Councilors who were able to attend and, especially, to our Legislative delegation for being active participants.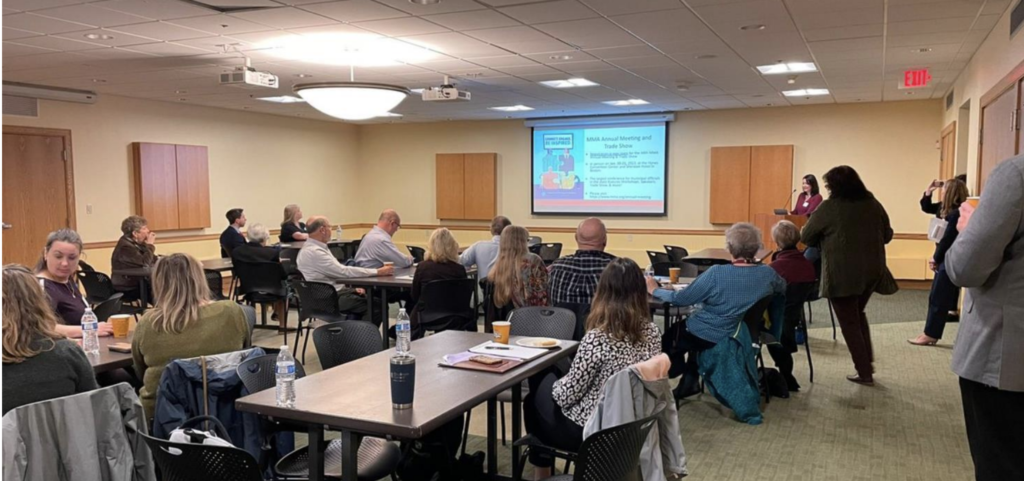 COVID-19
Update:

The CDC's newest COVID data tracker has 15 COVD viral lineages that can be divided into different geographic regions (Nowcast Link). Amherst is in Region 1 and we can observe that Omicron BA.5 continues to recede while new strains are growing such as BQ.1. BQ.1. Its sublineage, BQ.1.1 and XBB, are of particular concern to experts because they have growth advantages due to being highly immune-evasive.

We may experience a surge of cases this fall or winter, and variant and subvariants in themselves don't paint a complete picture. It is challenging to make predictions especially with the U.S. varying immune landscape, but with the less-than-ideal uptake of the bivalent booster, colder weather and people coming indoors, holiday functions and people closer together with less-than-ideal ventilation, coupled with receding receptivity of taking COVID precautions, such as masking – we may be experiencing another winter up-tick. The above are examples of potential spread due to human behavior and not the infectiousness of the variant.
Two additional respiratory viruses are also circulating, influenza and RSV. We can see the beginning of flu cases and case number being documented by the CDC in the US. The CDC reports National Weekly Summaries that start every year on week 40, the second week in September, and the first two documented data points are higher than the past previous five years. Also, this year, we have an increase of RSV – Respiratory Syncytial Virus- cases. The CDC states that RSV is a common respiratory virus that usually causes mild, cold-like symptoms. Most people recover in a week or two, but RSV can be very serious, especially for infants and older adults. RSV is the most common cause of bronchiolitis and pneumonia in children younger than 1 year of age in the United States.

There is more research and data, both in vitro (laboratory controlled) and in vivo (real world done with humans), on the virus and treatment as the pandemic continues, this can be a double-edged sword. If not interpreted properly, single paper research findings can be construed as the final word and have dire consequences. For example, recent headlines read that new research casts doubt on the COVID booster. More time is needed to determine the full potential of the booster, but we already know the bivalent offers broader protection than the previous booster because of it protecting against Omicron, and new research suggests the bivalent offers as much neutralizing antibodies as the previous booster.
Public Health Tools to fight COVID, pharmaceutical and non-pharmaceutical, have been in place and refined since our first discussions addressing COVID in January 2020. We need to keep the message strong – the importance of using them and in the correct situations to mitigate risk, but we also need to balance these tools with the need to keep connected to our community and family.


Locally, case numbers are down, but raw data doesn't capture true COVID burden. We rely on analyzing the incidence rate, monitoring wastewater data, and tracking hospitalization and emergency room bed capacity.

The Town's contact tracer reports that most cases are being spread through attendance at events/parties, within households, and people who have traveled, and not the airplane but standing in line at the airport.
Testing:

Antigen Tests being distributed to high risk and social service partners. They expire end of January so we hope to have them all out by holidays. Tests are still available for free at the Health Department.

Vaccines:

The Health Department continues to promote vaccination as the best tool we have to address the spread and severity of COVID-19 and its variants.

To this end, the Department is working with the State Department of Public Health to offer a Vaccine Equity Clinic. There will be one large clinic at the Bangs Community Center and there will be incentives (grocery store gift cards) for people to be vaccinated. Outreach will focus on the areas of greatest need and lowest incomes. More publicity on this will be coming soon.

The Health Department continues to offer COVID vaccine, primary series and the bivalent booster for ages 12 and up Thursdays, 12:00 noon – 2:00 p.m. Registration is preferred, but there are limited walk-in appointments. The COVID booster is also available in many places locally, CVS, Walmart in Hadley for example. Locations can be found at https://vaxfinder.mass.gov/

Advice:

The Health Director continues to promote important public health steps:

Have a Plan – Find out ahead of time regarding events or gatherings on precautions. Talk before gatherings and figure out your game plan. are people boosted, can you all take antigen tests, who is high risk – as one person said, you can't have your head in the sand. Have a trusted provider, one who knows your medical history, one you can contact if you are sick or have questions. Keep what you need in your house if you have to isolate. If you need help finding health insurance and finding a provider, contact the Health Department.

Have a Back Up Plan – If you are heading out and assess a situation as greater risk than you had anticipated for you or another person, have an alternate plan. For example, an older relative shows up at a crowded dinner table, spread out, open windows or do you need to leave and see them another time.

Use the Right Tool at the Right Time – Masks work, wear the right mask at the right time, for example a procedural mask may be sufficient in some lower risk situations, a KN95 for more crowded, poorer ventilated rooms, no masks in other situations such as outdoors. Antigen tests work to determine if you are infectious, test when symptomatic or on day 5 and 7 after an exposure, know what to do with the results. Consider Paxlovid, an antiviral, when appropriate.

Ventilation is key, open windows, move outdoors if possible

Wash your hands – time and friction, don't touch your face.

Get boosted this fall, stay on top of your vaccination.

Stay home if you are sick, symptoms or COVID are now like other viruses, losing sense of smell is less likely with BA.5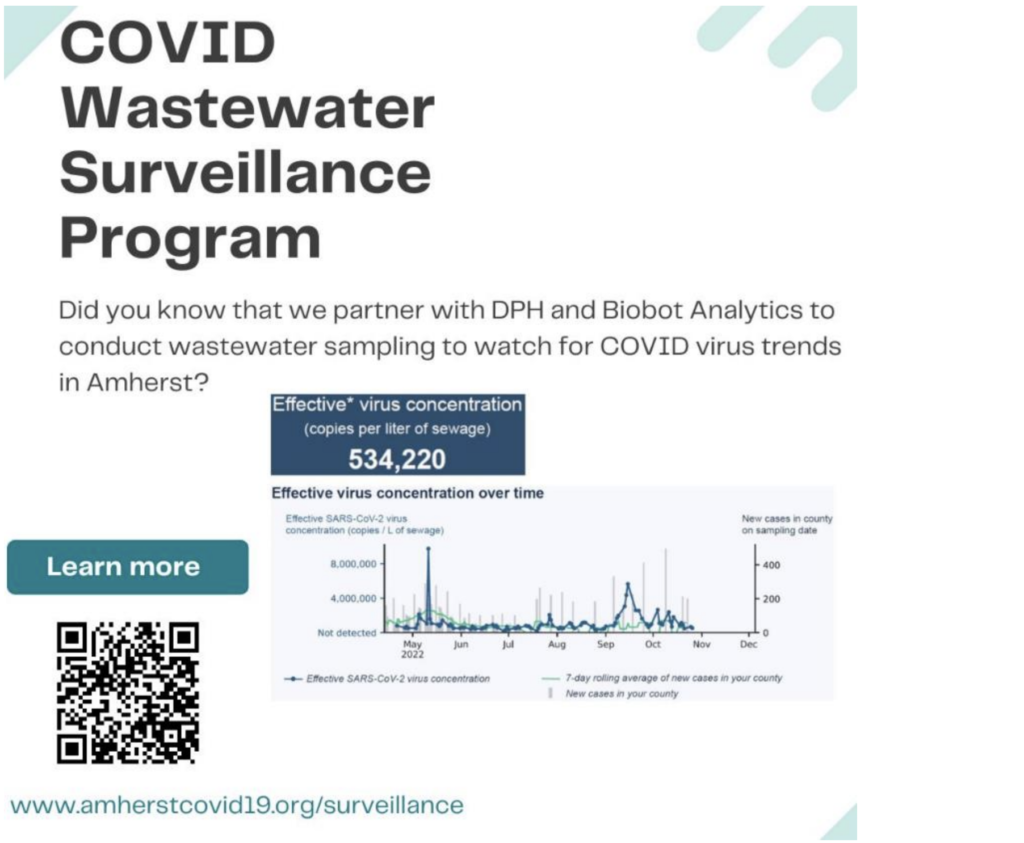 Colleges and University
Amherst College:

New President: Michael Elliott assumed the role of President of Amherst College at the beginning of August. The College inaugurated President Elliott on October 29th. Several members of the Town Council were able to attend the inauguration.Covid-19: The College continues to report its status on its dashboard which can be found here: https://www.amherst.edu/news/covid-19/dashboard

Schedule: Commencement is May 28th.

Hampshire College:

Incident: The recent incident has been resolved and I have had several discussions with the Hampshire College President. The Town's public safety officers (Police Chief and Fire Chief) will be meeting with Hampshire College officials to review response protocols.

Schedule: Commencement is May 20th.

University of Massachusetts at Amherst:

COVID-19:

The latest COVID-19 data for the University is being shared with the campus community weekly and will be updated every Wednesday on the university's COVID-19 dashboard. The dashboard includes positive test results and wastewater testing results.This dashboard, updated each Wednesday, includes positive polymerase chain reaction (PCR) test results, consistent with local state and federal reporting. However, unlike most publicly accessible COVID-19 dashboards, it also includes self-reported positive results from antigen (at-home) tests from members of our campus community.

Schedule: Commencement is May 26-28.
Racial Equity
Community Responders Program:

The Responders are working out of their new offices in the Bangs Community Center. They are following a program of meeting with community members, assisting where they can, continuing outreach efforts, and responding to calls as requested.

They are still in training mode and learning for interactions that they encounter.

Regular teams are meeting – a captains team to review data on a weekly basis and a leadership team that reviews policies, protocols, and procedures, equipment needs, dispatch decisions, etc.

The Director of Community Responders and I will make a presentation to the MMMA at its meeting on October 20th in Bridgewater. The topic is "Community and Public Safety: the Origins and Development of Community Responders in Amherst".

DEI Department:

The Director has been developing a strategic plan for the Department, developing a plan for implementing the Police Residents Oversight Board, meeting with staff, and stepping into many levels of management for the Town. The Director has also developed a draft timeline that would have a Resident Oversight Board begin in FY24. The development and implementation of such a Board would have budgetary implications that would be included in the FY24 Town budget, if approved by the Town Council.
The inaugrual Latinx celebration was held at Kendrick Park on Saturday, October 15th and was organized by the Human Rights Commission and the staff of the DEI Department.

Ms. Young chaired the Town's screening committee for the Human Resources Director.

Staff supported the South Asian Community on November 3rd to experience a light the lamp ceremony and authentic Indian cultural experience followed by a Bollywood dance party.

Reparations:

The African Heritage Reparation Assembly held its first listening session on October 27th. This event was well attended by community members and Town Councilors and centered on Black and African heritage voices. Here is a link to the event, if you would like to watch it: https://youtu.be/CYwNsw8jUmM

Councilor Miller has been invited by the Rappaport Center for Law and Public Policy at Boston College Law School to participate as a panelist in a program on Reparations entitled "Reparations: Current Progress and Controversies".

The program is going to look at local, state, and federal initiatives happening across the country and the challenges of reparations including, but not limited to, eligibility and practicality of implementation.
The event is on Wednesday, November 9th, from 4-5:30 pm in-person or virtual.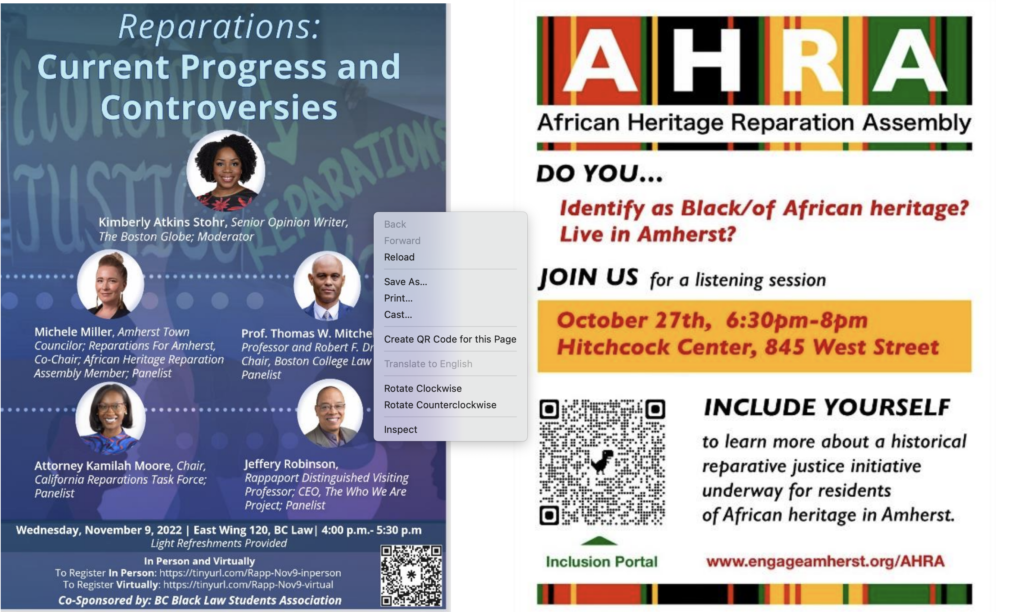 Department Updates
Town Clerk/Elections:

Elections:

November 8th In-person early voting: In-person early voting for this election has been held in the First Floor Meeting Room, Town Hall at 4 Boltwood Avenue and is now complete. Voting was held most days from Saturday, October 22nd to Friday, November 4th.Election Day: Election Day is Tuesday, November 8th. Please vote.

Polls will be open from 7:00 AM to 8:00 PM. Due to the 2020 Federal Census & Reprecincting, your polling location may have changed! Double check you're going to the correct location beforehand – CLICK HERE. More details available at www.amherstma.gov/vote And note that your voting precinct may have changed. Pursuant to MGL Ch. 54 §6, the Town of Amherst has changed its voting precincts as a result of population changes from the 2020 Federal Census. For all voters, your precinct number has changed to reflect the renaming of precincts to correspond to their districts.To view updated precincts, voting locations, and maps click here.

Ethics: The State Ethics Commission is hosting free, bi-monthly training seminars for municipal employees to learn more about the restrictions imposed under the conflict-of- interest law, G.L. c. 268A. These two-hour seminars present an opportunity for the Town's boards and committees to receive important training on the on the law. Seminars are conducted remotely via Zoom. The next training is Thursday, December 1st. Register for the December 1, 2022 seminar

Conservation and Development:

Planning:

Grantapalooza! Three grants totaling over $1million were awarded to the Town last week!

Streetscape Planning Grant: The Town was awarded a grant of $75,000 to develop streetscape standards for the downtown area. The grant was coordinated and submitted by Amherst Planning Department staff. The grant will work on streetscape standards that will complement the Town's other work developing design standards and dimensional regulations for the private realm in its downtown zoning districts. The Town hopes to work with a consultant to review existing conditions; execute a community engagement plan that seeks public input; and develop streetscape standards and implementation strategies.

Sidewalks Grant: The Town was awarded a $250,000 grant to make sidewalk improvements around the Town Common. Awarded by the State Department of Housing and Community Development Housing Choice Grant Program, the grant is part of the Governor's Community One Stop for Growth initiative. The Amherst Planning Department staff worked in collaboration with the Department of Public Works and the Amherst Business Improvement District (BID) to submit the grant proposal. The funds will be used for the construction of new, ADA-compliant walkways in and around the Town Common. These are important walkways that will provide more accessibility to events on the Town Common and the Spring Street parking lot.
Sidewalk Improvements on Belchertown Road: Sidewalks on Belchertown Road near the East Amherst Village Center at the intersection with South East Street will receive much needed improvement, with the award of a $755,000 grant from the State. The Massachusetts Executive Office of Housing and Economic Development awarded the Town this substantial grant under the State's MassWorks Infrastructure Program. The Town's Department of Public Works, in consultation with the Massachusetts Department of Transportation (MassDOT), has been planning for the improvement of Belchertown Road (Route 9) in the East Amherst Village Center from South East Street to Gatehouse Road. The MassWorks grant will help fund new sidewalks and bike lanes on both sides of Route 9 from South East Street to Colonial Village, as well as new crosswalks with improved pedestrian safety. Town funding will be provided for the road paving and utility upgrades.
Sustainability:

Statement: Staff are working on language noting the Town's goal to achieve carbon neutrality that would be included in procurement solicitations.

Solar on the Landfill: This long-term Town project is now LIVE and producing electricity! I ask that Town Councilors Save the Date for a Ribbon Cutting event on Monday, November 14th at 12:30 p.m. at the landfill.

Fort River Farm Community Garden: The Fort River Farm Community Garden Circle had a successful harvest celebration last Saturday. Over 40 people were in attendance, a wonderfully diverse showing and an example of successful community building.

Residential Heat Pump Program: The Sustainability Director is working with the Energy and Climate Action Committee (ECAC) to develop a residential heat pump program utilizing ARPA funding for members of the community.

Solar Bylaw:

The Town has contracted with GZA Environmental to develop a town- wide solar assessment for work being done by the Solar Bylaw Working Group (SBWG). The consultants have had introductory meetings with both the ECAC and the Solar Bylaw Working Group.

The SBWG has drafted an outline and begun to develop the solar bylaw
Solar Assessment: The School Committee reviewed the "Amherst Solar and Energy Storage Assessment" prepared by the Cadmus Group of Waltham. Roofs, parking lots and grounds at the Amherst Regional middle and high schools were identified in the report as the best town- and school-owned sites in Amherst for solar arrays and battery storage. The report notes that models are based on 20 years of operation, and it provides an analysis of estimated lifetime net present value savings, or NPV savings, over that timeframe compared to what is termed"business as usual." Other sites examined included the Bangs Community Center, the police station, the North fire station, Crocker Farm Elementary School, the Spring Street and Pray Street parking lots, the Boltwood parking garage and the Cherry Hill golf course.
Community Choice Aggregation (CCA): Amherst, Northampton and Pelham have hired Mass Power Choice to develop the CCA. They have provided the working group with an initial draft for review. Formulation of the Joint Powers Agreement is anticipated to happen prior to submission of the CCA application to the Department of Public Utilities (targeted for mid-December)

BikeShare: ValleyBike will not keep the stations open through the winter this year due to staffing shortagesTrail Dedication: New signs on the Emily Dickinson Trail at Groff Park were dedicated due to the grant-writing and work of the Fort River Watershed team.

FEMA Flood Maps: Here is what still needs to be done.


CRC to complete public hearing on zoning amendments related to FEMA Flood Maps, and make recommendation to Town Council.
CRC to complete review of FEMA Maps and Flood Insurance Study, and make recommendation to Town Council.
Planning Board to complete review of zoning amendments related to FEMA Flood Maps, and make recommendation to Town Council.
Town Council then needs to hold 1st & 2nd readings and vote on:

Zoning amendments related to FEMA Flood Maps – Article 16, FEMA Floodplain Overlay District and Official Zoning Map changes

FEMA Flood Maps and Flood Insurance Study

The deadline for completing this process is February 9, 2023.

Sheltering:

Craig's Doors: On November 1st, Craig's Doors transitioned individuals from Knights Inn in Hadley to the Lutheran Church congregate shelter. The shelter is now open for the shelter season. The organization will continue to utilize the University Motor Lodge for additional shelter space.

Housing:

Ball Lane: Valley CDC is moving forward with its project on Ball Lane. The project will offer 30 first time homebuyer condominiums that will include 15 duplexes and10 market rate units. Valley CDC had a neighborhood meeting and presented its development proposal to the Affordable Housing Trust and were at the District One Neighborhood Association community picnic on September 11th.

Health:
East Street/Belchertown Road: The Town is working with the chosen developer on a land development agreement.
Mental Health: The Department, in collaboration with the CRESS Department and Wayfinders, held a "Mental Health and Stress" session at the Butternut Farm Community Room on November 3rd. The event featured the Health Director and CRESS Director.
Flu Vaccine: The flu vaccine is also now available. You can receive the flu vaccine and COVID vaccine at the same time. You can combine most procedures, screenings, and vaccinations at the same appointment when you get your COVID-19 vaccination. Talk to your healthcare provider if you have questions.
Human Resources:

Human Resources Director: I have appointed Ms. Melissa Loiodice-Walker as the Town's Human Resources Director. This appointment is now under review by the Town Council. I anticipate a start date in December.

Finance:

New Designation! Treasurer/Collector Jennifer LaFountain is now a Certified Massachusetts Municipal Treasurer. She completed a series of classes and successfully passed an arduous examination. She will be awarded the designation at the Massachusetts Association of Treasurers and Collectors at its formal meeting on November 17th. Congratulations, Jennifer!

Parking Permits: The application for Town Center Parking Permits is now available for the upcoming permit season. Residents may visit the Permit Parking webpage for full details such as cost, parking map, subscribing to parking alerts, and to apply for your permit online.

ARPA:

ARPA Highlights:

The Town has allocated funds to award grants to both current and new Early Education Programs (center and family daycare), to expand or start a new program. The goal of these grants is to support Amherst providers in increasing the number of Early Education slots available to families. The
Early Education Expansion RFP (Request for Proposal) has been released. Deadline to apply is 2:00 PM on Monday, October 31, 2022 http://www.amherstma.gov/bids
The Small Business Grants program is being managed by the Business Improvement District under specific criteria with a target of at least 50% of awards allocated to BIPOC, LGBTQ, women, or other marginalized community owned.

Existing Business Grants: 19 applications; 10 awards. Criteria – located in Amherst, brick & mortar, existing business model, application submitted by deadline, detailed post-pandemic recovery project description with cost, brings foot traffic & economic development to Amherst, and good standing with taxes and the Town.

New Business Grants: 18 applications; 3 awards. (Second round this winter) Criteria – located in Amherst, brick & mortar, new business (open less than 90 days to public), signed lease, application submitted by deadline, brings foot traffic & economic development to Amherst, LLC, bank account, business plan, good standing with taxes and the Town, capacity to stay open (1-year minimum).

Technical Assistance: 9 applications; 3 awards (Funds still available) Criteria – located in Amherst, brick & mortar, new business (open less than 90 days to public), location under negotiation, application submitted by deadline, brings foot traffic & economic development to Amherst, LLC, bank account, business plan, direct need for technical aid, good standing with taxes and Town, capacity to stay open (1-year minimum).

Resident Emergency Aid is up and running.

Flyers were handed out at the Business Improvement Block Party, posted at numerous locations, and promoted through agencies and social media.

As of September 26th, 13 recipients received $25,564.65. All 13 recipients were members of Marginalized Communities (BIPOC, women, LGBTQ, other)

Other Commitments:

Four additional EMT/firefighters have been hired and are working to keep the Town safe.

Premium pay awarded to essential municipal employees with the greatest risk of exposur
Funds awarded to the Survival Center to provide funding for meal delivery for the next 2+ years.
Funds awarded to the BID to engage in economic empowerment activities. The BID has hired Lizzie Alwan to support these activities which include building partnerships with the colleges and the University, supporting entrepreneurs, and local cultural organizations.
Public Health funding used to hire a fulltime public health nurse and to provide administrative support to the health department for COVID-19 related tasks.
Community engagement funds supporting ambassadors, outreach, and other engagement tools.
Funds awarded to the school department for sixth grade transition are being used for planning.
CRESS Implementation funds have been used minimally so far because the Town has received other grants to cover these costs.
Weekend: The weekend of October 29th was extremely busy. That weekend included two college football games, two homecomings with associated events, the inauguration of the new Amherst College president, and numerous Halloween parties. Our Dispatchers, Police Officers, and Firefighters all responded to the dozens of incidents with remarkable speed and professionalism. I thank them for the extra work they put in – that weekend and throughout the year.

Fire:

The Fire Department swore in a new member of the department. Firefighter
Audrey Bulger was sworn in on October 28th.
The Fire Department held its annual Open House on Saturday, October 15th

Police:

The Police Department worked with the University to hold three neighborhood meetings to provide an opportunity for dialogue among neighbors to help set the expectations on quality-
of-life issues for the coming year. In addition to the Police Department, representatives from Code Enforcement, Off- Campus Housing, student legal services, Community Responders and other entities participated. Thanks to the University for taking the lead in organizing.
The Police Department sponsored a "Prescription
Drug Take-back Day" on October 29th at Wildwood School. There was a very large turnout and one of the largest collection efforts since the program began.
Awards:

MWWA Award: Assistant Superintendent of Public Works Amy Rusiecki will receive the Paul F. Howard Award from the Massachusetts Water Works Association (MWWA). The Award is awarded to someone who has shown tireless advocacy on behalf of the water profession. The Award recognizes an active MWWA member whose knowledge and contributions to the profession merit special recognition. This is a very special award and well deserved.

Roads Scholar: Superintendent of Public Works Guilford Mooring has earned the designation of "Roads Scholar" for his commitment in continuing his studies and education on roads. This designation is awarded by the Bay State Roads Program in conjunction with the University of Massachusetts at Amherst College of Engineering Transportation Center.

Leaf Collection:

Curbside pick-up of bagged leaves, using the Town-approved, 30-gallon paper biodegradable bag, will begin Monday, October 31, 2022. There is no curbside collection of loose leaves. Loose leaves maybe brought to the Transfer Station if you have a current sticker. If you do not have a sticker you may purchase one for
$125 (residential sticker), $150 (contractor/business sticker) on-line or at the Transfer Station, Tuesday, Thursday or Saturday 8:00AM – 2:00PM they accept cash or check.
Place bagged leaves at the curb by 7:00AM. on the day your area is scheduled for pickup. Leaf bags will no longer be sold at the DPW or Transfer Station. Bags are available from many retailers, and prices may vary – please check that bags are biodegradable.

The DPW will pick up bagged leaves only and will follow routes designated by areas of town.

Monday, October 31, 2022: East & West Amherst. The WEST area of Town includes: Amity Street, Lincoln Ave. and all streets in between the boundary of Massachusetts Ave and Northampton Rd. (Allen, Beston, Blue Hills Rd., Cosby, Cowls Lane, Dana Pl., Dana St., Elm, Fearing, Gaylord, Hallock, Kendrick, McClellan, McClure, Nutting Ave, Paige, Phillips, North & South Prospect, Sunset.) The EAST area of Town includes: Amherst Woods and Echo Hill Developments and Belchertown Rd. east of Gatehouse Rd, Cortland Dr., Old Belchertown Rd., Old Farms Rd., Harkness Rd. (west side from Stony Hill to Route 9), Heatherstone, Iduna Lane, and Logtown Rd.

Tuesday, November 1, 2022: South Amherst. All streets proceeding from Northampton Rd. (south), Bay Rd, Belchertown Rd. (west of Gatehouse Rd.), Carriage Rd., Columbia Dr., East Hadley Rd., Farmington Rd., Glendale Rd., Hulst Rd., Longmeadow Dr., Middle St., Mill Lane, Mount Holyoke Dr., Orchard Dr., Pelham Rd. (to Town Line), Pomeroy Lane, Pondview Dr., Potwine Lane, Shays St., South Pleasant St., Stanley St.,
Station Rd. (west of Iduna Lane), West Street to Bay Rd., West Bay Rd., and West Pomeroy Lane.
Wednesday, November 2, 2022:  North Amherst. All streets proceeding from North Pleasant Street (north of the UMass Campus), East Pleasant St. (north of Strong St.), Berkshire Terrace, Blackberry Lane, Bridge St., Cherry Lane, Cowls Rd., East Leverett Rd., Fairfield St., Flat Hills Rd., Grantwood Dr., Harlow Dr., Henry St., Hitching Post, Leverett Rd., Market Hill Rd., Meadow St., Montague Rd., North East St. (north from Strong St.), Pine St., Pulpit Hill Rd., Rolling Ridge, Sand Hill Rd., Sheerman Lane, State St., Sunderland Rd., Shutesbury Rd., and Van Meter.

Thursday, November 3, 2022: Central Amherst. All streets within the boundaries and including Strong St., No. Pleasant, College St., and North East St. (from Main to Strong), Arbor Way, Butterfield Terrace, Canton Ave., Chestnut, Churchill, Clifton Ave., College, Cottage, Dickinson, Eames Ave., East St. Common, East Pleasant (from Strong St. to North Pleasant St.), Gray, Grove, Harvard Ave., Hedgerow, High, Hills Rd., Kellogg Ave., Lessey, Main St. (to the bridge at Fort River), Maplewood Cir., Maplewood Dr., Mt. Pleasant, Newell Court, North Whitney, Pleasant Court, Pokeberry Ridge, Red Gate Lane, Salem, Seelye, Shumway, Smith, South Whitney, Spring, Strong, Taylor, Triangle, Tyler Place, Wildwood Lane, and Windridge Terrace.

Friday, November 4, 2022: This day is reserved as a make-up day. If for any reason (such as inclement weather) the DPW trucks are unable to complete the bagged leaves pickup in scheduled areas, trucks will return to the missed area on this day.

Weather permitting; the same routes will be used for a second collection during the week of December 5, 2022. Place leaves, bagged in a 30-gallon paper biodegradable bag, at the curb by 7:00AM for collection on the following dates:

Monday, December 5, 2022, East & West Amherst

Tuesday, December 6, 2022, South Amherst

Wednesday, December 7, 2022, North Amherst

Thursday, December 8, 2022, Central Amherst

Friday, December 9, 2022, will be a make-up day.

Solar and Water Supply: The Water Supply Protection Committee has a draft White Paper on Large-Scale Solar Array Installations and Potential Impact to Amherst's Drinking Water. This document, once finalized, will be shared with the public and the Solar Bylaw Working Group. A member of the Board of Health offered feedback on the paper.

Roads:

Sidewalks:

Work on Kellogg Street sidewalks has been delayed due to supply chain issues with granite. Work continues on sidewalks on Taylor and Gray Streets. Roadway reconstruction on Mill Lane, between Groff Park and West Street is complete.
The Town's contractor, Taylor Davis, began sidewalk replacement work on McClellan Street on September 30th and continues. On-street parking is restricted.

Road Paving: Road paving is ramping down as the weather starts to change.

Northampton Road: Caracas Construction continues to work on road construction along Northampton Road. Extended hours of construction have been approved by the State to expedite the project so it can be "buttoned-up" for the winter. This project is part of the Massachusetts Department of Transportation roadway reconstruction project that extends between University Drive and South Pleasant Street.

West Pomeroy Lane: We anticipate this road will be paved in the first half of 2023.

West Street Bridge: The rails on the east side of the West Street Bridge at Mill Lane are scheduled to be replaced. Town funds will be utilized. The project is set to be bid with an expected cost of about $100,000. Bids are expected to go out shortly.

West Street Sidewalk: The collapsed sidewalk was replaced with a small bridge. The bridge was installed and then, within a day, was damaged by a motorist who hit it by accident. The Jersey barriers are now back as DPW workers work to repair the damage.

Water Main Break: A major break in a water main on West Street between Longmeadow and Glendale required the public works crews to respond at midnight, Friday night. They worked through the night and into the next day, finally getting water turned back on to the neighborhood and repairing the main by 3:00 p.m. the next day (Saturday). Many thanks to our crews who responded over the weekend to fix the break.

Economic Development:

Small Business Permitting Guide: Under a grant from the Town, the BID has drafted a guide for small businesses.
Town staff are now reviewing the publication.
Grants: The Town allocated
$25,000 to help small, brick and mortar, storefront businesses throughout the Town with project-based grant assistance. A "Project" can be, but is NOT limited to: exterior upgrades such as paint, lighting, or awning replacement; interior upgrades such as paint, shelving, internal branding/marketing; Marketing
Technology needs such as branding, logo upgrades, web design, social media training.
The program is being managed and overseen by the Business Improvement District
Economic Empowerment: The Town, in partnership with the Business Improvement District (BID), has allocated $250,000 of American Rescue Plan Act (ARPA) funds to support small business empowerment and economic development over the next two and a half years. The program will be created and overseen by the Amherst BID in collaboration with the Amherst Area Chamber of Commerce. The program will make connections with both existing and prospective businesses, the local colleges, and University and work to sustain local businesses, artists, cultural organizations, and entrepreneurs.
Events: Upcoming events include
Holiday Event on December 2nd
Gift Card Day on December 3rd and 4th
Holiday Stroll and Sip on December 15th
Luminaria on February 4th
Ice Sculpture Festival on February 11th
Community Services:
Medicare: Open Enrollment began October 15th. If you're turning 65 it's time to consider your options.
Senior Spirit: The latest edition of the Senior Center's newsletter can be found here: https://www.amherstma.gov/ArchiveCenter/ViewFile/Item/15205 If you haven't reviewed the newsletter in a while, click the link to see the new look with easy to read text and a million activities.
CR Café: The Senior Center is starting a weekly CR Café, that stands for "Can't Remember" café! Every Wednesday from 10am – 12noon, Town residents are invited to the Senior Center to enjoy company, entertainment, and some good treats!
Halloween: The Department offered its annual Halloween Spooktacular on Sunday, October 30th. There was trick-or-treating throughout the downtown with businesses opening their doors to the young
costumed guests and
Veterans: The Veterans Services Department is
sponsoring a special breakfast for veterans on November 11th (Veterans Day) at 9:30 a.m. in the Bangs Community Center followed by the traditional ceremony on the Town Common.
Delegated Authority:
Short-Term Event Uses of Town Commons (Section 1a of the Town Council Policy):

Sustainability Festival by Town Staff (South Common): April 22, 2023

Cider Run by Amherst A Better Chance: October 13-14, 2023

Short-Term Parking Requests (Section 2a of the Town Council Policy):

43-51 North Pleasant Street: five back-in parking spaces in front of Amherst Oyster Bar (fka Judie's)

November 5, 2022 – Three spaces on North Pleasant Street in front of the Unitarian Universalist Society – South Asian Celebration

Short-Term Public Way Closures (Section 3b of the Town Council Policy):
Placement of Road and Temporary Signs (Section 3d of the Town Council Policy):

Hartford Half-Marathon: November 6, 2022 (From Haigis Mall to Norwottuck Rail Trail)
Major Capital Projects:
Jones Library: Up-to-the-minute updates can be found here: https://www.joneslibrary.org/buildingproject

MBLC:

There are 12 communities, including Amherst, that applied for $96.3M worth of Massachusetts Public Library Construction Program grant funding. Due to the pandemic, the total cost of construction for these 12 projects has escalated from $235.5M to $323.2M. The grant funding is awarded as a percentage of the total cost of each project. Due to cost escalations, the grant funding has gone from providing on average 41% of the cost of the projects down to 30%. These 12 libraries, including Amherst, collectively sent an appeal to the governor and lieutenant governor requesting an additional $87.7M in ARPA money earmarked for library construction projects in the supplemental budget now being created to bridge the cost gap created by the pandemic. The impacted libraries are actively working with their legislators. Both Senator Jo Comerford and Representative Mindy Domb have been working hard on behalf of our libraries, and you too, can help too by clicking on this link and advocating with the legislature to provide additional funding for these important projects across the state. Take Action For Massachusetts Libraries!
Amended Memorandum of Agreement (MOA):

The amendment to the MOA has been signed by the Town Manager and the Library Trustees. For background, on April 5, 2021, the Town Council authorized the Town Manager to enter into a MOA with the Jones Library, Incorporated whereby the Trustees agreed to raise the Library's share of the project costs of $6.6M. Due to the projected escalation in the project cost, it was determined that this MOA signed last year, should be amended. On September 19, 2022, the Town Council voted to authorize the Town Manager to amend the existing MOA to include a bridging agreement for the time period through the bidding phase of the project. This MOA will enable the project to proceed to a point when cost certainty can be obtained. Although the Library has committed to raising the additional needed funds, the Town will still need to authorize borrowing for the project. Once the bids are unsealed and the actual project costs are known, the project will go back before the Town Council to authorize any additional borrowing, if required.
DPW Building/Fire Building:

Staff continue to explore multiple options for a new site for the Department of Public Works.

We are exploring options of working with the University of Massachusetts architecture department (and former Town Councilor Steve Schreiber) to work with graduate students who will be working on a competition to design a fire station. The competition is sponsored by the Metal Building Manufacturers Association (think "Butler building"), thus the assumption is that the proposed designs will be metal buildings.

Elementary School Building Committee:

The MSBA Board of Directors voted to move the Fort River Elementary School into the Schematic Design phase. In the Schematic Design phase, the MSBA and the Town will look at possible options to consolidate the existing Fort River Elementary School and the Wildwood Elementary School and construct a new facility serving grades K-5 on the site of the existing Fort River Elementary School. The next step is for the MSBA to work in collaboration with the Town to produce detailed designs for a potential project.
Projects Update:
North Common Restoration/Main Street Parking Lot:

The Town was selected by the Commonwealth of Massachusetts and the National Park Service to receive up to $827,065.50 in federal Land and Water Conservation Fund (LWCF) grant assistance for the revitalization of the North Common in Amherst.
The project will completely transform an approximate 1-acre area of the Town Common bounded by Spring Street, South Pleasant Street, Main Street and Boltwood Ave. The effort is the result of years of public input and will activate the area for residents, visitors, downtown businesses, and the broader community.

The work includes adding new accessible walkways, improved lighting, gathering areas with tables and chairs, central space for small performances, a plaza in front of Town Hall, planting of new shade trees, rain gardens/storm water infiltration areas, and spaces for public art.

The major maple tree on the North Common will be removed prior to Thanksgiving, depending on the availability of a crane service to remove the tree.
North Amherst Library:

The foundation has been poured and work is making steady progress. They are a little behind schedule due to supply chain issues, but we are confident we will get back on schedule.
Hickory Ridge:

Town staff are working towards the development of a land-use and management plan for Hickory Ridge which will outline various options for the types of activities and uses which can take place at Hickory Ridge and how the site can be maintained and managed to best serve the community and the sensitive habitat on the site.

Stay tuned for more information about the plan development and how to stay engaged with the project.

Town staff are preparing an assessment of the existing structures to determine which are usable and which are not.

Pomeroy Village MassWorks Grant: The Town received bids for the Pomeroy Village Roundabout and associated work and has awarded the contract to move the project into construction. Some work will begin this fall but the real construction will begin in 2023.
Solar on the Landfill: Please save the date for the long awaited solar landfill ribbon cutting event being held Monday, November 14th from 12:30 – 1:30 PM! Details to come!
Upcoming Meetings and Events:
November 11th – Veterans Day
November 21st – Town Council Meeting
November 24-25th – Thanksgiving Holiday
December 5th – Town Council Meeting
December 19th – Town Council Meeting
December 23rd – Christmas Eve observed (half-day holiday)
December 26th – Christmas Day observed
January 2nd – New Year's Day observed