Issue & Analyses: There Is A Safe And More Affordable Alternative To Toxic Synthetic Turf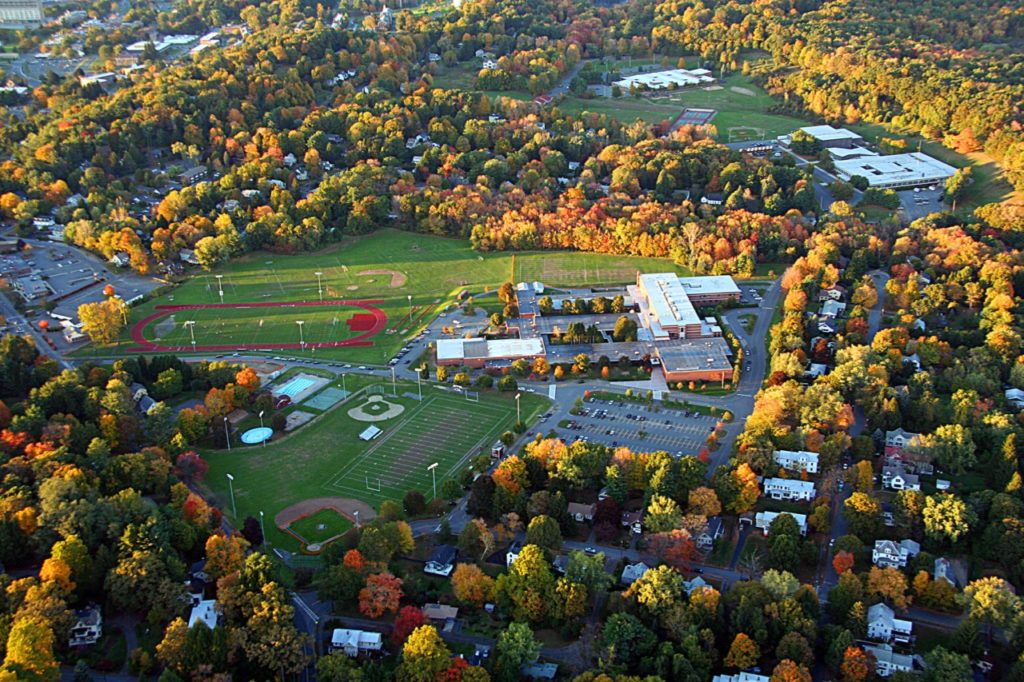 The following letter was sent to the Amherst Town Council on November 18, 2022 in anticipation of a scheduled vote at their November 21, 2022 meeting. Fifty people and organizations had signed on at that time and more are welcome to add their names via this form.

---
Thank you for your continued service in support of the health and wellbeing of residents and for your commitment to transparency, learning, and collaboration. We appreciate that as leaders you are asked to make decisions on a huge array of items and often with imperfect information. We are writing to ensure that we are playing our role in our participatory democracy and offering up our knowledge and perspective on a decision currently under consideration – the installation of artificial turf at Amherst Regional High School.

Our Recommendation
We write to ask you to vote NO to authorizing funding for artificial turf in the ARHS Track and Field Project and take another vote (or an amended motion) to authorize funding for Option 2: reorienting and expanding the track and installing a properly draining natural turf field.
We are fully supportive of providing our students and community members safe, well-draining, quality grass playing fields and maintaining them properly. The alternative to artificial turf is not the poorly constructed and poorly maintained fields that we currently have. There are case studies and pilot programs showing that the playable hours and maintenance costs for properly cared for grass fields are close to that of artificial products, while life cycle costs over 12 years for natural turf ($1.1-1.5 million) are half that of artificial turf ($2.5 million).
Health, Safety, And Environmental Risks Of Artificial Turf
All artificial turf contains per- and polyfluoroalkyl substances (PFAS) in the plastic "grass blades" and backing, regardless of the type of infill used. PFAS is absorbed through the skin, inhaled when disturbed, or ingested through hand-to-mouth contact. Research has linked PFAS to cancer, immune system deficiencies, low fertility and developmental issues in children and infants. Children are particularly vulnerable due to their smaller body mass and the on-going development of their organs.
Some manufacturers and contractors have claimed that the product they are proposing is PFAS-free only to have testing of the actual product reveal PFAS. In addition, these products are not currently recyclable and are likely to end up either dumped or in landfills where toxic chemicals risk leaching into water bodies.
Artificial turf presents other health-related concerns. These include heat-related injuries (the playing temperatures on artificial surfaces are many degrees higher than on grass), orthopedic injuries, skin infections, the presence of other toxic chemicals, particularly in crumb rubber infill, etc. These risks to athlete bodies are behind the US Women's Soccer team refusal to play on artificial turf and the current negotiations by NFL players to remove it from the league.
PFAS and other health concerns were not presented or discussed during the ARPS Regional School Committee's deliberations in March 2022, so it is not clear that members of the Committee were aware of them before they took their vote.
Public Health, Legislative, And Other Municipal Leadership On PFAS
The Town Council has recently heard from the Chair of the Amherst Board of Health (BOH) stating her opposition to the installation of artificial turf. Similar concerns were expressed by other BOH members at their November 10, 2022 meeting. This is consistent with their recent work to update their Toxic Chemical Regulations which states that "Products containing PFAS should be avoided to the extent feasible."
These concerns and actions by the Amherst Board of Health are mirrored in the actions of other leaders across the state. Several state legislators (including our own MA State Senator Jo Comerford) have proposed legislation to restrict products that contain PFAS. Boston's Mayor Wu has banned artificial turf from city parks. Other Massachusetts towns such as Concord, Sharon, and Wayland have passed moratoriums on the installation of artificial turf.
We have compiled resources that detail both the substantial and growing body of evidence around PFAS and other components of artificial turf as well as the actions taken by several municipalities in Massachusetts to avoid the unnecessary risks of this product. They are also available as an attachment to this email.
Addressing Maintenance
The literature states that artificial turf must be replaced every 8-10 years at an estimated cost of up to 75% of the initial installation plus the costs of disposal. We do not believe this reality was fully considered, or budgeted into the long-term capital plan. We would strongly encourage the establishment of a maintenance fund and practices to ensure that an investment in all our natural turf playing fields is protected for years to come. As the Toxic Use Reduction Institute at UMass-Lowell explains: "In many cases, a community may not need to take costly or time-consuming steps. Simple changes such as regular mowing and aeration, along with adjustments to fertilizer use, may be all that is necessary to reach the quality needed by the community. A spectrum of maintenance practices can be adopted depending on the community's budget and goals."
Voting History and Remedies
When the ARPS Regional School Committee took its borrowing authorization vote on March 15, 2022, School Finance Director Doug Slaughter offered a motion that would have allowed for any of the options presented. Despite multiple pleas on his part to retain that flexibility so that a second round of voting would not be required if, for any reason, it made sense to pursue Option 2, the committee modified the language to remove the option for natural turf (grass). In doing so, the Regional School Committee effectively tied the hands of the towns to either option 1 (only replacing the track) or option 3 (artificial turf). Again, at no time during deliberations was there any mention of PFAS or the specific health, safety, or environmental concerns of artificial turf.
Pelham's Community Preservation Act (CPA) Committee recently voted against funding any project that uses artificial turf; Leverett CPA Committee has not yet made a decision and Shutesbury CPA Committee has not yet met to discuss the matter. The Pelham Board of Health is expected to consider the matter of artificial turf at its next meeting. The Board's Chairperson has publicly expressed that he is opposed to artificial turf.
Conclusion
Because the votes so far have specified the use of artificial turf, the only way to move the project forward with a natural turf field is for relevant government bodies to vote down pending funding authorizations, rescind their previous votes, and take a new set of votes to approve a natural turf field (Option 2). That starts with the Amherst Town Council rejecting authorization of funding that specifies the inclusion of artificial turf on November 21, 2022.
Please say no to artificial turf and yes to Option 2. Let's not be another "What Were They Thinking?"
Maria Kopicki, Amherst
and fifty individuals and organizations.