President of Trustees Defends Jones Library Space Planning Efforts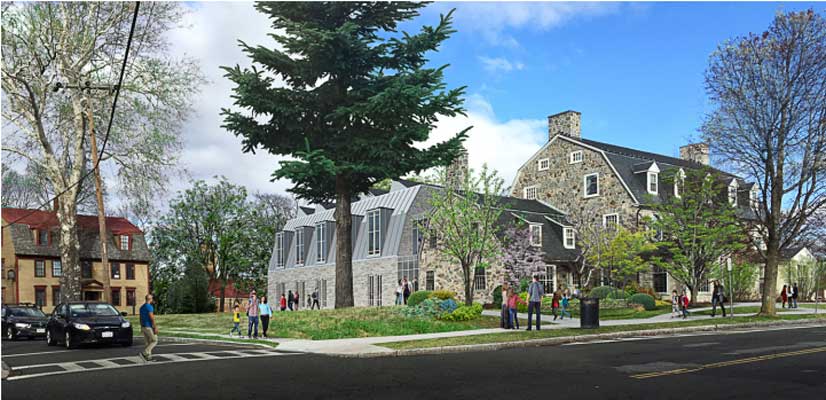 Jones Library News Highlights For The Week Of November 14, 2022
Austin Sarat Recalls Space Planning Exercise Done In A 'Very Pubic Way'
At the November 16 meeting of the Jones Library Trustees, Board President Austin Sarat addressed his colleagues with his memory of library space planning conducted prior to the development of a state construction grant proposal to build a 17,000 square foot addition to the 48,000 square foot Jones Library building at a cost of $35.6 million. The plan called for $16 million in town funding.
Sarat gave no reason for raising the topic, but he may have been prompted by the recent disclosure of an unpublished report of space planning recommendations from Massachusetts Library System consultant Anna Popp that was produced in the 2012-2015 timeframe. The report recommended a combination of collection reduction and room repurposing to achieve the library's programming goals within the building's existing footprint.
[See related Unpublished Jones Library Space Plan Proposes Alternatives to Costly Expansion]
Sarat began, "I remember that the space planning exercise was done in a very public way. Meetings about the space planning exercise were held. Board Committees were informed. The entire Board discussed it."
He continued, "When the space planning study was done, the membership of the Board included myself, Sarah McKee, Emily Lewis, Carol Gray, Michael Wolff and Chris Hoffman. And in addition to the many public meetings where the space planning study was discussed and reviewed, in countless meetings over the last several years, when the building project was discussed the space planning study was referenced over and over again."
"It was on the basis of that space planning study that we eventually developed a plan because there was nothing that could be done with the space that would meet the needs of the library," he said.
An online search by The Amherst Indy of Jones Library Board of Trustees minutes going back to 2008 turned up no reference to a space planning study nor any documented demand from the public calling for a larger library.
Two of the trustees whom Sarat describes as overseeing the study have been outspoken opponents of the Jones expansion project. Sarah McKee has criticized the project's cost and repeatedly called for more oversight over potential adverse impacts to one of the Town's historic treasures. The Jones Library is recorded in the National Register of Historic Places.
Carol Gray delivered a slide presentation to the May 10, 2017 Town Meeting that highlighted numerous rooms in the library where she felt space could be better utilized.
Buildings And Facilities Committee Confronts Building Project 'Plan B'
The Library Buildings and Facilities Committee, consisting of trustees Alex Lefebvre and Farah Ameen, Library Director Sharon Sharry and Facilities Supervisor George Hicks-Richards, has been handed the responsibility of working on a 'Plan B' alternative to the Library renovation-expansion in the event that the project must be halted due to inflation and lack of funding.
The group has consulted with with three Town of Amherst managers, Facilities Manager Jeremiah Laplante, Building Commissioner Rob Morra, and Director of Sustainability Stephanie Ciccarello. The three have been given a tour of the library's unreliable HVAC system and leak-prone atrium roof.
Lefebvre expressed regret that the town staff members could not attend the November 15 Buildings and Facilities Committee meeting and she hoped that they will be able to join the next meeting tentatively set for December 20 at 9am.
During the meeting's public comment period Trustee Treasurer Bob Pam, who has advocated putting more emphasis on library repair options, asked the Library Director to include him on a tour of the building's environmental systems. He suggested that heat pumps could be a viable and cost-effective replacement for the Special Collections HVAC system which he described as leaky and not terribly functional. He noted that due to exposure to leaks the Library's Special Collection has been of limited availability for a couple years now.
Development Committee Reports Progress In Fundraising
Lee Edwards, Trustee head of the Development Committee and Co-chair of the Library Capital Campaign presented the monthly accounting of income and expenditures required by a Memorandum of Understanding between the Trustees and the Friends of the Jones Library.
As previously requested by Treasurer Pam, the September report includes a separation of pledges made and gifts received and shows details of fundraising expenditures as well as income.
To date, the Capital Campaign which seeks funds for the building project reports receiving $1,831,206 in pledges and $1,236,077 in gifts in hand for a fundraising total of $3,067,283.
In September 2022 the Campaign received gifts of $2573 and reported spending $12,691 toward personnel expenses.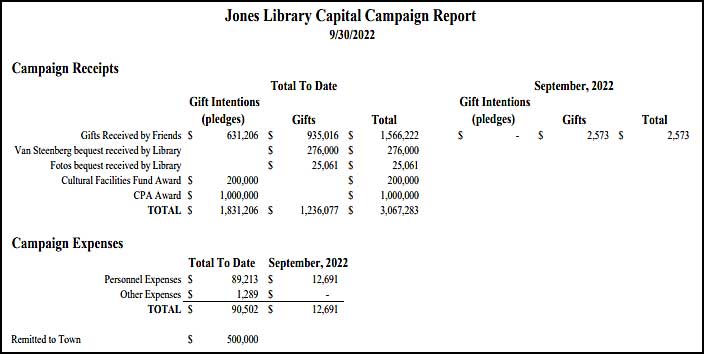 Trustee's Amherst College Secrets and Lies Seminar Examines Ethics In Politics
An Indy reader has written in calling attention to a First Year Seminar in the Amherst College course catalog called Secrets and Lies. The course, which was offered from 2007-2021, was taught by Chair of the Amherst College Political Science Department, Austin Sarat, who may be more familiar to Amherst residents as the President of the Jones Library Board of Trustees.
Sarat describes the seminar as asking students "to think about when and why people lie and seek to keep parts of their lives from the penetrating gaze of others, as well as when and why deception and secrecy might be justifiable in our social and political lives."
Among the questions that the course addresses are:
"When, if ever, is it right to lie or to breach confidences? When is it right to expose secrets and lies? Is it necessary to be prepared to lie in order to advance the cause of justice? Or, must we do justice justly? When is secrecy really necessary and when is it merely a pretext for Machiavellian manipulation?"
The Jones Library Trustees have been the target of multiple complaints from members of the public over lack of transparency and distortion of facts.
Dr. Sarat is a highly regarded educator and an internationally recognized scholar and writer on legal issues and social thought. His views on the ethics of withholding information and spreading propaganda to achieve political aims cannot be ascertained from his seminar description.