Grand Opening For Cisco's Cafe,  A New Breakfast/Lunch Spot In North Amherst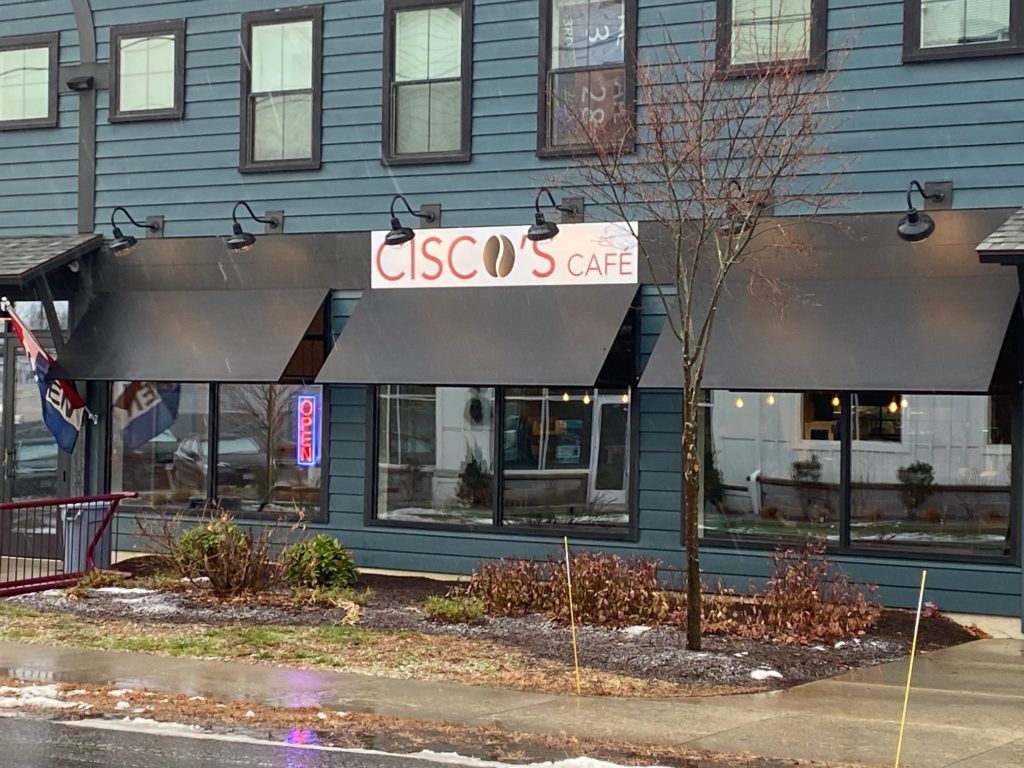 Francisco Perez, owner of the Amherst House of Pizza (AHOP) in Riverside Plaza for the past 13 years, recently opened Cisco's, a breakfast and lunch eatery at the former site of Jake's in the Trolley Barn, 68 Cowls Lane in the Mill District. Although the North Amherst restaurant has been open for about three weeks, the official ribbon cutting took place on Friday, December 16 with celebratory mimosas and a full house of patrons.
When asked why he wanted to open a second restaurant, Perez said he felt that Amherst needed another breakfast place, and an option that was not on Route 9. He also wants to do something different by offering Salvadoran dishes in addition to traditional breakfast fare. The breakfast menu includes papusas, huevos rancheros, and breakfast burritos, in addition to pancakes, breakfast sandwiches, and omelets and features coffee from Esselon and Pierce Brothers. The lunch menu has angus beefburgers, burrito bowls, salads, and tacos.
Perez said that the staff at Cisco's is a completely different crew than the team working at AHOP. Because Cisco's is open Tuesday through Sunday, 8 a.m. to 2 p.m. and AHOP is open 11:30 a.m. to 9 p.m., Perez is able to monitor both restaurants. He hopes business at Cisco's will pick up as people become aware that it is open and want to sample a different type of breakfast fare.

After connecting with her seventh constituent while dining at Cisco's on Friday morning, District One Town Councilor Michele Miller exclaimed: "This place feels like Cheers – everybody knows your name – and is so welcoming.  I look forward to hosting district meetings here. I tried the Huevos Rancheros and it was delicious."
Amherst Area Chamber Executive Director Claudia Pazmany was excited to bring out her gigantic scissors for the fourth grand opening event in the Mill District in recent months.  "I have had the joy of witnessing this Mill District neighborhood blossom. They have pulled the community together for outdoor cinema, local craft fairs, harvest and pride festivals, holiday markets and more. Cisco's Café Amherst is a welcome addition that helps complete The Mill District as a community."
Cisco's is the latest addition to an expanding collection of community oriented businesses in the village center in North Amherst, centered on the Mill District.