Boston Activists Request Changes To Reparations Eligibility At AHRA Meeting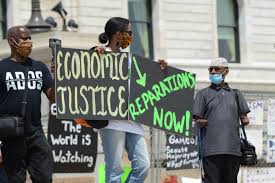 Report on The Meeting of the African Heritage Reparations Assembly, December 19, 2022
Present
Michele Miller (Chair), Hala Lord, Yvonne Mendez, Alexis Reed, Irv Rhodes, and Amilcar Shabazz. Absent: Debora Bridges
Staff: Jennifer Moyston, Assistant Director of Diversity, Equity, and Inclusion
Boston Activists Push For Change In Reparations Eligibility
Several people who spoke during public comment identified themselves as reparations activists working with the recently formed Boston Task Force on Reparations (see also here). They spoke against US House Bill 40, promoting the establishment of a federal commission to examine the impacts of the legacy of slavery and recommend proposals to provide reparations. They maintained that, as written, HR40 would allow payments to those Black people descended from immigrants who came to the United States by choice, in addition to the descendants of "chattel slavery".
Jaylynn Conway, Anthonia Edwards, Jonathan Bryant, Kash Gaines, Prime Freedman, and Ernest Russell noted that municipalities will be unable to pay reparations, which they suggested should not be termed reparations but rather "atonement". They estimated that it would cost $16 trillion to compensate descendants of former slaves and urged the members of the Amherst Heritage Reparations Assembly (AHRA) to collaborate with the Boston taskforce to pressure the federal government to make meaningful payments to those who have been harmed by the long-lasting effects of slavery. Several commenters referred to the US Freedmen Project , a national movement to compensate the American descendants of former slaves.
Amherst resident Lauren Mills thought the concerns of the Boston activists probably do not apply to many Black people in Amherst. She thought most Amherst residents do not consider themselves to be Black freedmen.
Yvonne Mendez agreed with Mills, saying that most of the conversations in the AHRA have been about justice, not compensation for slavery, and that municipalities have a role to play in dealing with racism. Alexis Reed said that she has not heard a strong push to only compensate descendants of victims of chattel slavery, but she is excited to work with the Boston group to push for legislation on a federal level.
Amilcar Shabazz noted that the term "reparations" is "as old as human conflict". He felt there is no need to change it to atonement, and added, "We [the AHRA] are dealing with harms at a municipal level to end structural racism, not to repay descendants of chattel slavery." He said that there is not enough money in Amherst to fairly repay the descendants of slaves, and that data about who is descended from slaves is not readily available at this time, and would probably take DNA verification.
The AHRA members agreed to look at the information supplied by the commenters and return to the topic later.
On-Line Listening Session Scheduled For January 11
AHRA will hold another listening session on-line on Wednesday, January 11 from 6:30 to 8:30 p.m.  https://engageamherst.org/ahra . United States Representative Jim McGovern will participate, along with State Representative Mindy Domb and State Senator Jo Comerford. More information will be forthcoming.
The listening session will begin with a brief explanation of the five areas of harms-of-racism, as identified by N'Cobra, the National Coalition of Blacks for Reparations in America. These are: personhood, wealth and poverty, health, education, and criminal punishment. These five areas will provide a framework for the listening session.
A later session will deal with eligibility criteria for local reparations and will be scheduled after the AHRA comes to a consensus about how the program will be administered. Public response will then be solicited.