Community Celebration Of Kwanzaa Planned For December 26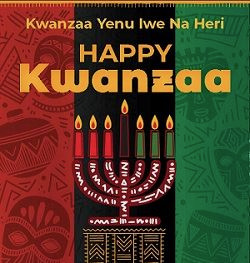 Source: amherstma.gov
Join the Human Rights Commission (HRC) in a celebration of the first day of Kwanzaa UMOJA (unity). Kwanzaa derives from the Swahili phrase matunda ya Kwanzaa meaning "first fruits of the harvest". The holiday was founded in 1966 by Dr. Maulana Karenga to honor family, culture, and community through celebration, reflection, affirmation and connection. Kwanzaa is a weeklong celebration starting on December 26 and ends on January 1. Each day represents one of the seven principles of Kwanzaa.
Join the HRC for music, African dance and drumming, children's activities and Community!
Lunch will be provided.
December 26, 2022
11:00 a.m. to 3:00 pm
Bangs Community Center
70 Boltwood Avenue
Seven Principles of Kwanzaa
Printable Flyer