Planning Board Concerned About Proposed Zoning Amendments For Multi-Family Housing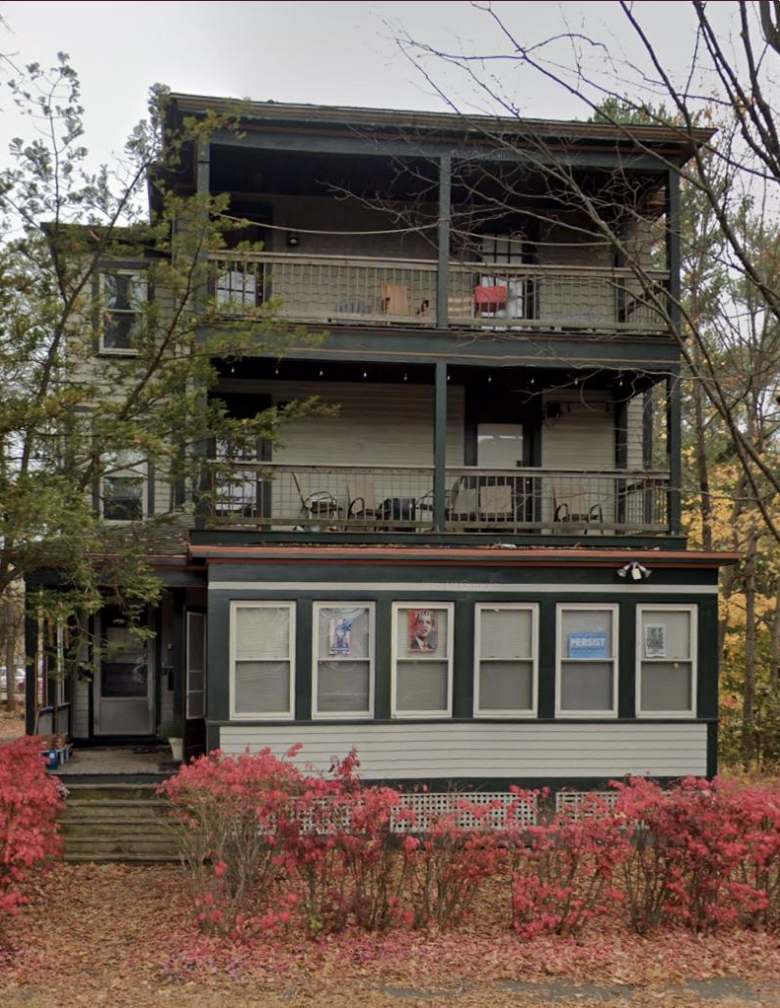 Report On The Meeting Of The Amherst Planning Board, February 1, 2023

This meeting was held over Zoom and recorded. It can be viewed here.
Present
Doug Marshall (Chair), Bruce Coldham, Thom Long, Karin Winter, Janet McGowan, Andrew MacDougall, and Johanna Neumann (arrived at 6:45)
Staff: Chris Brestrup (Planning Director), Nate Malloy (Planner), and Pam Field-Sadler (Assistant)

Nine members of the public were present on Zoom.
Most of this meeting was devoted to zoning amendments proposed by Councilors Mandi Jo Hanneke (at large) and Pat DeAngelis (District 2) governing duplexes, triplexes, townhouses, and converted dwellings. The proposal must be the subject of public hearings by the Planning Board and the Community Resources Committee before those bodies can issue recommendations to the Town Council. A public hearing with the Planning Board has been scheduled to begin on March 1.
According to Hanneke, it is hoped that the changes would increase equity in housing by eliminating exclusionary zoning in most areas of town and allowing more residential units to be approved solely by the building commissioner with no public hearing. Currently this streamlined process can be used for single family homes. She and DeAngelis claim that the proposed changes would increase the diversity of homes in neighborhoods and increase sustainability by encouraging more multifamily dwellings. In addition, the co-sponsors feel that increasing housing might decrease housing costs in Amherst.
The proposal advocates changing the requirements for many types of dwellings from needing a special permit (SP) to requiring a site plan review (SPR). SPs are discretionary, so the Zoning Board of Appeals (ZBA) can deny a permit if its members conclude that the proposed use is not appropriate for the zoning area, but it rarely does so. Planning Director Chris Brestrup said that the ZBA approves about 95% of the projects brought before it, although some applicants withdraw their applications if it is clear that they will not be approved. With a SPR, the use is presumed to be appropriate for the site, and the Planning Board must approve the project, although it can make suggestions in design, landscaping, and certain other features, etc. A special permit can take longer to be approved and can be more expensive for a developer.
Under Hanneke's and DeAngelis' proposal, owner-occupied and affordable duplexes would be approved by the Building Commissioner without a public hearing. Both would require deed restrictions to be filed with the town, so they remain owner-occupied or affordable. Non owner-occupied duplexes would require a SPR, instead of the SP in the existing bylaw.
The proposal creates a new category for triplexes, which are currently considered apartments, that would be allowed by site plan review in residential neighborhoods and neighborhood business zones.
The proposal also creates new regulations for townhouses and converted dwellings that make conditions and permitting more consistent in the zoning bylaw. A further suggestion from Hanneke is to revisit the limitations on development in the Aquifer Recharge Zone in South Amherst that are meant to protect the Lawrence Swamp water supply because some homes in Amherst Woods are now on town sewer services. Changing the area of the aquifer recharge zone could make it feasible to allow more density in that area.
The proposal stipulates that all buildings with four or more units must be on town sewer.
Questions And Comments From Planning Board Members
Andrew MacDougall said he agrees with the aims of the proposal, but wonders whether it would  add expensive rental units but would not address the need for affordable housing. Bruce Coldham and Janet McGowan worried that the shift from SP, involving the ZBA, to SPR, involving the Planning Board, would  overburden the Planning Board. Thom Long also could not see how streamlining the permitting process in this way would increase diversity and affordability of housing in Amherst. He suggested looking at maps, not only zoning districts, to see where increased density would be most appropriate.
Karin Winter felt the proposal does not address the most pressing housing issue here–that developers are outbidding others to purchase single family homes, and are turning them into student rentals, which degrades the diversity of the neighborhoods they are in. She suggested that the town adopt measures to safeguard neighborhoods, such as charging higher taxes for rental properties or limiting the number of rentals on a street. These concerns and suggestions were echoed by McGowan as well as several residents in public comments. McGowan noted that investors' aims are to maximize their income, not to create affordable housing. She said she doubts whether many homeowners in the most expensive areas of town would build duplexes and triplexes on their properties, which would put most of the pressure on the low- to medium-income neighborhoods.
When Coldham suggested raising property taxes on non-owner occupied duplexes, Hanneke pointed out that the Council has already considered this, and that several councilors felt that the increased costs to landlords would be passed on to their tenants. Coldham responded that he was not sure this assumption was correct. DeAngelis told the board that "not all tenants are students" and some low-income families might be hurt if taxes on investment properties are increased. She said that it would be worse to leave the zoning laws as they are than to adopt this proposal, because the town has not achieved its housing goals under the current regulations.
Both Doug Marshall and Johanna Neumann said they are more interested in increasing density near the town center and bus lines than in other areas. According to their thinking, increased density in outlying areas might produce more traffic and pressure on resources than increased density in the areas near the town center and UMass.
Public Comment
In public comment, Darcy DuMont said that her neighborhood of Orchard Valley is an area of diversity with many long-term residents. But recently, homeowners have been bombarded with offers from investors offering to buy their homes, and several homes have recently been turned into student rentals. 
Ira Bryck urged the town to be cautious about easing permitting for multifamily housing and should remember to consider unintended consequences.
Similar concerns were raised by Mario DePillis, who lives near the town center. He agreed that individuals cannot compete with investors in purchasing properties. He feels the town should address this problem before changing the zoning regulations.
Dorothy Pam noted that the proposal does not address workforce housing, and Jennifer Taub pointed out that developers of housing don't seem to have been deterred by needing special permits for approval of their projects.
Hilda Greenbaum added that residential units in outlying residential areas often use septic systems, which require extra land for the septic tanks and leach fields. Also, she said, a building with more than two units is required to have a sprinkler system to protect against fire, which would increase the cost of a triplex for a developer. Lastly, she worried about the effects that easing regulations would have on the two local historic districts in town, the Emily Dickinson and Sunset/Fearing districts. Janet Keller expressed concerns about the effect of increased density in certain outlying areas on water resources and wildlife.
Next Steps For the Planning Board
The Planning Board felt that the complex proposal should be approached in sections. Brestrup suggested that new measures could be phased in to see their effects on the housing market. Brestrup will present a summary of the proposal to the ZBA on February 9, and Hanneke and DeAngelis will come to the February 16 ZBA meeting to answer questions from board members. The Planning Board will again discuss the proposal on February 15, in advance of the public hearing on March 1.
Planning Board's Initiative For Housing Growth To Be Held In-Person On February 21
At the January 18 meeting, several Planning Board members expressed a desire to explore adding housing in areas that already contain large apartment complexes. Marshall suggested that the board get together in person to examine zoning maps and GIS data to determine where increased housing would be appropriate. This meeting is scheduled for Tuesday, February 21 from 7 to 9 p.m. in the Town Room in Town Hall. 
The meeting was adjourned at 9:18. The next Planning Board meeting will be February 15.