State Rep. Domb And State Sen. Comerford Explain State Government At Town Council Meeting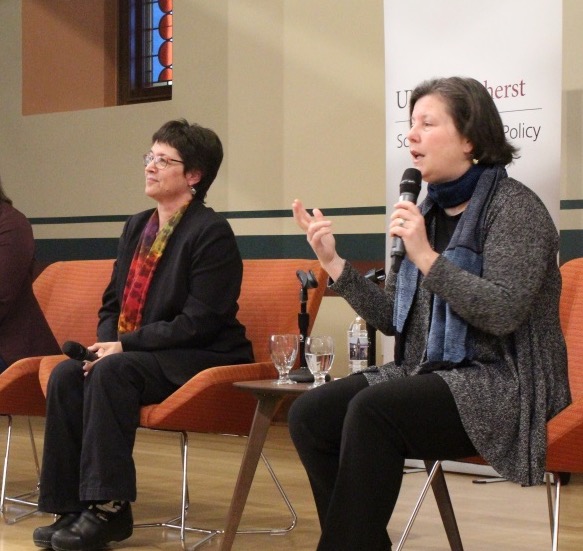 Report On The Meeting Of The Amherst Town Council, March 6,2023. Part 2
This meeting was held in a hybrid format and was recorded. It can be viewed here.

Part 1 of the report on the meeting can be found here.
Present
Councilors in the Town Room: Lynn Griesemer (President, District 2), Mandi Jo Hanneke and Andy Steinberg (at large), Cathy Schoen (District 1), Pat DeAngelis (District 2), Anika Lopes and Pam Rooney (District 4), and Ana Devlin Gauthier and Shalini Bahl-Milne (District 5)
Participating on Zoom: Michele Miller (District 1), Dorothy Pam and Jennifer Taub (District 3), and Ellisha Walker (at large). Miller left the meeting at 7:30 p.m.
Staff: Paul Bockelman (Town Manager) and Athena O'Keeffe (Clerk of the Council)
Four members of the public were present in the Town Room and 30 were on Zoom.
State Representative Mindy Domb and State Senator Jo Comerford visited the Town Room to help inform the council of legislation they are working on and issues of special interest to them. They then entertained questions from councilors and encouraged the public and town government to write letters to them about items of concern to Amherst and its residents.
Announcements And Proclamations
While waiting for Domb and Comerford to arrive, Council President Lynn Griesemer (District 2) announced upcoming meetings and proclamations.
The council will hold a retreat in the Town Room on Saturday, March 24 from 8:30 to 1:30. The public will be allowed to attend, but there will be no public comment. The retreat will be broadcast on Zoom and recorded. DEI Director Pamela Nolan Young will facilitate, aided by Clerk of Council Athena O'Keeffe. Councilors were instructed to reread the Charter, the Rules of Procedure, and selected parts of Robert's Rules of Order. Each council committee has been asked to bring a list of its priorities and a list of unresolved issues.
The African Heritage Reparations Assembly is sponsoring a screening of "The Big Payback" at the Powerhouse on the Amherst College campus. The screening will be Thursday, March 30 at 6 p.m.
Friday, March 10 was proclaimed 2023 Tibetan National Uprising Day, commemorating the 64th anniversary of the Tibetan uprising against annexation by China. There will be a flag raising at Town Hall at 9 a.m. followed by a walk to Northampton. Co-sponsors are Councilors Bahl-Milne, DeAngelis, Griesemer, and Rooney, and the Regional Tibetan Association of Massachusetts.
April is designated 2023 Child Abuse Awareness and Prevention month in a proclamation sponsored by Griesemer and Hanneke and Marlene Musante of the Chlidren's Advocacy Center.
Reparations for Amherst was added as a community sponsor for the Resolution to End Structural Racism passed by the council in December 2020. At the time, community sponsors were not listed.
Concerns About School Budget Voiced In Public Comments
School Committee member Peter Demling requested that the council be clearer in explaining the constraints on school budgets. He said the school committee is having difficulty explaining to the public why next year's budget has $2 million in cuts to services and eliminates over 30 positions. Adding the pay increases requested by the unions would cost a total of $4 million, which would be impossible to achieve. He wants the public to understand that the town council sets the funding for the schools, and the school committee must work with that amount.
Carol Gray pointed out that the town sets priorities through its budgets, and that teachers deserve raises. The proposed library project is now projected to cost $50 million, she said, which could pay teachers what they are asking for many years. She asked for a public ranking of priorities to help determine how the town uses its funds.

Allegra Cark, a parent of a Wildwood kindergartner, asked why the financial indicators presented in December seemed so rosy when there is talk now of cutting 30 positions in the schools. She is very concerned that paraeducators might be cut. She supports the new school, but notes the need to have people to staff it.
How State Government Works: A Presentation By Mindy Domb And Jo Comerford
State Senator Jo Comerford and State Representative Mindy Domb came to Town Hall to brief the councilors on their work in the state legislature and on how town government and residents can gain their support on issues and advocate to pass bills. They emphasized that it is an honor to work shoulder to shoulder with each other and with town governance.
Domb pointed out that each legislative session is two years long, but only 18 months or so are available to pass legislation. There is a new budget every year which must be signed by July 1. Prior to the January start of the two-year session, legislators seek guidance from town representatives in August about what the towns want their state representatives to concentrate on. Many bills from this session will have to be acted on by February 2024. Many hearings will be hybrid, such as the Ways and Means Committee hearing on April 7, so the public can participate remotely. The use of the extra pool of funds from the Fair Share Act has not yet been defined, but most will be allocated to transportation and education.
Home Rule proposals can be introduced at any time, but those filed at the beginning of a session have an advantage . Amherst has two home rule proposals pending: one to permit ranked choice voting and one to allow a real estate transfer fee on property selling for more than twice the average property cost in town. Another might be filed to permit permanent non-citizen residents to vote in local elections. These home rule proposals are often linked with similar proposals from other towns.
Domb is chair of the Joint Committee on Tourism, Arts and Cultural Development and is a member of the Joint Committee on Higher Education. She is sponsoring bills on economic and food security, climate and the environment, public health, inclusion and access, transportation, college affordability, and small business.
Comerford is chair of the Joint Committee on Higher Education, vice chair of the Joint Committee on Agriculture, assistant vice chair of the Senate Committee on Ways and Means, assistant vice chair of the Joint Committee on Ways and Means, and a member of the Senate Committee on Global Warming and Climate Change, the Senate Committee on Rules, the Joint Committee on Economic Development and Emerging Technologies, the Joint Committee on Racial Equity, Civil Rights, and Inclusion, and the Joint Committee on Rules.
She is especially striving to obtain state funding for municipal buildings, including fire stations and DPWs, with a fairer allocation of funds for Western Massachusetts; to pass legislation on land use and on eliminating PFAS; to increase funding for schools, libraries, and regional rail; and to develop a decision matrix for siting solar arrays. She highlighted the success of Amherst's Chamber of Commerce and Business Improvement District in bringing in support for small businesses during COVID-19.
Comerford also noted that the governor's budget hearing on education will take place at UMass on March 13 and that payments In lieu of taxes (PILOT) are on the agenda. This meeting is be invitation only.
Legislators Answer Questions From Councilors
Dorothy Pam (District 3) asked about the status of the Death with Dignity bill. Comerford said that she filed the bill again this session.

Cathy Schoen (District 1) wanted to know if there were any proposed changes in the funding for charter schools, pointing out that Amherst is losing $3 million a year to charter schools. She also noted that the draft of the governor's use of Fair Share Act funds in the preliminary budget doesn't include money for K-12 schools, and asked if transportation funds from the Fair Share Act can be used for road repairs.
Comerford and Domb acknowledged that road repair is a much bigger issue in Western Massachusetts, where municipalities have many more miles of roads and fewer residents to pay for their upkeep than in the more densely populated parts of the state but did not know whether Fair Share transportation funds can be used for road repairs
Ana Devlin Gauthier (District 5) inquired about how to be the most effective advocate. Domb replied that supporters of a bill should draft testimony letters early in the process and not wait for a hearing to be scheduled. She recommended that letters tell why a bill is important to Amherst and possibly suggest how it can be improved. She also suggested that a copy of each letter be sent to her and Comerford as well as to the chair of the appropriate committee.
Shalini Bahl-Milne (District 5) asked what was being done to increase workforce housing. Comerford noted that Amherst has built more units in recent years and complimented the work of Keith Fairy of Wayfinders in tracking the housing deficit in the Valley..
The session with the legislators ended at 8:10 p.m. Both Domb and Comerford invited the councilors and constituents to contact them with concerns at: JoComerford@masenate.gov and mindy.domb@mahouse.gov They thought that joint sessions with the town council should occur at least once every year.