Library Leaders Disagree On Aiding Schools, Viability Of Building Project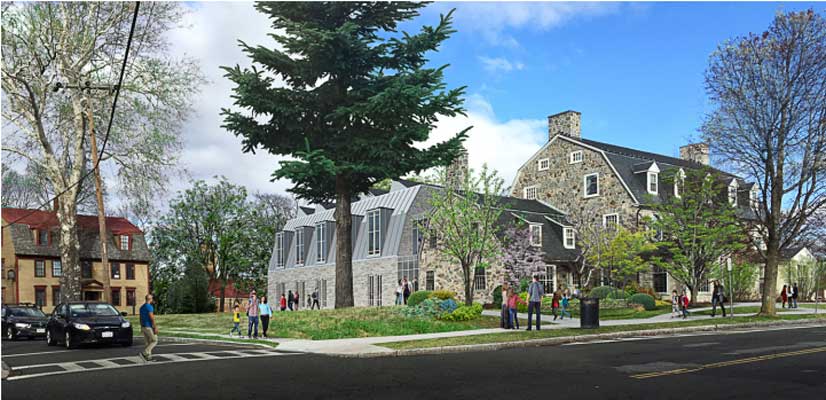 Jones Library News Highlights For The Week Of March 13, 2023
Conflicting Views Color Budget Committee Meeting
A philosophical rift was evident at the March 14 meeting of the Jones Library Budget Committee. On one side is Board of Trustees Treasurer Bob Pam, who has taken a pragmatic and risk-averse approach to fulfilling his fiduciary responsibilities, and a holistic view of where the Jones Library fits into Town of Amherst needs and services. On the other side are Library Director Sharon Sharry and the remaining five trustees who have adopted a more library-centric perspective toward funding, and a do-or-die position on the financially troubled renovation-expansion project.
At Tuesday's meeting Pam announced the welcome news that the Town of Amherst FY24 appropriation for library operations would be upped by 0.5%, or $10,746 higher than previously anticipated. Due to favorable state aid predictions, the Town Manager has revised upward his recommended budget increase for all departments, from 2.5% to 3%.
Given the $10,746 unexpected windfall, Pam floated the idea of directing $10,000 of library funds to help the financially struggling elementary school libraries which stand to lose three full-time library paraeducators due to budget cuts.
"I don't have a mechanism for that… we need the money," asserted Sharry. "I don't want to give away ten thousand dollars," she added, "but that's just me."
Trustee Lee Edwards weighed in, "I think this would be a policy change. If you want to bring it up before the trustees, I think that's the place to take it."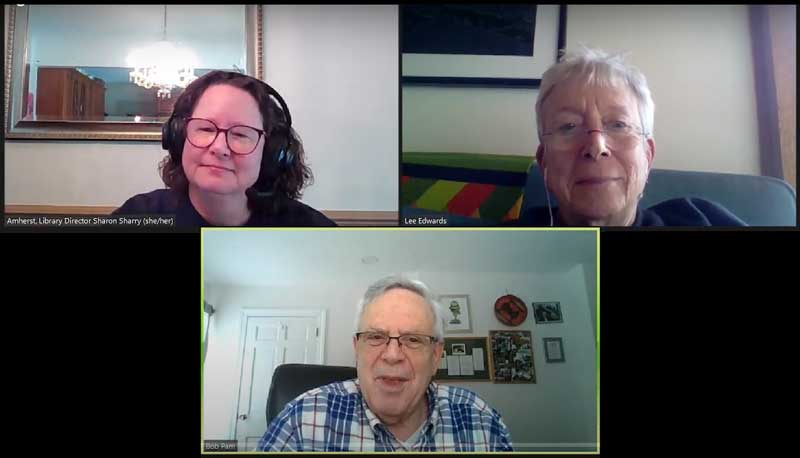 Jones Treasurer's Observation On Odds Of Building Project Moving Forward Draws Rebuke
Treasurer Pam has consistently raised concerns about a $10 million Jones Library building project budget gap and the risk it represents to the library's $8+ million endowment. Noting four Amherst building projects competing for capital funds and the average $478 per year property tax hike currently needed to fund the new Fort River Elementary School that will be decided by a town wide referendum on May 2, Pam offered an assessment of the library project that was not bullish enough for his Budget Committee colleagues.
Remarked Pam, "I don't know that it has changed anything drastically, but I would say that the percentage probability of the project going forward is probably down a few…"
Before he could finish his statement, Trustee Edwards who co-chairs the Library Capital Campaign jumped in. "I do not think that this is an appropriate subject for the Budget Committee to be taking up," she exclaimed.
Pam countered, "The options for meeting financial obligations to the town involve two different issues and so you need to at least think about what are the probabilities of each of those." The ability for the building project to move forward will depend on whether the Capital Campaign can raise the funds to cover the project budget gap, and whether the Town Council will authorize additional funding when project construction costs are better known.
Responded Edwards, "I think our job is to think about what is best for the library and how the budget for the library works."
Director Sharry offered her view. "You're absolutely wrong, Bob. What we are asking the town for is $15.8 million dollars and that number has not changed. If this project gets voted down, whether it's November, December, January, February, whatever it is, it's going to cost a hell of a lot more than $15.8 million."
She continued, "The Capital Campaign Committee is working its tail off and they are 66% of the way there, so no, I disagree with you 150%, Bob."
Pam asked Sharry to clarify her claim that the amount of gifts and pledges that the Capital Campaign has raised, $4.6 million, is "66% of the way there."
Sharry explained, we need to raise $7 million in time for the Town Council vote [in November]. That is the number that we agreed on with the town that would be a reasonably good show that would give Town Council the confidence that we could raise the remaining funds."
"That's the first time I've heard those numbers," said Pam.
"It's been in charts, it's been in meetings," Sharry replied.
Owner's Project Manager Craig DiCarlo Leaving
The Jones Library Building Committee (JLBC) was disappointed to learn on March 16 that this would be the final meeting for Owner's Project Manager (OPM) Craig DiCarlo of Colliers Project Leaders. He is leaving Colliers for another job opportunity.
The OPM is charged with coordinating the many contractors and partners engaged in the design, bidding and construction of the building project, and keeping it on schedule and under budget. JLBC members appeared to agree that DiCarlo has been a trusted and stabilizing influence on a project beset with ballooning, inflation-driven cost escalation.
Colliers Associate Director Tim Alix announced that he would be supporting Construction Representative Dan Daisy in taking over as OPM after Daisy finished up current commitments and came up to speed on the Jones Library project.
,Town Manager Paul Bockelman voiced uneasiness. "I have a lot of concerns about the transitions we've gone through with Colliers. I mean, we started with Ken (corporate liaison Ken Guyette), we've got Craig, we're now going to Tim and then Dan. I don't like all these transitions that are happening."
Alix assured that Colliers has overlap in project management expertise and the company will make sure there are no gaps in the transition.
JLBC Chair Austin Sarat noted, "I will say we have greatly appreciated the work that Craig has done. We've greatly appreciated his responsiveness, his sense of the intricacies and nuances of the project, and we will look forward to the same level of responsiveness and attentiveness to the intricacies and nuances of the project from Dan as he acclimates himself to the project."