Opinion: Our Kids Deserve a Climate Friendly School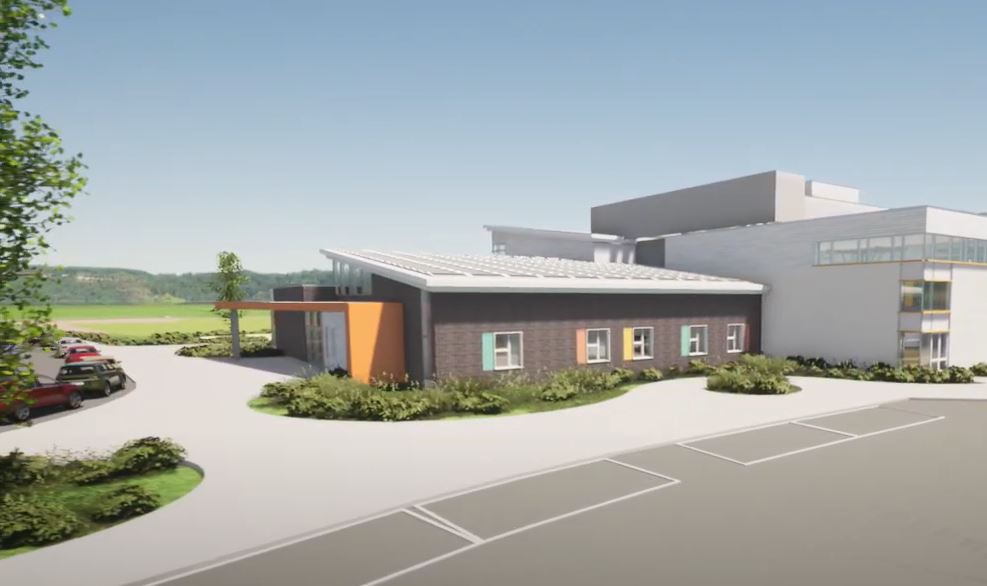 by The Amherst Energy and Climate Action Committee (ECAC)
The Amherst Energy & Climate Action Committee (ECAC) unanimously supports the proposed new net-zero elementary school, which will save money and reduce greenhouse gas emissions. Building a fossil fuel free school is an opportunity to show our students that Amherst cares about their future and will act in the face of the climate crisis. Thanks to federal and state incentives, it will cost less to build and operate this net-zero school than one with a fossil fuel heating system.
Background
In the United States, burning fossil fuels causes over 90% of our greenhouse gas (GHG) emissions. GHG emissions cause climate change that leads to sea level rise, extreme weather events, and locally, increasingly warmer winters and hotter summers. Burning fossil fuels also creates hazardous pollution known as particulate matter which is responsible for 85,000 to 200,000 excess deaths per year in the U.S. and disproportionately impacts BIPOC communities.
Thankfully, we have the tools to end our reliance on fossil fuels. Electricity, 50% of which is currently made from fossil fuels, can be made cleaner, cheaper and more reliably with renewable power and battery storage. In 2022 the U.S. passed the most significant climate legislation in our history – the Inflation Reduction Act (IRA) – providing funding, programs, and incentives to accelerate this transition and allow us to meet our country's goal of greenhouse gas-free electricity by 2035.
The IRA also has incentives to support the transformation of buildings away from fossil fuel heating systems and towards super-efficient electrical heating & cooling systems, known as heat pumps. Heat pumps have already outpaced gas-fired heating systems in the U.S. and our northern neighbor Maine is a leader in this transition.
Eliminating Fossil-Fuels Makes Climate & Financial Sense
On May 2nd, Amherst residents will have the opportunity to vote on funding for a new elementary school. The new school will not use fossil fuels – instead it will be heated and cooled with a ground source heat pump powered by electricity. Solar on the roof and the parking lot will generate enough electricity to meet the annual electricity demand of the school, making this a net-zero energy building. And, thanks to the IRA and state incentives, it will cost less to build and operate this net-zero school than one with a new natural gas heating system. The town finance committee has proposed to take 5 million dollars from reserves to reduce the tax burden of the project because of the anticipated incentives, credits, and operational savings this net-zero building will provide.
This school will replace the existing Wildwood and Fort River schools, which need significant repairs and where we currently spend 250,000 dollars per year on oil and natural gas. The burning of fossil fuels in these buildings emits the same amount of greenhouse gas emissions per year as 300 average sized homes. The repair work has been estimated at 40 million dollars per building just to bring them up to code. The cost to repair both buildings would fall solely on the town and adds up to significantly more than the town's share of the new school, but with none of the net-zero features or reduced operational costs.
Replacing these buildings with a school that can run off carbon-free electricity means being prepared for a future where we have broken from our reliance on fossil fuels. It provides an educational opportunity for our students and our community to see that change doesn't have to be scary and expensive, it can be smart and cost effective.
We Can Make Positive Change Together
As members of ECAC, we all agree that building this net-zero school is not only a climate-smart investment, but a fiscally responsible one. It is a necessary action to put us on a path towards meeting our climate goals and supporting a healthy, stable climate and a just society for future generations. Our students are scared about their future. This project will allow us to show them what is possible when we work together to tackle an enormous challenge.
Don Allison
Dwayne Breger
Stella Dee
Laura Draucker
Lori Goldner (Vice Chair)
Vasu Raghavan (Chair)
Steve Roof
Andra Rose
Jesse Selman

The writers are all members of the Amherst Energy and Climate Action Committee