Library Fundraisers Oppose Using Reserves To Lower Tax Increase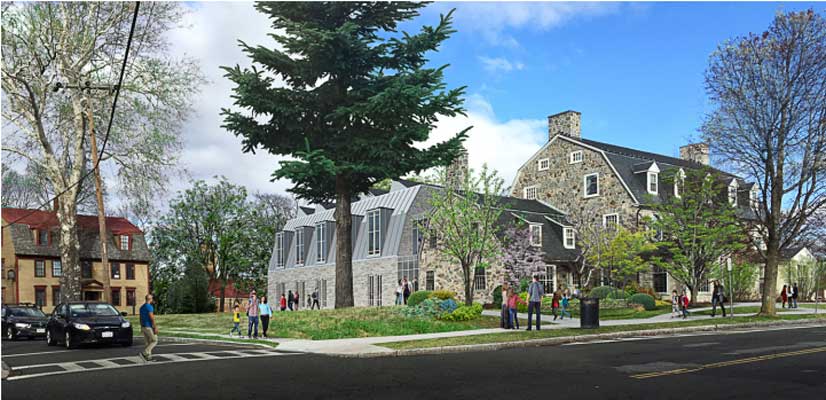 Capital Campaign Head Kent Faerber Decries Town's 'Undisciplined Spending'
On April 3 the Town Council and Finance Committee held a public forum required by the town charter to elicit feedback on authorizing borrowing of $92.5 million for a new Fort River Elementary school. At issue was the size of the debt amount, which must be borne directly by property taxpayers should voters approve a town wide Proposition 2 ½ debt exclusion on May 2. A debt of $92.5 million is projected to result in the average value ($447K) single-family home being assessed an additional $451 in tax for thirty years.
Citing Amherst's financially vulnerable residents, Councilor Ellisha Walker had proposed directing an additional $5 million from Amherst's capital stabilization fund to the school project. This would lower the average annual tax hike from $451 to $407. Town leaders who opposed this action argued that the capital stabilization fund is being grown and dedicated to paying for a new fire station.
■ See related Tortuous Discussion Precedes Borrowing Authorization For New Elementary School
Among citizens weighing in on the proposal was Kent Faerber who co-chairs the Capital Campaign to raise funds in support of a planned renovation-expansion of the Jones Library, currently estimated to cost $43-50 million or roughly $10 million over budget.
"In the strongest way possible, I urge you NOT to use any of the Town's reserves for the elementary school project," wrote Faerber in an email to the Finance Committee and Town Council.
"Doing so is just another instance of the kind of undisciplined spending (and procrastination thereof) that, over a long period of time, got the Town into the financial pickle it now faces," he wrote.
Faerber argued that tapping into reserves earmarked for other capital projects would lead to "fiscal chaos," and closed with "None of us would run our households this way, and it would be irresponsible for the Town to do so."
Opponents have argued that the Jones Library project is hardly a model of "disciplined spending."
Faerber was an original member of the Library Feasibility Committee formed in 2014 to look at securing funds for a library renovation. He helped develop a 191-page Building Program that served to justify applying for a Massachusetts Board of Library Commissioners (MBLC) construction grant.
The Building Program calculated the library's projected service population to be 55,000, and estimated the space needed to accommodate desired programs to be 110,000 square feet. The document proposed purchasing land from the adjacent Amherst History Museum (Strong House) and possibly moving the historic building forward and building a connector between it and the library.
The MBLC reports that only two public libraries in Massachusetts – Worcester (pop. 185,000) and Boston (pop. 693,000) are larger than 110,000 square feet. Amherst's population is less than 40,000, and half are higher ed students with academic libraries of their own.
Hopes for enlarging onto Amherst Historical Society land were dashed when in 2016 Town Meeting rejected a rezoning attempt, and financial realities forced library leaders to reduce their planned enlargement to 63,000 square feet. A building this size would rank the Jones as the 10th largest public library in the state. It is currently the 23rd largest, and serves a community with the 39th largest population.
The MBLC was persuaded by the Jones Library grant application and in 2020 placed the project on a wait list for a $13.8 million construction grant toward a total project cost of $36.3 million. The award and the project budget were the largest in the state program's 2016-17 round of grants.
Jones Library leaders reportedly requested a one-year delay in the grant award and formally received the award from the MBLC in May 2021.
In 2021 the Amherst Town Council and Jones Library Trustees. agreed on a funding arrangement whereby the $36.3 project budget would be paid for by the $13.8 million state grant, $5.7 million in fundraising by the Jones Capital Campaign, $1 million in a local Community Preservation Act award, and $15.8 million from the town's capital budget. The $15.8 million town contribution far exceeded any previous commitment of public funds to library capital improvements. Amherst's share of the 1993 addition to the Jones Library was $1 million.
In August 2022, updated estimates pegged the library project cost at close to $50 million, or $14 million over budget. A majority of Town Councilors voted to continue investing $2 million into the financially troubled project until February 2024 when actual construction bids come in.
The Capital Campaign reports that it has so far raised less than $5 million toward the $17 million needed to fund its share of current estimated project costs. The library is scheduled to contract for temporary locations around town at a cost of $550,000 beginning in May 2023. The building project schedule calls for a relocation of all library services to interim locations by the end of the year to make way for construction, assuming adequate funding is available.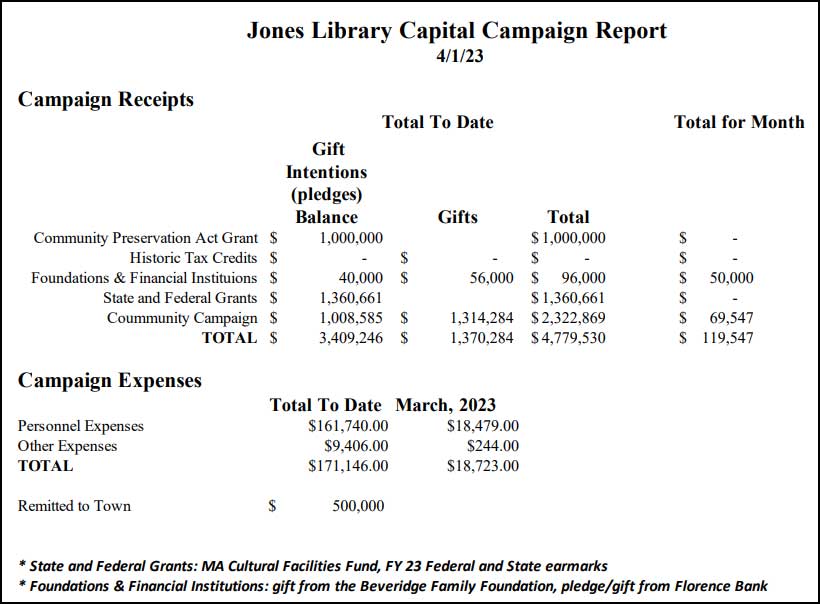 Capital Campaign Colleagues Oppose Walker Proposal
Echoing Faerber's opposition to reducing the tax override amount with additional reserves was Amherst resident Matt Blumenfeld whose company Financial Development Agency has been hired by the Jones Library to support fundraising efforts. He urged the Town Council to proceed with the override vote "without taking further funds from Capital Reserves that have been developed over time to allow our town to take on all four capital projects."
Library Capital Campaign Manager Ginny Hamilton voiced a similar opinion. Introducing herself as an active part of the volunteer team working to pass the debt exclusion override, Hamilton described seeing overwhelming support in town for the tax increase for the school, implying that a further reduction in the override amount may not be necessary to ensure its passage.
"As of last night's count from people knocking on doors and making phone calls, over two-thirds of those we've spoken to say yes they will vote for this project; only three percent have said that they're opposed," she reported.
Ultimately the Town Council sided with the library fundraisers, voting down Walker's motion to reduce tax-supported borrowing with an additional $5 million from reserves. They did, however, pass a non-binding motion to ask the Town Manager to "develop options to reduce the financial impact of the debt exclusion" by $5 million, and present them to the Council by November 30.
Is there a backstory?
Some have suggested that there may be an ulterior motive to the library fundraisers' vigorous opposition to reducing the town's capital stabilization or "rainy day" fund.
■ See related Letter: An Open Letter to Amherst Town Leadership On The Funding Of Capital Projects
The library borrowing authorization passed in April 2021 limits the amount of town funds that may be contributed to the library project to $35,279,700. The library project is currently in the neighborhood of $10 million over budget. The capital stabilization fund will contain a similar amount once previously agreed upon money for the school project is replenished with energy credits.
Suspicious minds may wonder if the library's advocacy machine may be considering a push to jump in front of the fire station and tap capital stabilization to keep its project alive. They will need nine Town Councilors to approve this action; eight voted to absorb expenses required to continue the over-budget project last year. Whether this delicate balance holds will likely be determined by this November when a new Town Council is elected.
■ See related Indy Seeks Answers: When Will Town Decide On Fate Of Jones Library Expansion Project?