"You're Welcome!" Revisiting An Open Door And A Fountain In Amherst Center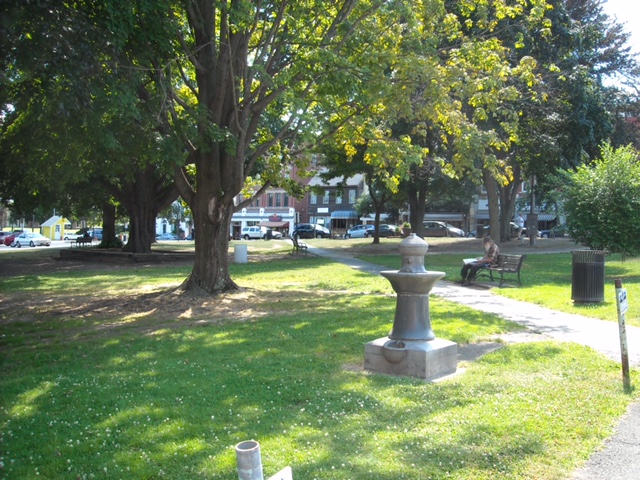 Amherst History Month By Month
I hope that people find hospitality in Amherst as its visitors or as residents, whether they are from nearby or far away. Whatever the journey. As much as barriers still exist, there are actually historic physical structures in town that offer hospitality in different ways. They do this not as buildings but as part of our rich townscape in Amherst Center. This was the case recently with the launch of a tour of special stained glass windows in Grace Church, by the town common.
The welcoming objects I have chosen are not public monuments but have nuanced histories in and of themselves. The memorial drinking fountain on the (North) Town Common and the front entrance of the Jones Library are two such things that date from the early years of the 20th century. They are also examples of what we might characterize as a part of our shared material culture.

.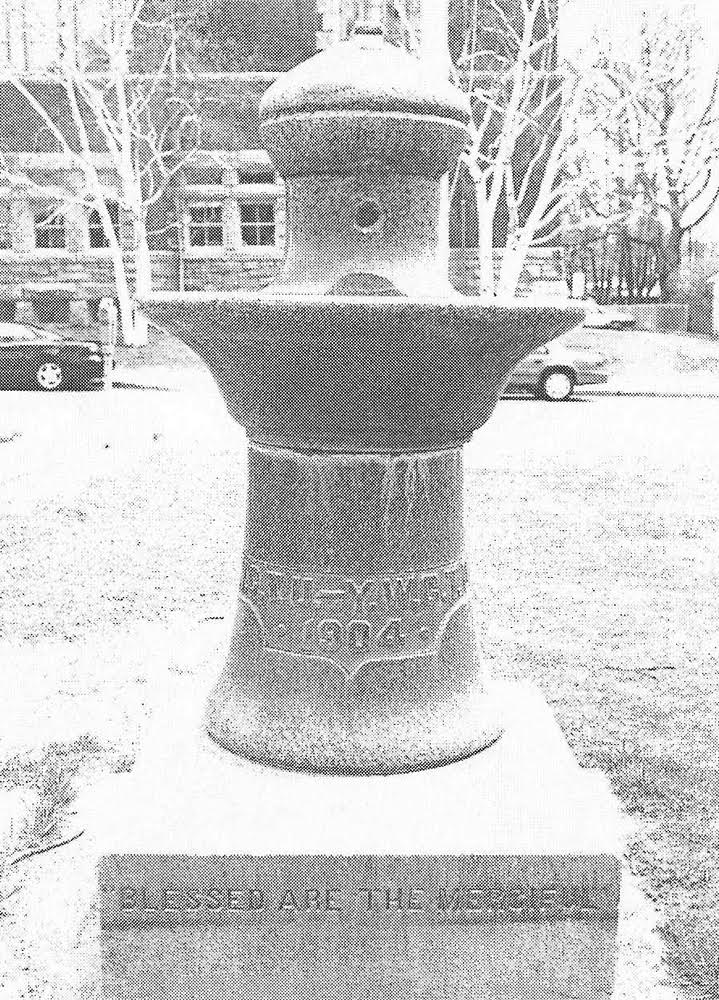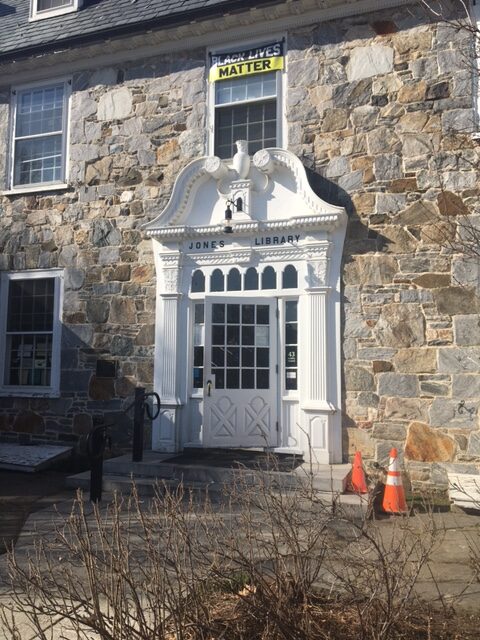 The WCTU Fountain
Amherst was the recipient in the early 1900s of one of many drinking fountains sponsored by the Women's Christian Temperance Union (WTCU) founded in 1874. The purpose of this national organization (that had an international dimension as well) was to create "a pure and sober world," so much so that they later played a critical role in the era of prohibition.
The WTCU "… was among the first organizations of women devoted to social reform with a program that linked the religious and the secular through concerted and far-reaching reform strategies based on applied Christianity." When local chapters erected public fountains, it was to provide fresh drinking water. But they had, as we might characterize it today, another agenda. In fact, "well into the 20th century– the women of the WCTU continued their campaign to provide free, accessible drinking water to thirsty townspeople—and often to their horses and dogs. With the goal of supplying an alternative to the alcoholic beverages offered in saloons, WCTU members also fulfilled another of their missions: the welfare of animals, especially the horses which were still the means of transport for people and goods. Many fountains had spouts for humans, plus troughs at two lower levels for horses and dogs."
Amherst's WTCU fountain has an inscription on it that is "Blessed are the merciful" and it was installed on Main Street in 1904 originally and then moved to the common in front of Town Hall. Just a few weeks ago, our Department of Public Works removed it due to a failed water line. However, in proposed plans for restoring and renovating the Town Common, designers hope to bring it back at the center of a small plaza with seating that could include interpretive material as part of a renewed North Common destination point.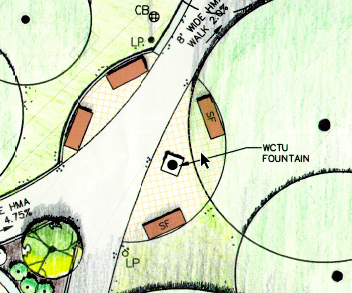 This all might seem a little quaint or perhaps as a strategy that doesn't quite jive currently with the many bars and eateries in town that have liquor licenses. But it is worth remembering the state of the roads in the late 1800s and early 1900s which were mostly dirt, so a drink of fresh water from a fountain on a dusty, hot day would be a welcome thing. In some parts of our country at that time, drinking fountains were still segregated by race. Public drinking fountains have a lot of different stories to tell us more about our past . Here in Amherst, the public fountain will hopefully be back on view and usable. It will be a good place to fill your water bottle as well as a social gathering point in front of Town Hall in years to come.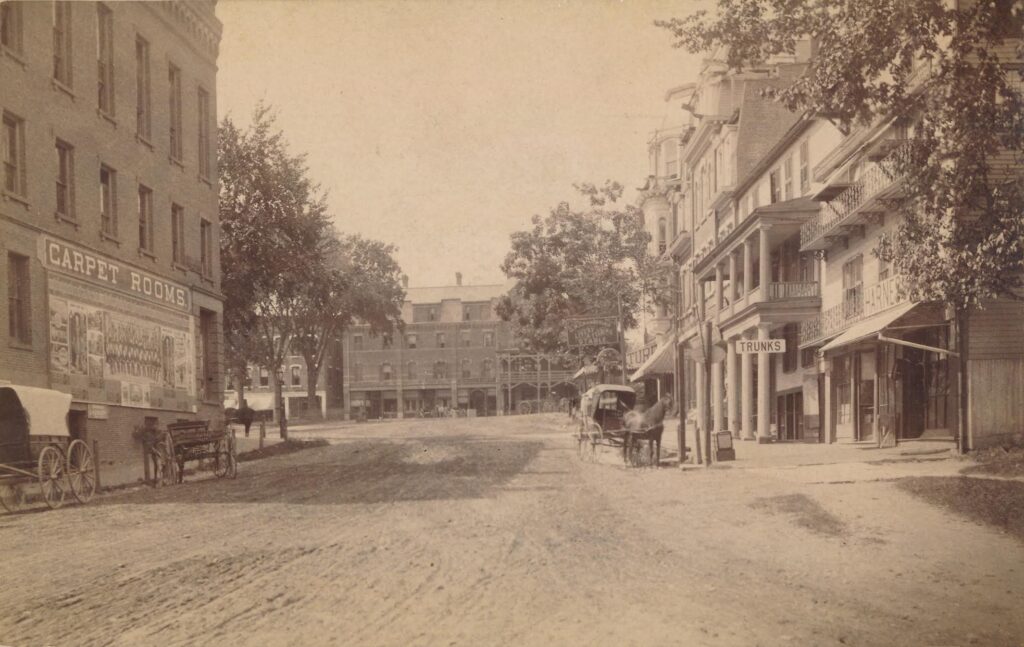 The Jones Library Entrance
My second hospitality 'object' is the front entrance to the Jones Library. I'm interested in writing about this important historic feature of the original 1928 building because of the ongoing contentious discussions about the plans for the library demolition/renovation project that is supposed to start in 2024. One of the concerns I have had about the plans is the demolition of the 1990s-era addition which includes the so-called Whipple House window that I wrote about last year in the Indy. This elegant fanlight looks like it might be pulled down by the jackhammers along with other windows which echo its design. While the historic front elevation of the Jones on Amity Street is supposed to be untouched by the new addition/demolition, some notations appear on the schematic drawings to date that are worth a second look.
The doorframe of the front door is very elaborate with many design elements borrowed from the past and includes in the center a pineapple. This popular fruit – not just loved for pizza toppings and fruit platter centerpieces – comes from the Amazon in Brazil where Tupiniquim or Tupi people lived. In the 16th century they made up 75% of the population. Historically, pineapples from this region of South America were shipped to the Caribbean and then to Europe and North America as luxury cargo packed in sugar.
In England, King Charles II commissioned a painting that showed him receiving a pineapple as a gift. "It was the ultimate display of royal superiority over his subjects, many of whom now occupied the outer reaches of the 17th century British empire in the West Indies."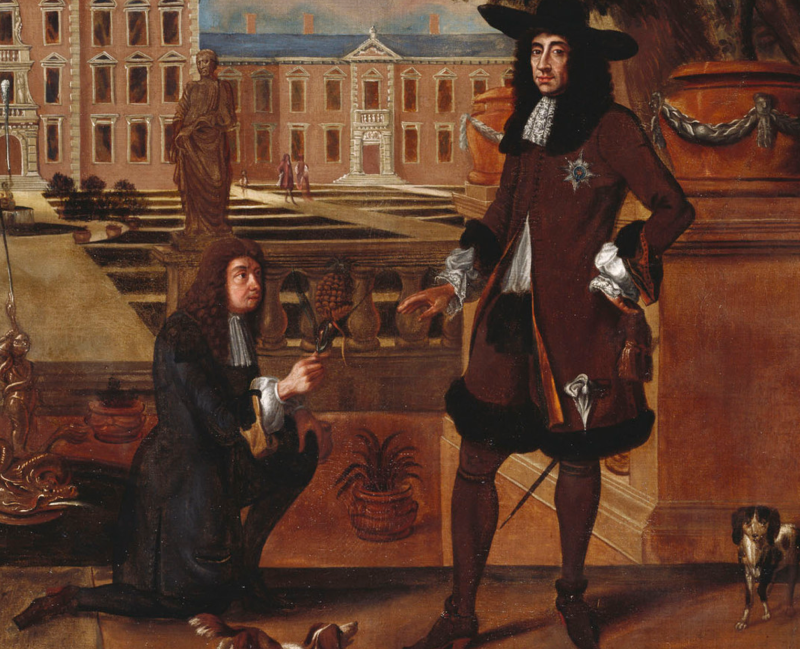 George Washington loved "pine apples" and on his plantation at Mount Vernon, his enslaved cook Doll, who is often seen as the real matriarch of the estate, served pineapples as part of the family's large and elaborate meals. By the late 1700s, pineapples were a sign of refinement as they were rare and unusual. They were also drawn by artists and naturalists and collected by antiquarians as objects of curiosity.

The pineapple today is usually seen as a symbol of Southern hospitality but perhaps the fruit tells a more complicated story of both welcome, rareness and subjugation. Having a pineapple over the entrance to a library tells of its origins in South America (but also that this library may well have information about that continent in its book stacks and collections) – a sign that perhaps through this door there are special, rare, or important collections inside.
Incorporated into the front entrance of the Jones, the pineapple is actually one of many design motifs that Allen and Cox, the architects of the 1928 building, used to create a sense of welcome to anyone entering their library. They hoped to create a building that welcomed the public but that had a sense of private domesticity – to achieve this they reached back to quote from a very specific architectural history of the Connecticut River Valley in which Amherst is situated.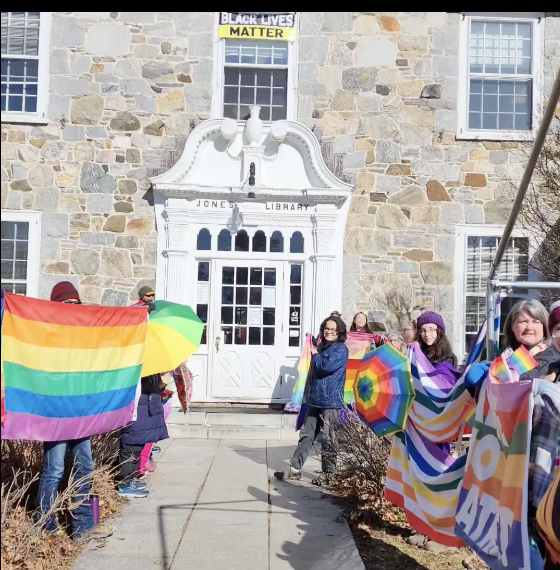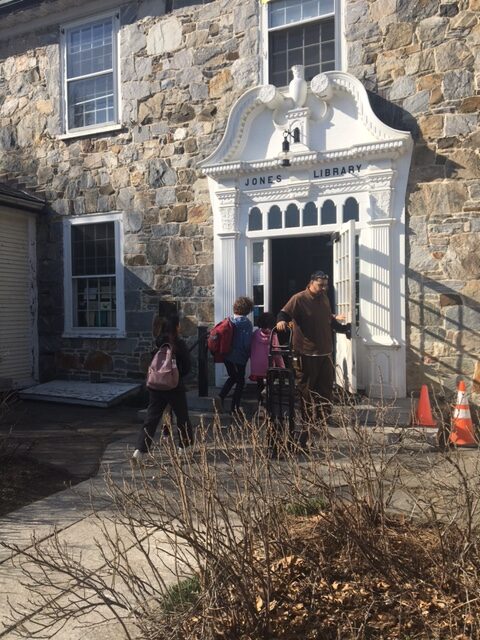 Look here for a story about the drag queen story hour at the Jones Library on February 22, 2023.
I would like to know more from the preparation drawings by Finegold Alexander that show a glass canopy over the entrance. It is not clear how much this will obscure the front entrance, especially from the side elevation.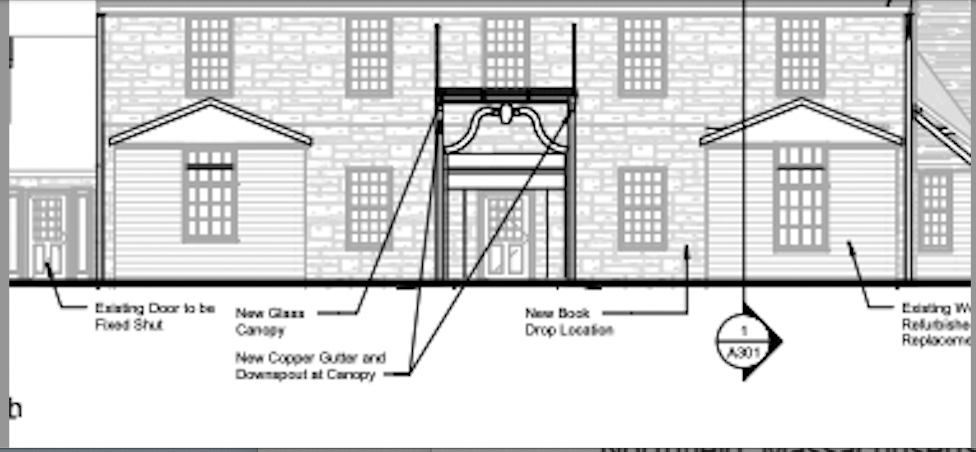 In Amherst, there is good food and entertainment, historic architecture that can both delight people and encourage tourism, and a rich literary culture that thrives in many outlets. There are great schools and colleges, diverse and multi-ethnic communities, live music, museums, art galleries and accessible natural resources for our recreation. May these blessings make us stronger….and more hospitable.
---
Amherst History Month-by Month is a monthly column on historic preservation, taking a look at Amherst's historic buildings and neighborhoods and the stories behind them. It may also, from time to time, explore the challenges of historic preservation in a town such as ours that is so rich in historic resources. See previous columns here.
Hetty Startup lives and works in Amherst and is a member of the Amherst Historical Commission.