Collective Copies Celebrates 40 Years In Business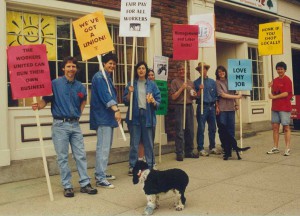 Source: Collective Copies

Collective Copies, Amherst's worker owned printing collective celebrated 40 years in business on May 1st, 2023 with a party at their store in Amherst at 71 South Pleasant Street. State Rep Mindy Domb stopped by to recognize Collective Copies for 40 Years serving the community. Levellers Press authors Claire Hopley, Bill Newman, John Sinton, David Bollier, Joanna Lillian Brown, Deb Habib & Ricky Baruc were on hand with stories and laughter. Collective Copies alumni Brian Sabel, Karen Lederer, Nancy Haver, and Jennifer Goodheart came back to celebrate with the current workers. Snacks were provided by The Black Sheep, Florence Pie Bar, and Carefree Cakery.
Collective Copies was born out of a group of unionized strikers who upon winning recognition of their union status and labor demands at their Amherst, MA copy shop, were then given the added gift of their bosses closing the shop very shortly after. Seeking to persevere, a band of these displaced workers organized what would become Collective Copies in early 1983. In 1998, Collective Copies expanded into its present location at 71 South Pleasant Street in Amherst. We expanded again in 2000 to 93 Main Street in Florence. Then we expanded again in 2007 to Belchertown. This was followed by the Great Recession of 2008. The Belchertown expansion did not work out as the entire printing industry went into a major contraction. Collective Copies has continued to adapt to a shifting printing landscape by concentrating efforts on publishing, guided self-publishing, and continuing to grow our fine print and finishing capabilities.

Collective Copies is a worker-owned collective and union shop. They donate 10% of their profits each year in response to requests from student/youth groups, organizations and individuals. Their giving favors human rights, creative expression and living things. They only use recycled paper and they offer a selection of tree-free alternatives like 100% pcw and sugarcane.
Read a story about Collective Copies by Dusty Christensen in The Shoestring.