FY24 Capital Improvement Plan Continues To Ignore Jones Library Maintenance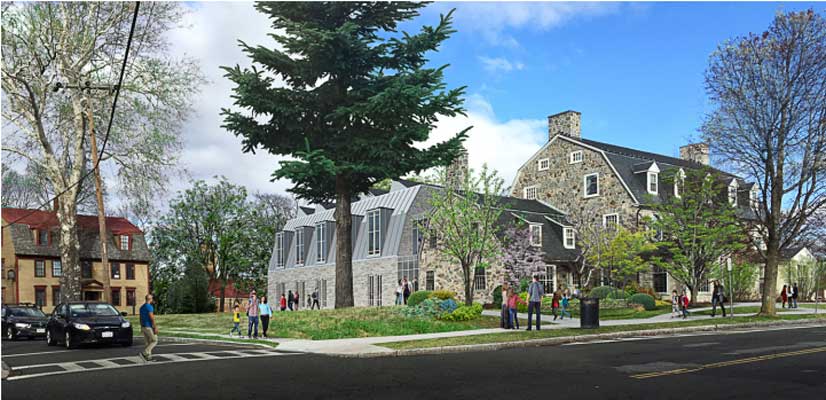 Jones Library News Highlights For The Week Of May 8, 2023
Capital Improvement Program Assumes Over-Budget Library Building Project Is A Go
Last September, after Jones Library renovation-expansion construction cost estimates soared to nearly $50 million, the Town Council was split 8-5 on whether to continue investing in the financially troubled project. The FY24 Capital Improvement Program (CIP) presented to the Finance Committee on May 5 shows little concern over costs now projected to be more than $10 million greater than the $35.3 million borrowing authorization that the Town Council approved in April 2021.
Library building maintenance that has been deferred for several years will continue to receive no planned funding, with the Town and Library banking on the renovation-expansion project proving feasible and moving forward.
The Town Manager's FY24 Budget states town leaders' mindset: "the Town continues to move forward on its four major building projects (School, Library, Fire, Public Works) and has a workable plan to finance all four projects."
The long-range CIP shows the Town borrowing the funds needed for the project and to start paying off the loan in FY25 at a rate of $1.15 million per year through FY33 when there will be $10.0 million of debt remaining.
In recent months the library has experienced a roof leak that caused damage to Special Collections items, and a fire in its aging boiler. In years past these issues would have been dealt with directly through the annual Joint Capital Planning Committee (JCPC) process.
The 2015 CIP 5-year plan showed proposed allocations to the Jones Library for funding roof repairs ($25,000), a fire system upgrade ($30,000), new carpet ($10,000), interior plaster and painting ($50,000), insulation upgrade ($25,000), exterior painting and stonework ($30,000), new exterior lighting ($5,000) and HVAC improvements ($435,000). The total cost for planned library maintenance between 2015 and 2019 was budgeted at $635,000.

Today, persuaded by a $13.8 million grant won through efforts by Friends of the Jones Library, Inc. fundraisers, the Town Council has committed to a building plan currently estimated to cost $46,139,800. The project consists of demolishing the library's 15,000 sq. ft. 1993 addition, rebuilding it, and constructing a new 15,000 sq. ft. addition.
The 2014 decision by the Library and its fundraisers to pursue a state grant to subsidize the grand renovation-expansion led the Town to defer further Jones Library building maintenance for two reasons. First, the project promised to rebuild a large portion of the library, rendering (assuming the project would be supported by the Town Government) maintenance of short-lived building systems unnecessary. Second, by allowing the building to deteriorate, the library project proponents helped sell their case that repairs would be more costly than rebuilding.
The effect on the Town's financial cash flow resulting from the 2014 decision can be seen in the chart below which shows approved capital improvements to the library through 2023, and planned costs for 2024 and beyond. The data is taken from Amherst Capital Plan reports dating back to FY2012.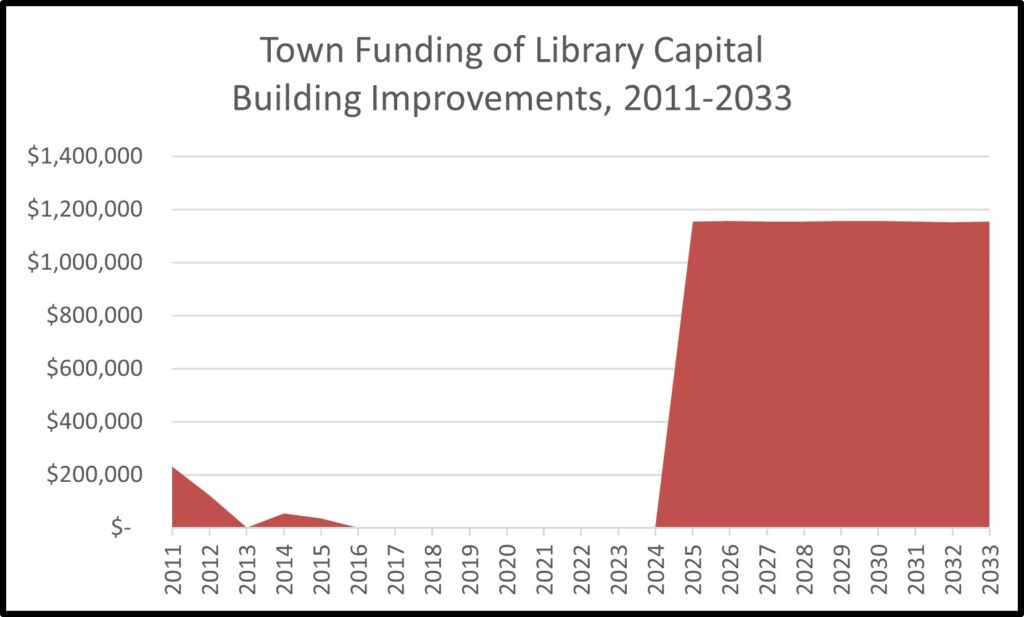 Should continuation of the Library renovation-expansion project be approved by the Town Council this November after new cost estimates are received, Amherst tax revenues will fund annual debt service payments of $1.15 million which are projected to continue for twenty years, assuming the 2021 cost model remains in effect.
Library Director Undeterred by Rising Building Project Costs and Fundraising Shortfall
The Finance Committee reviewed the 2024 budgets for Public Schools and the Library at their May 9 meeting. Committee Chair Andrew Steinberg excused himself from the Library discussion to avoid an appearance of conflict of interest represented by the fact that his wife works for the Amherst library system.
Library Director Sharon Sharry delivered an upbeat presentation of the Jones Library FY24 budget. She outlined an operating budget that was up 7.2% from FY23 to $2,938,727, with the main source of revenue being the Town's appropriation of $2,213,530.
Sharry warned that FY24 will be a complicated budgetary year due to the building project.
"Half the year we'll be located in the Jones Building, and for the other half would be in a swing space or an interim space," she explained. Operating costs for the interim locations are difficult to predict at this point, she said.
She noted a 6.7% increase in library salaries, due to the filling of two vacant positions, and converting one part-time position to full-time.
Sharry concluded her presentation with an update on the Jones Library Building project. The project's Design Development phase has been completed and the Building Committee is awaiting a reconciled project cost estimate expected by early June.
After developing construction documents and receiving a final cost estimate, the project will go out to bid in late November. A general contractor will be chosen in February 2024 and construction would begin in March 2024.
Sharry foresees a grand opening celebration for the renovated building taking place in December 2025. Outstanding funds committed by the Library in a Memorandum of Agreement with the Town would be paid in July 2026.
Potential obstacles to the successful completion of the renovation-expansion are an unacceptable budget gap due to continued cost escalation, failure of the Library Capital Campaign to meet its fundraising commitment currently pegged at $16,516,676, and the need for the Town Council to authorize borrowing the full amount of the project.
Sharry included a slide in her presentation that illustrates how the Capital Campaign will meet its current $16.5 million commitment.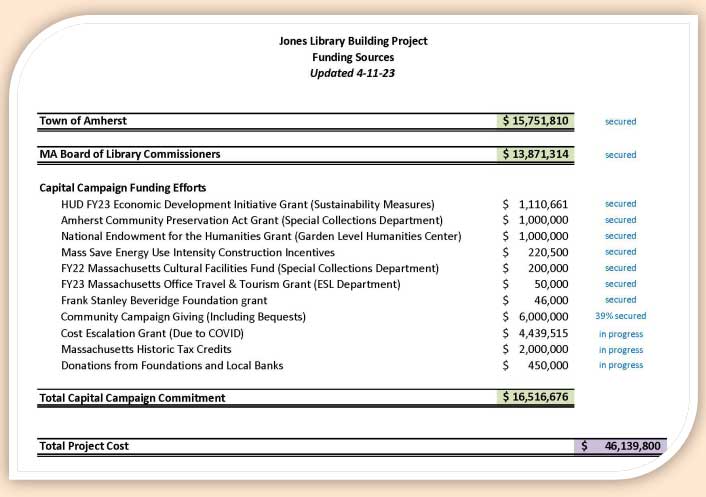 Remaining to be secured are $3.6 million in Community Campaign Giving, a $4.4 million Cost Escalation Grant, $2 million in Massachusetts Historic Tax Credits and $450,000 in donations from foundations and local banks.
Sharry cautioned that the Library expects its first Historic Tax Credits request to be rejected. "This is what happens 99.9% of the time," she assured, pointing out that rejection has benefits.
"We will get comments and suggestions and requirements — things that we need to change," she said. "So we will address those comments in our August application. We will continue to apply 3 times a year, every January, April, and August each year, until the end of our project. We can receive about 2 million dollars from these efforts over these next few years."
Council President Lynn Griesemer Offers Library Project Insights at Cuppa' Joe
Town Council President Lynn Griesemer shared some building project news at the May 12 Cuppa' Joe with Paul (Town Manager Paul Bockelman). She reported that the Library Capital Campaign had the day before received an additional $1.6 million award from the Massachusetts Board of Library Commissioners. She did not specify where in the above list of funding sources this grant appears, but it is believed to be from the Cost Escalation Grant request of $4,439,515 reported to be in progress.
Asked if the Capital Campaign had written their grant proposals so that library improvements would be eligible for the federal and state funds regardless of whether the $46.1 million building project is able to be approved, Griesemer replied that, based on her understanding of grant awards, these recent grants could only be used for the large renovation-expansion project.
Griesemer conveyed information she has received that the Library Trustees can take advantage of a low-interest loan from MassDevelopment to cover any fundraising shortfall by the Capital Campaign, and pay back the amount owed the Town without endangering the Library Endowment. The size, availability, and terms of a possible MassDevelopment loan remain to be determined.