Fort River Students Launch Campaign To Improve Treatment Of Refugees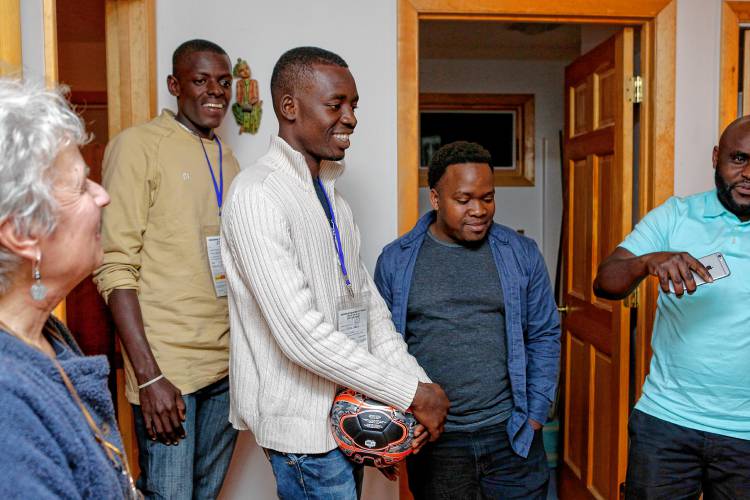 Source: Tim Austin

A 5th grade class from Fort River Elementary School has decided to spend some of their class time planning and running a campaign to improve the treatment of refugees. The class has teamed up with the Welcome Home Refugee Resettlement Program ,a project of The Catholic Charities of Springfield. According to Keegan Pyle, the program coordinator, "We are able to resettle refugees and provide them with the support they need to successfully rebuild their lives because of the help we get from the community." Pyle also added, "The students are trying their best to accomplish their campaign to help refugees that come to Amherst or other communities."
In March, the class invited a volunteer named Margot Greenwald, and a refugee named Fahim Sahlman [pseudonym*] who had come from Afghanistan a year before. Fahim left Afghanistan because he worked for the US Government, which put his life in danger. "Meeting students of Fort River school was one of my most memorable moments here in the United States," Fahim said. "Those students gave me the hope that immigrants in the USA are not alone and we all can work hand in hand for a better world."

The students have recruited a team of volunteers from their school community to help refugees like Fahim. "Hearing Fahim tell our class about all the obstacles he went through to escape Afghanistan was definitely one of the things that helped convince us to work on this issue," said Maizy Lonergan. "We hope our work can make a difference in our community." The work of these volunteers is vital, especially to those who have experienced trauma.
Margot Greenwald, who volunteers with the Welcome Home Refugee Resettlement Program in Springfield, adds, "When you volunteer to help refugees who have been forced to flee their native country in order to not be murdered by their fellow, but radicalized, countrymen, you learn what true terror is."
Recently, the class completed a necessities drive, and collected six large boxes of household goods. These items will go immediately to use by refugees who are arriving in our area this week. The class has also planned an obstacle course to help the school community learn about the obstacles that refugees face. The event will feature volunteering opportunities and information about local organizations that support refugees. The event will take place on Saturday, May 27 from 1:30-4:00 p.m. at Fort River School (70 South East Street in Amherst).
Fort River School's motto is "We Choose Love". "To Choose Love, like we do at Fort River Elementary School, is a daily choice that we make as a community and as individuals," said Principal, Tamera Sullivan-Daley. "Choosing Love means to act with compassion, respect, courage, and with a justice-mindset." The fifth grade class' work to improve the experience of refugees locally, fits squarely into this way of thinking. "When we work together to support people who are marginalized, whose human rights have been compromised to such a degree that they have left their homes and come to a new country to find peace," continued Sullivan-Daley, "then our actions speak louder than our motto, Choose Love."
For more information, please contact Maizy Lonergan and Symantha Green through their teacher, Tim Austin at austint@arps.org