Memorial Day Commemoration Begins With Parade From The Town Common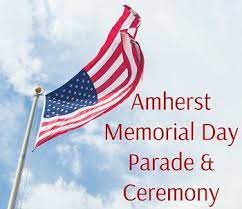 Source: amherstma.gov
The annual celebration of Memorial Day will begin with a procession from the Town Common to the War Memorial Pool where the program will take place. Those wishing to walk in the procession should assemble on the Town Common across from the Inn at Boltwood between 9:15 and 9:30 a.m. on Monday, May 29.
The commemoration program at the War Memorial will include an invocation by Pastor Floyd Williams, the singing of the national anthem by the Amherst/Pelham regional chorale, a welcome address by Town Manager Paul Bockelman, and remarks from Town Council President Lynn Griesemer. Steven James Connor, Director of Central Hampshire Veterans' Services will serve as Master of Ceremonies.
The Medal of Liberty will then be presented. Commander of the American Legion Terry Fenstad will read the roll call of departed comrades, and then he and Griesemer will place the commemorative wreath. The program will end with a gun salute by the American Legion, the playing of Taps, and the raising of the American Legion and Veterans of Foreign Wars flags. Pastor Williams will give the final benediction.