New In June At Gallery A3: Emily Dickinson's Ghosts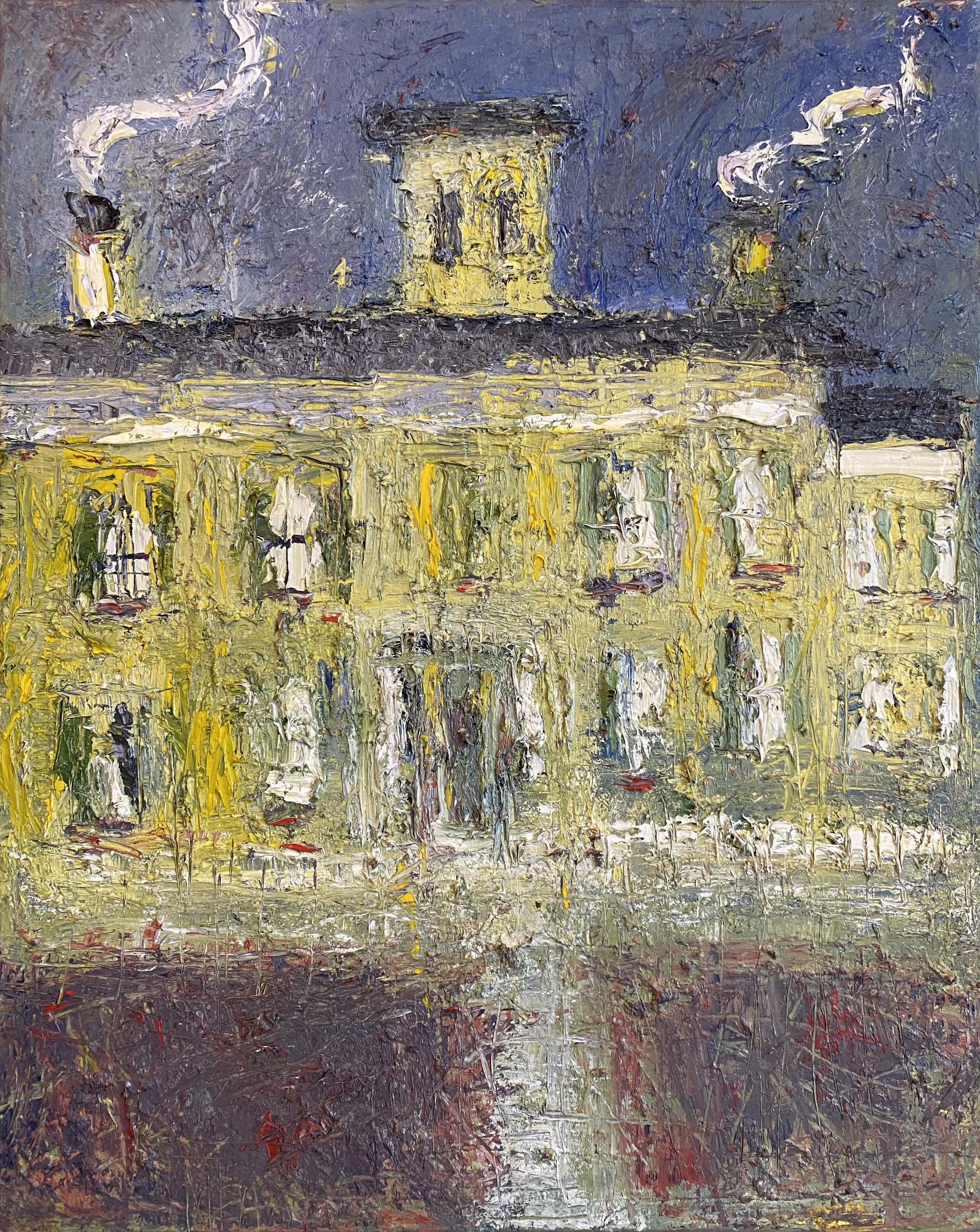 Source: Gallery A3ller

Gallery A3, 28 Amity Street 1D announces a new exhibit by Laura Holland and Nancy Meagher that is inspired by Emily Dickinson. Entitled, Emily Dickinson's Ghosts, the exhibit will run from June 1 until July 1. There will be an opening reception on Thursday, June 1 from 5-7 p.m. and a free, online art forum on Thursday June 15 at 7:30 p.m. Register here for the forum. Gallery Hours: Thursday-Sunday 3-8 p.m.
Working separately on a shared theme, Holland and Meagher turn to Emily Dickinson for inspiration, imagining the poet's animated presence in their visual art. Accordion books and photographs by Laura join oil paintings and sculpture by Nancy to conjure oblique, ghostly glimpses of Emily Dickinson at her Amherst home and hearth.
The project began some five years ago, when Meagher witnessed the ghost of a small, distressed woman exit the steep granite steps in front of Austin Dickinson's house and then bustle towards the Dickinson Homestead next door. Since then, she has painted multiple versions of the two Dickinson Family houses in Amherst. Various angles, times of day, types of light, seasons, and weather conditions—through all these changes, the essential underlying structures remain consistent, as does Meagher's approach to painting. Working with oil paints and palette knives, she builds up thick layers, then carves through them, only to build up another layer and another. Images emerge and disappear, and under the heavily textured surface of each finished canvas lies a painterly palimpsest.
To create a sculpture inspired by Emily Dickinson's famous white dress, however, Meagher moved from the two-dimensional canvas to a three-dimensional form using paint, plus paper pulp, glue gels, and wire. "The idea of incorporating Emily's wallpaper into the dress seemed like a perfect fit for the poet who spent hours in her wallpapered bedroom writing," she explains. "It felt like the 'flowers' were her trusted companions."
Initially skeptical, Holland met her own "Dickinson ghosts" at the poet's Birthday Open House, at the Emily Dickinson Museum in December 2022. "It felt like past and present were partying together, with the house interior restored to look the way it did when the Dickinson family lived there," she said. She was intrigued by the colorful Brussels carpet in the parlor—and by stories about it. "Rumor claims that ladies of Amherst arrived early to events at Mrs. Dickinson's parlor, just to glimpse the carpet," she explained. "I could see them, in my mind's eye, sweeping aside their long, dark skirts to peek at the color under their feet." In other rooms in The Homestead, other spirits also made their presence felt. Laura decided to write very short stories—100 words each—about these spectral moments and then combine the text with photographs to create a suite of hand-bound accordion books.
"Our ghosts don't jump out of the woodwork to say 'Boo'," Holland noted. "We are trying, with visual art, to show how our personal impressions of Emily's presence reach out from her times into ours."
Art Forum Online
In an Art Forum Online on Thursday, June 15 at 7:30 pm, Holland and Meagher will discuss their work, and welcome questions, comments, and ghost stories from the audience. See the gallery website www.gallerya3.com to register for this online event, which is free and open to the public. This Art in Community outreach program is supported in part by grants from the Amherst Cultural Council, Pelham Cultural Council, and Springfield Cultural Council, all local agencies, which are supported by the Massachusetts Cultural Council, a state agency.

About Gallery A3
Gallery A3 is a contemporary, fine art gallery in downtown Amherst, Massachusetts. Members of our artist-run gallery include painters, sculptors, photographers, printmakers and mixed media artists. You can find us in the Amherst Cinema complex along with Amherst Coffee, GoBerry Yogurt and Osteria Vespa restaurant.
Gallery A3 was founded in the aftermath of the terrorist attacks on 9/11. A group of local artists believed art to be essential to the health and healing of a community and began the gallery as a place to share ideas and artistic support. Since that time, the gallery has been home to over sixty artists and is now celebrating twenty years of monthly shows with openings and forums. All events are free and open to the public.
Gallery A3's Mission
Gallery A3 strives to enliven and enrich our community by offering exhibits with public openings and open forums. It established and actively participates in the monthly art walks, Amherst Arts Night Plus, and supports regional artists with an annual juried show. It serves its own membership with conversations and programs that bring established professional and newly-emerged artists together, promoting artistic development and encouraging the creation and exhibition of exciting, new contemporary art work.