The Future Of Housing In Amherst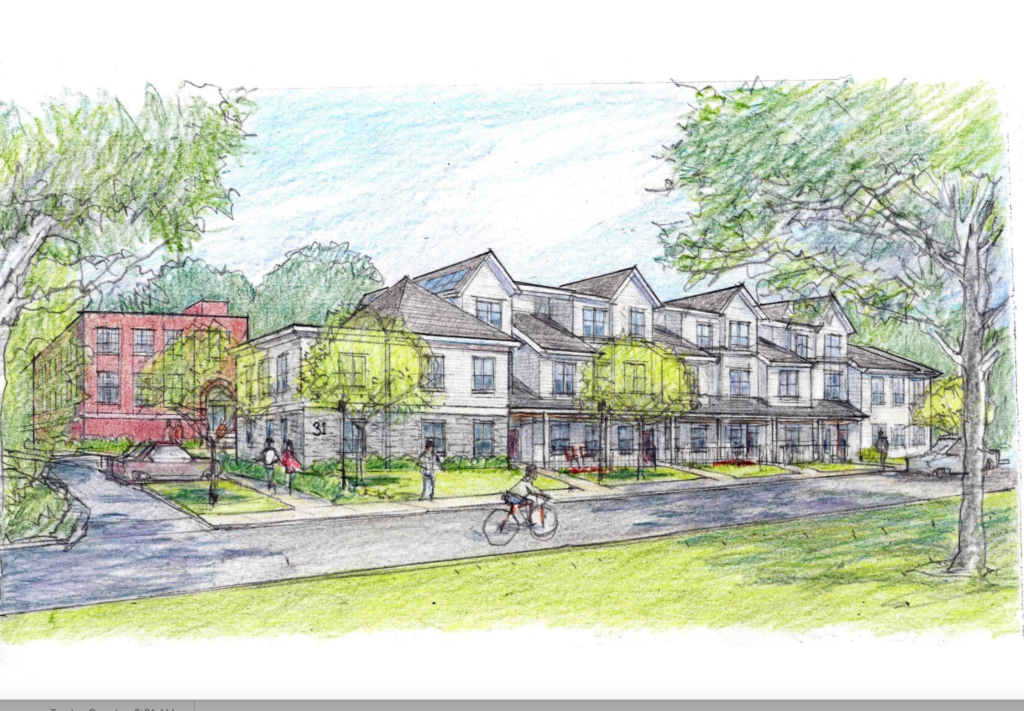 Report On A Joint Meeting Of The Community Resources Committee And Amherst Municipal Affordable Housing Trust (AMAHT), May 18,2023
This meeting was held over Zoom and was recorded. It can be viewed here.
Because many of the aims of the Amherst Municipal Affordable Housing Trust (AMAHT) and the Community Resources Committee (CRC) overlap, the two bodies met jointly to discuss the state of housing in Amherst and recommendations for the future. The meeting was moderated by CRC chair and At large Councilor Mandi Jo Hanneke.
Senior planner Nate Malloy and Assistant Town Manager Dave Ziomek began with a presentation on the state of housing in Amherst, using the 2021 Comprehensive Housing Policy, the 2017 AMAHT Strategic Plan, the 2015 Housing Market Study, and the 2010 Master Plan as a jumping off point.
Ziomek introduced the complexity of Amherst's housing market which, due to the colleges and university, has people of all ages looking for housing. He said that Amherst continues to be a leader in the state in the creation of affordable housing, devoting time and millions of dollars toward helping make Amherst affordable. Projects have been funded through Community Preservation Act funds, Community Development Block Grants, American Rescue Plan Act funding, and state grants. The council has also taken an active approach to modifying zoning in order to encourage housing production, he said.
Town planning has used the 2021 Comprehensive Housing Plan adopted by the Town Council, and linked it to the Master Plan as a framework for housing development. The Comprehensive Housing Plan lists five goals:
Goal I: Promote Greater Pathways to Homeownership and Integrated Communities through Increased Supply of a Diversity of Housing Types
Goal II: Increase the Supply and Variety of Affordable and Market Rate Rental Housing
Goal III: Create, Update, and Maintain Safe, Secure, and Environmentally Healthy Housing
Goal IV: Address Climate Sustainability and Resiliency of Housing Stock, Location, and Construction
Goal V: Align and Leverage Municipal Funding and Other Resources to Support Affordable Housing.
Even though much new housing has been constructed in town recently, Ziomek said, "We are still struggling to produce enough housing to take a big bite out of the need. We need more housing units in all categories." Recent and current projects include Olympia Oaks, North Square, East Gables on Northampton Road, Ball Lane duplexes, East Street School and Belchertown Road, and the VFW building on Main Street, which is slated to become a permanent shelter. The Planning Department is also evaluating town-owned property on Strong Street for possible development.
According to Malloy, there are 9,621 housing units occupied year-round in Amherst. The Affordable Housing Inventory (AHI) lists 1,251 units (13% of the total), but some of those are in developments containing market rate units, so the actual number is 894 (9.29%). Recently created affordable units include four homeownership units from Habitat for Humanity, 26 units at North Square, 28 studio apartments at East Gables, and 30 units in six developments created through the Inclusionary Zoning bylaw, which requires all developments of more than 10 units to contain 12% affordable units. Between 2015 and now, a total of 862 residential units have been permitted. Seventy-seven are single-family homes and 28 are accessory units. The rest are multi-family units. These figures show a marked increase over previous years beginning in 2016.
However, Malloy emphasized that the area median income (AMI) for a family of four of $91,200 is too little for the purchase of a home in Amherst and that any market-rate rental unit in Amherst is unaffordable for those making 80% or less of AMI, including people with a Section 8 voucher. In fact, 80% of Amherst renters spend at least half of their income on rent. He said the 10% state goal for subsidized housing does not nearly meet the needs for affordable housing. According to a 2022 report by the UMass Donahue Institute, the region needs 17,000 more units that rent for less than $500 a month.
AMAHT member Aschleigh Jensen-Eldridge noted that the lack of affordable units is the main reason that people ages 25 to 49 are leaving Amherst, and that the school population has declined by a third since 2000. She said single-family homeownership may not be attainable or desired for this demographic, and suggested that the town survey recent UMass graduates (as well as workforce people in Amherst) to see what they want in terms of housing.
Town Councilor Jennifer Taub (District 3) said a developer told her, "The business of Amherst is student housing," and that until the need for student housing is met, most new housing will be built for students. She also pointed out that a recent Daily Hampshire Gazette article called attention to 900 UMass students protesting because they were closed out of campus housing for next year, and asked Ziomek for a response.
Ziomek replied that the town tries to work with developers to build a variety of housing types and that the town's inclusionary zoning has helped, but building affordable units takes subsidies, through state aid or tax benefits. Malloy said that the town typically does not regulate the internal layout of units so that some might be appropriate for families, but that may be a direction in which the Zoning Board of Appeals and Planning Board may wish to explore allowable means to increase their influence on the interior design of units..
Mandi Jo Hanneke (At large councilor and co-sponsor of a proposal to partially deregulate construction requirements) pointed to the recent Age and Dementia survey that showed that 80% of Amherst seniors plan to age in place over the next 10 years, so  their houses will not be coming onto the market. She suggested that building more housing geared toward seniors might encourage them to move and free up their houses for new owners. Former AMAHT Chair John Hornik said that housing geared for seniors, ages 55 and up, is one type of housing that cannot be taken up by students.
AMAHT Co-Chair Carol Lewis also stressed the need for workforce housing, for those not eligible for subsidized housing but unable to afford the market rate. She pointed out that Amherst differs from surrounding communities not only because of the student population, but also because (in some areas) it has larger lot size requirements. Taub noted that her neighborhood near the center of town has the smallest lot sizes and the most density in the town, and that almost everything built recently has been aimed at the student market. She also noted that many people move to Amherst because of the green space, and while conversation often centers on densifying the already-dense areas of town, it leaves the areas with the large lot sizes and big houses as is.
Jensen-Eldridge lamented the excessive cost of building subsidized affordable units, due to stringent requirements for state subsidies. She noted that private builders can build for much less because they don't have to meet those requirements, but those builders usually charge what the market will bear. For instance, the affordable units at North Square cost $350,000 each to build, and it is estimated that each duplex at Ball Lane will cost $550,000 to build, but will be sold for half that price after subsidies. Jensen-Eldridge called attention to the April 13 presentation by Maggie Randolph of Dover, New Hampshire, where the family business built two-bedroom tiny homes for the staff of its Assisted Living/Memory Care business at a cost of $118,000 per unit. But she noted that the business already owned the land, and the developer did not take a profit.
Implementation And Next Steps
Hanneke suggested that zoning changes such as rezoning the Commercial zone in East Amherst and in the professional research park area between Palley Village and Amherst Woods, and reducing required lot sizes in some outlying areas could result in more housing. Also, she wondered if the development planned for the East Street School and Belchertown Road could include housing for those making as much as 120% of AMI. 
Malloy pointed out that the town needs a multi-pronged approach to create a mix of housing types. Zoning changes are complex, he explained, because the districts are "intertwined", and creating overlay zones might be more efficient. He also said that the town ought to determine its capacity in terms of the number of units and number of students it can house, and then continue to address this issue with UMass representatives.
Ziomek said the groups need to be realistic about how much work the town staff can do when creating the Town Council list of priorities for the Town Manager and staff. He pointed out that last year's list of goals focused on racial equity and diversity. He asked how important is housing and housing affordability for the Town Council, understanding that all of the initiatives proposed take money. Town Councilor Shalini Bahl-Milne (District 5) said that new developments can raise money through new property taxes. She also pointed out that if the town does not provide housing for students, more housing in family neighborhoods will be "taken over" for students.
Dividing Up The Work
Malloy and Ziomek suggested that the CRC, AMAHT, and Planning Department staff have complementary roles in furthering the town's housing goals. They proposed the following framework for each group's focus areas:
CRC
Establishment of broad goals and strategies
Identification of town priorities 
Development and adoption of policies and regulations and zoning 
AMAHT
Advocacy 
Public education and outreach 
Initiatives
Pre-development funding
Statutory powers in bylaws
Staff
Prospective developments and planning 
Interact with property owners and stakeholders 
Facilitate projects 
Manage permitting 
Implement zoning and regulations
Listening Session On Affordable Housing Scheduled For June 20
The Amherst Municipal Affordable Housing Trust, the Community Safety and Social Justice Committee, the Human Rights Commission, and the Board of Health are co-sponsoring a listening session on affordable housing at the Bangs Center, 70 Boltwood Walk, on Tuesday, June 20 from 6:30 to 8:30 p.m.
In preparation for the listening session, the public is invited to complete a three-question survey about affordable housing. The questions are:
What does affordable housing mean to you?
How can we improve housing options in Amherst?
What should we consider in developing potential solutions to housing challenges in Amherst?

Translation and childcare services are available for this event. If those services are needed, residents are asked to call 413-259-0360 by June 9.