Queer Youth, Teachers: We Can Restore A Queer Positive Climate At School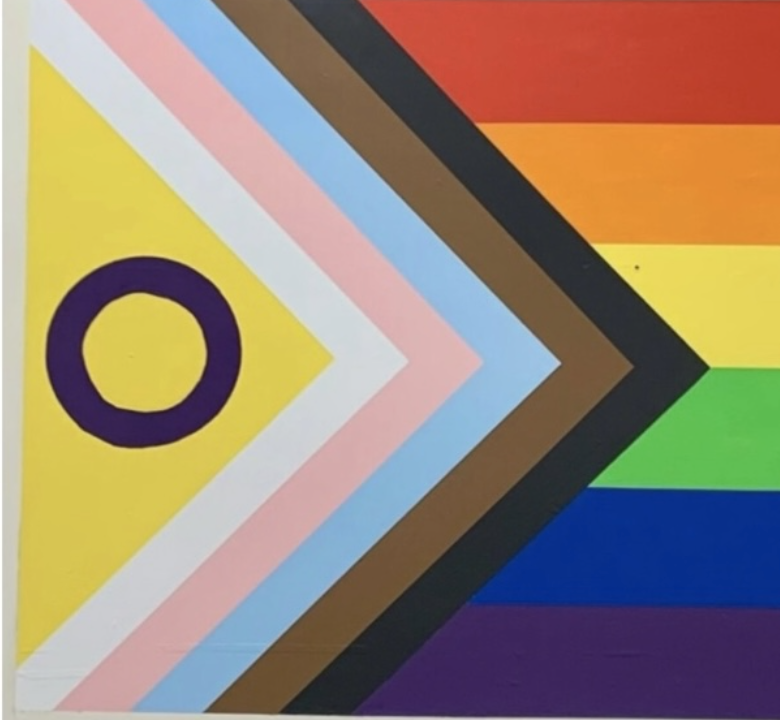 The following article originally appeared in The Graphic on June 3, 2023. The latest edition of The Graphic is largely Pride-themed. All stories are by the seniors in the Journalistic Writing class of Sara Barber-Just at Amherst Regional High School. The issue includes coverage of district and community Pride events, reflections/reactions to the story published in May about harassment of trans students at Amherst Regional Middle School, and other great news, sports, and club reporting.
Following The Graphic's breaking story about alleged transphobia by Amherst Regional Middle School (ARMS) counselors and other district staff–and students–at ARMS, three guidance counselors and the assistant superintendent were placed on administrative leave, and the superintendent took a medical leave. Many in the queer community noted that there will be lasting effects on the ARPS community after these events, especially for queer students, and that repairing harm will be an ongoing process.
They also expressed sadness and anger and noted that anti-queer and anti-trans values feel out of the ordinary for Amherst schools.
"Mostly I'm just really angry," said gender-queer ARHS junior and Sexuality and Gender Alliance co-president, Lucia Bernardin. "I'm angry that even in Amherst, we can't create an environment to support trans and queer students."
Bernardin knew that homophobia and transphobia existed among students and staff, and that there were kids who were "really struggling with their identities and being bullied for those identities," but they said they did not have any idea "it was that bad."
In fact, they noted that what was described at ARMS is quite different from their Amherst Regional High School (ARHS) experience, noting the high school has "an atmosphere of acceptance."
Bernardin came to ARHS after attending middle school in another district. "We have the Gender and Sexuality Alliance which I was just happy to be a part of my freshmen year when I was starting in a new district online and I didn't know anybody," they said. "I got to meet a bunch of really nice, friendly, genuine people who accepted and affirmed my identity, and that was really important to me."
Bernardin also mentioned the presence of many adults in the building who actively support queer and trans students and many out queer staff. "Whether [they show it] by having flags on walls or using students' names and pronouns, you can just tell you're with someone who will go out of their way to make your life better as a queer student," they said.
ARHS is home to the nation's first LGBTQ Literature course in a public school, pioneered by English department head Sara Barber-Just in 2002. Now, LGBTQ Literature is also taught by queer English teacher Amanda Lewis, and queer and trans stories have been incorporated into other English courses as well.
"ARHS was the first school that I went to where I saw so much of the English curriculum centered around queer people and not even in explicitly LGBTQ Lit classes. That was really wonderful," said Bernardin.
"I think having a designated class to explore queer lit, and also having queer lit as a part of many other classes in the English curriculum, is huge," said Lewis. "That means that every student, whether or not they're opting into LGBTQ Lit, is encountering LGBTQ text and lives and histories in their classes, and being supportive and engaging in respectful and thoughtful ways." All ninth graders read a book about nonbinary identity and juvenile justice called The 57 Bus in ninth grade. And middle school English department head Heather Sullivan Flynn has worked with her department to add LGBTQ literature circles for students at ARMS as well.
At ARHS, watching the film "We've Been Around," about trans people in history, especially stuck out as a highlight of the LGBTQ Literature curriculum. "The videos of trans people throughout history, that was my favorite thing that I've done this year," they said. "It's just about trans people throughout history in times where you wouldn't expect trans people to exist, but they did exist. Trans people aren't new."
Lewis echoed that sentiment. "What I want queer and trans young people to know is that there are trans people in history, and queer people in history, who have your back who you don't know," added Lewis. "I just think that knowing that queer and trans people have been around and are not new, are not a contemporary invention to undermine gender, is really important for students to know. And that there will be queer and trans people in the future."
Lewis also stated that other departments at ARHS have "done a lot of work to make sure that we're seeing queer lives and queer stories and queer contributions to all our disciplines because queer and trans people [do] contribute to all our disciplines."
Art teacher Kristen Ripley is in her second year teaching at ARHS after moving from middle school. As a queer student herself, Ripley realized how important it is to see queer representation in educators when she had a professor in college who was an out gay man.
"Seeing a little bit of myself reflected in this professor that I had as an adult made me pay attention differently," she said. "In my whole career as a teacher, I've been out. That experience struck me so much. I think somebody needs to see that there are teachers or adults that are comfortable with being themselves."
Ripley previously worked in the Boston area, and while she never felt it was openly unsafe or hostile, it wasn't as welcoming to her as Amherst has been.
As a parent, Ripley also sees how students benefit from Amherst's accepting community. She states that people here do not assume about your gender or sexuality as much, and they leave space for people who present in different ways. In their time here, her children have only been asked if they have "a dad" once.
When she heard about the events at the middle school, Ripley was "shocked" and "just beyond disheartened." "It wasn't that long ago that I was over at the middle school and I really didn't feel unsafe. I don't feel like any place is ever perfect, but it didn't feel like a place that was so unwelcoming," she said. "What has been happening feels completely out of line with what this district values and puts work toward."
Citing the middle school's history of being a pioneer for LGBTQ acceptance, Ripley said that "perhaps we should get back to our roots."
"The middle school in Amherst was the first middle school in the country to have a gay/straight alliance at school," she said. "That's quite a turnaround. A lot of really pioneering work has happened in the school district."
"Part of adolescent development, the time of your life in middle school, is a time where everything about your identity formation and your self-exploration is right at the forefront," explained Ripley. "[Middle school] is a place where that comes up, but it's an opportunity for learning and growth." She described middle school as a time where young students can learn to "navigate a microcosm of society."
Ripley said she values public schools because they provide a space for many different people to meet. "I know my colleagues at the middle school are working really hard to preserve that, or to get it back, but it can't work without somebody in a leadership position setting the tone and setting it as a priority," she said. "What I want for the middle school is for that to be restored."
While ARHS provides a lot of support for queer and trans students, recent conflicts have revealed just how fragile these systems can be, staff and students said, and that there are several things that Amherst schools could do differently.
For example, Bernardin believes that more could be done to ensure that all teachers are asking students names and pronouns and taking other necessary measures to make sure that students are not being misgendered or deadnamed in class. "I think that people sometimes don't fully understand how much that hurts as a trans person, to go around the world discovering who you are and have people still not see [you]," they said. "[Using the right name and pronouns] is such an easy way to make people feel supported."
Bernardin believes that this can also be accomplished by providing more pronoun pins and stickers for teachers to wear to introduce themselves, normalizing the sharing of pronouns and making their students feel safe enough to share their own.
They believe that more queer education can be added to other curricula. "There's nowhere we can't tie in intersectionality," Bernardin said. "Everyone has an identity, so only talking about cis het white men of the world is not an accurate representation."
Not being afraid of not knowing things is also a factor that Bernardin stresses to help make schools more inclusive. "Often, adults are afraid to not know the answer, but it's so much better to do a quick Google search or to ask someone in the building," they said.
"There's plenty of adults in the building who are happy to have those conversations, myself included," added Lewis.
SAGA has also offered to answer any questions regarding sexuality and gender that one might have and to share their informative presentations with the district. Bernardin and Lewis agree that viewing their presentation on how to support queer and trans students once a year should be mandatory, as it is currently only optional and available at request. "Your students are not there to educate you, that's not their job," added Bernardin.
Lewis also believes that having ongoing discussions with students about their identities and not being afraid to apologize is crucial for teachers to foster their relationships with students.
Ripley would like to see the middle and high school band together for a SAGA mentorship from grades 7-12. "A lot of what happened at the middle school happened at the hands of adults," she said. "I think what students need to know is that their peers are supportive and loving too."
ARMS has also previously hosted all-school learning events, usually on half days, for a chance to teach and have a conversation with students about important issues, like gun violence, Black Lives Matter, social emotional learning, and more. Just recently, on Friday, May 19, People Opposed to Sexual Harrasment (POSH), hosted a student-led assembly addressing sexual harassment, including its effects on queer and trans youth. 
In 2017, with then-principal Patty Bode, ARMS teachers brought photo-text exhibits to the school, featuring queer families and sponsored by Family Diversity Projects. They created advisory lessons around the exhibit so that all students could participate in discussions and learn about LGBTQIA+ topics.
Ripley believes that ARMS could greatly benefit from bringing back more of these intensive teach-in models which would provide adequate information about these topics while also taking the pressure off of teachers to change their curriculum. She believes these teach-ins could be student-generated and take on many different forms, including a small conference with panels and speeches by students. "That's the stuff when you go to college that you're going to be doing," she said. "When you go out into the world it's what you're going to be doing at work. I know people get caught up in the logistics of how that stuff can happen, but I think we can make it work."
Bernardin had advice for those who are still grappling to come to an acceptance of LGBTQ people. "I really want people to know that there are resources, and there are people who will explain to you what you need to know. Just because you don't understand something doesn't mean you can't accept it," said Bernardin.
And for queer people? They added this: "Being queer is wonderful. Just because it's hard doesn't erase the beauty of being queer or trans. It gets better."