Breaking The Silence: Staff Members Come Forward With Claims Of Negligence, Misuse Of Power By School District Leadership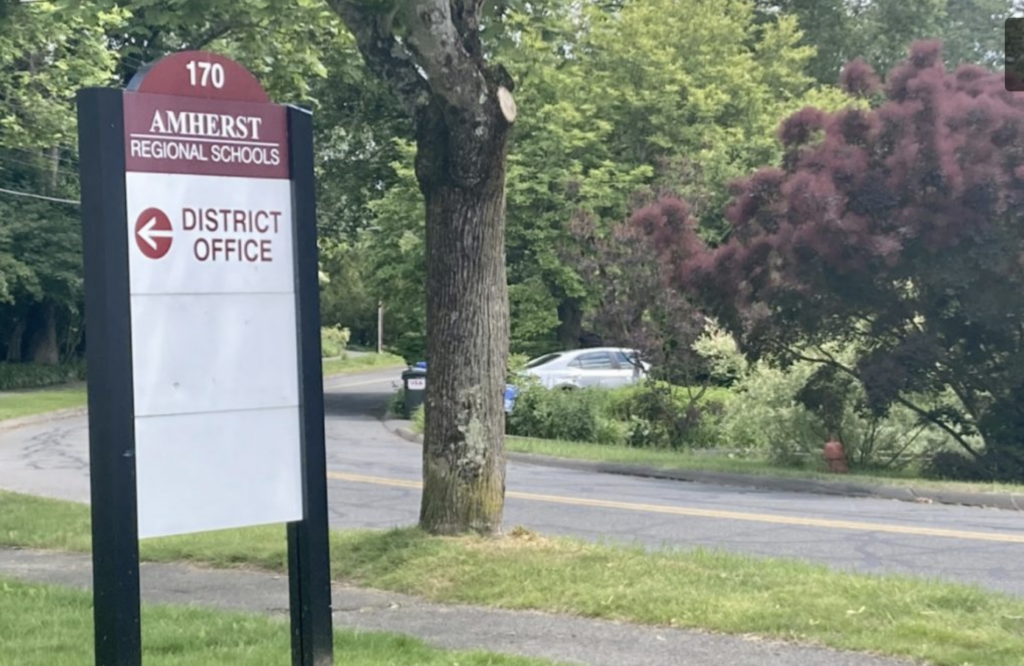 by Talvin Dhingra, Tae Weiss, Jacob Laney, and Amara Cheng

The following article appeared in The Graphic on June 13, 2023 and is reposted here with permission.
On May 13, when members of the Amherst Pelham Education Association (APEA)—the union representing teachers, paraeducators, and clerical staff—announced an all-district no-confidence vote in Superintendent Michael Morris and Assistant Superintendent of Diversity, Equity, and Human Resources Doreen Cunningham, they flagged Cunningham's alleged "unethical hiring practices" and "unsafe environment in which people do not come forth out of fear" as two of their reasons. They also said Morris had allegedly failed to supervise Cunningham's office and appropriately deal with "complaints of anti-LGBTQIA+ behavior on the part of some staff which created an unsafe environment for children, especially those whose identities are marginalized."
According to multiple staff who reached out to The Graphic, these factors may have contributed to the employment and subsequent protection of three guidance counselors—Delinda Dykes, Hector Santos, and Tania Cabrera—at Amherst Regional Middle School (ARMS). The three counselors allegedly misgendered trans kids, inserted religious talk into their counseling sessions, and did not address or curb escalating transphobic bullying, as detailed in "'It's life or death': failure to protect trans kids at ARMS a systemic problem." LGBTQ students—specifically transgender students—reported significant distress at ARMS that led to depression, suicidal thoughts, post-traumatic stress disorder (PTSD), and school withdrawal. Dykes, Santos, and Cabrera denied the allegations in that report.
Morris announced that he was taking a medical leave on May 12. On May 22, Acting Superintendent Doug Slaughter wrote to families that "based on concerns raised in recent days, Assistant Superintendent Doreen Cunningham has been placed on administrative leave pending the conclusion of the current Title IX investigation"—launched in April—into gender-based discrimination at ARMS.
Cunningham has personal ties to the three guidance counselors—all currently on administrative leave—as well. Santos is slated to officiate at Cunningham's wedding in July, and Santos referred to Dykes and her husband as his "siblings in faith" in a previously public Facebook post, which included photos of him, Dykes, and Cunningham at a party. The third counselor at ARMS, Cabrera, is Santos's daughter.
Santos and Dykes allegedly were granted professional status by Cunningham or Morris—a tenure-like designation that historically takes district staff three years to achieve—in one and two years, respectively. Cunningham's son, Gregory Gardener, was also hired into an administrative role that tasked him with bullying prevention and intervention, for which he did not have the minimum posted job requirements (bachelor's degree required, master's degree preferred), though he told the School Committee in May that he earned his bachelor's degree shortly after taking the job.
An additional reason the APEA voted no confidence was Cunningham's alleged "use of position to enrich self on school time." Student reporters found that in addition to her district position, Cunningham is or was the manager or resident agent of four limited liability companies (LLCs): a diversity, equity, and inclusion (DEI) consulting firm, Another Lens Staffing & HR Consulting Firm LLC in Foxborough, Mass.; an insurance firm, The Cunningham Agency LLC in East Hartford, Conn., which dissolved in 2021; a wellness business, Western Mass Wellness LLC in Feeding Hills, Mass.; and a home improvement company, Millennial Contractors LLC in Chicopee, Mass. Cunningham is also a general partner in a limited partnership (LP) called Shorty's Autosales in New Bedford, Mass.
Another Lens has provided consulting services to other local schools, including Hartsbrook and The Common School. At The Common School, the firm allegedly provided training in the Amherst Regional Public School (ARPS) district's hiring practices, while Hartsbrook announced in an email to staff in September 2022 that Cunningham would support the school in building a restorative justice team to deal with "grievances and misunderstandings," and Cunningham would consult for three to five years on diversity in hiring. Both heads of school at these private schools declined to speak to The Graphic.
According to Cunningham's contract, Morris was aware of her work with Another Lens. The only signed page of Cunningham's contract with the district is an addendum signed by Morris in April 2021 giving her permission to do consulting work.
The addendum reads, "The Assistant Superintendent may, with notification to the Superintendent, undertake writing and speaking engagements, teach classes or seminars, engage in consultative work, and provide training and workshops for other school districts, organizations, and agencies. The Assistant Superintendent may accept compensation for these activities without loss of pay under this Agreement provided that they are accomplished during vacation, holiday time, or other non-working time, excluding sick or bereavement leave. Such activities shall not interfere, conflict, or be incompatible with the performance of the duties required of the Assistant Superintendent under this Agreement and shall at all times comply with Chapter 268A of the General Laws." The contract also gave Cunningham the right to use her district-related intellectual property in her private consulting work, rather than considering it the property of the district.
In the document, Morris also agreed to reimburse Cunningham "for up to $2,500 per year for life insurance premium payments made by the Assistant Superintendent for a life insurance policy of the Assistant Superintendent's choosing."
In an interview with The Graphic, Amherst-Pelham Regional School Committee member and Amherst School Committee Chair Allison McDonald said she had no knowledge of the addendum.
In 2022, Another Lens was one of 15 organizations to receive a one-year grant "ranging from $150,000 to $200,000 based on their stage of development" from the NewSchools Venture Fund as part of "investments totaling $2.5 million to diversify the PreK–12 teaching profession."
According to a press release from the NewSchools Venture Fund, these investments "advance educator diversity," with financial support coming from philanthropist and Walmart heiress Alice L. Walton and the Walton Family Foundation.
The Graphic reached out to Cunningham and Morris with a detailed list of every allegation in this report on more than one occasion, but neither responded to requests for comment. Debbie Westmoreland, Director of Communications and Operations for the district, wrote to say that "Dr. Morris is not responding to work-related emails while he is on medical leave."
Leadership Crisis
In light of the no-confidence vote and concerns raised about how Cunningham performed her job and Morris supervised Cunningham, The Graphic set out to examine perceived flaws in the district's hiring process and complaint protocols.
When Cunningham was hired as the assistant superintendent in 2017, the district combined the HR department and DEI efforts for the first time, and Morris put Cunningham in charge of both.
Dr. Michael Baran, a nationally known DEI expert, former Harvard University lecturer, CEO of Iris Inclusion, and co-author—with Dr. Tiffany Jana—of the book Subtle Acts of Exclusion, spoke to The Graphic about the district's hiring and DEI practices. Baran said although some institutions merge HR and DEI, it is not usually the best move.
"Human resources historically tends to protect the organization or the company," Baran said. On the other hand, he said, "The DEI function should promote equity and inclusion for all, more broadly than just HR—for people and for the best performance of the organization. Ideally, DEI doesn't report to HR and isn't embodied in the same person."
According to an interview she gave to New England Public Media (NEPM), once in this dual HR/DEI role, Cunningham, along with a diverse committee of parents, teachers, clerical staff, and community members, created new hiring practices with the goal of increasing racial diversity across the district.
But when complaints arose about new hires, including the three guidance counselors who were allegedly anti-LGBTQ, staff said they felt uncomfortable reporting them to Cunningham—who was friends with them—so, in many cases, they began by reporting them to Morris himself.
ARMS school nurse Celia Maysles confirmed this. Because she was the adviser to a club called People Opposed to Sexual Harassment (POSH), she said, students and staff began reporting concerns of transphobia and gender-based bullying to her early in the 2022–23 school year.
Maysles began keeping track of these reports and shared them weekly with ARMS Principal Diego Sharon and Title IX Director and Director of Family and Student Engagement Marta Guevara.
In addition to details about bullying and intimidation faced by students—behavior that the counselors sometimes allegedly failed to act on—the nurse's log included reports of counselors misgendering students in meetings and in counseling sessions and counselors telling staff members that trans students had reverted back to their legal names and pronouns when they had not. Maysles also communicated by phone and email with families of ARMS students who had reported transphobia or harassment to her.
"After I reported things to Diego and Marta, they reported all of them to Mike Morris over the course of many months," Maysles said. "They were trying to support kids the best they could."
However, frustrated with a perceived lack of action, Maysles, Sharon, and Guevara appealed in March to Director of Student Services Faye Brady. In that meeting, Maysles said she made a tearful plea for help addressing reports of gender-based discrimination and allegations about the counselors.
A day later, on March 15, 2023, Brady wrote a follow-up email to Maysles, Sharon, and Guevara—and she copied both Morris and Cunningham.
She thanked them for "meeting to share your thoughts and concerns about a particular student and the general concern about our attention and responsiveness to students with gender identity issues," and added, "As with all areas of diversity, gender identity is an area that we need to be supportive and responsive to. I am grateful that this is an area that is being specifically addressed in ARMS and appreciate the work you are doing."
Brady closed her email by noting that "at our meeting, there were specific personnel concerns. As I shared at that time, specific personnel concerns could not be discussed in our meeting. When anyone of us encounters personnel concerns, those concerns need to be directly reported to one's supervisor and HR. I encourage you to directly report your concerns to HR so the process of following up on the report can begin."
Neither Morris nor Cunningham followed up with Maysles to learn more.
On April 25, when community members spoke up and submitted public comments about allegations of anti-LGBTQ counseling happening at the middle school, Morris indicated he had not yet received a formal complaint. "We need an actual complaint as well as some evidence so we can investigate that," Morris told the committee. "If there are people who have been harmed or have experienced harm, we want to follow up."
When asked for further comment by The Graphic, Brady declined due to the Title IX investigation. However, she acknowledged in an email to student reporters that "the complaints are serious" and added, "I appreciate the work you and your classmates are doing and the collective care and concern expressed by many."
A New Hiring Process
The Graphic also heard a number of complaints about the new hiring process—developed in 2017–and how it may have contributed to the current crisis at ARMS. While some elements of the process were in line with Department of Secondary and Elementary Education (DESE) recommendations for racial equity in hiring, others raised a number of red flags over the last few years, largely because of how much power they allegedly ceded to HR.
DESE encourages schools to place less emphasis on licensure since, due to societal barriers, "one-quarter of educators with Emergency licenses identify as people of color, compared to the statewide average of 9.2% in the 2021–22 school year," and schools can support educators in achieving their licensure. DESE also says schools should "prioritize interviewing qualified candidates of color" and should help paraeducators and student teachers on their path to becoming licensed classroom teachers. ARPS does all three.
The district has had particular success with its Grow Your Own—Amherst Futures initiative, a partnership with Mount Holyoke College in which paraeducators of color earn a fully funded master's of arts in teaching, complete teacher licensure, and find district job placements. According to Mount Holyoke's website, ARPS's Diversity and Equity Specialist Damany Gordon "was instrumental in getting the Futures program started."
DESE also endorses implicit bias training, noting that "every single one of us brings biases to the table." Staff, students, and parents who serve on interviewing committees with the ARPS district must participate in district-sponsored implicit bias training.
However, the DESE site also includes best practices for interviewing and hiring at other schools. These practices include committees looking at resumes together and asking candidates to talk explicitly about their resume and experience in interviews and using a robust reference check process with over 10 questions for all references.
Lack of access to resumes and restrictions in the interview process were areas of the new ARPS process critiqued most by staff who spoke to The Graphic, as was who they believe makes ultimate hiring decisions.
In Amherst, there are now two distinct committees: a screening committee that reads resumes and chooses candidates to advance to the interview round, and a separate interview committee that interviews finalists without ever looking at resumes.
These two committees are discouraged from communicating with each other during the hiring process. In the past, department heads and principals on interview committees had access to an online database called SchoolSpring to look at resumes and recommend candidates for interviewing.
Now, HR delivers printed resumes—with names and other information indicating race or ethnicity redacted—in a sealed envelope to those on the screening committee, who make recommendations about which candidates to interview. HR can also forward additional names to the interview committee with an emphasis on making sure candidates of color proceed to the interview round.
Cunningham told NEPM she believes the process is effective and fair. "We tried to make the process as blind as possible to limit the bias," she said.
But on October 31, 2022, retired district special education teacher and administrator Martha Toro sent a letter questioning the integrity of the district hiring process to all ARPS staff by email; she also sent it to the School Committee and several media outlets.
In it, Toro raised alarms about what she called "a culture of fear pervading the district" that "prevents staff members from publicly stating their shared observations [about] changes in the hiring process," which "are being ignored by the administrators who established it." She alleged that Cunningham was misusing her power.
Toro also noted that she had "witnessed several of my colleagues being terminated from their positions, allegedly for lack of an appropriate state license, while the people who replaced these colleagues themselves lack the appropriate licensure for the positions. In several of these cases, the new hires were non-Hispanic white people, and my colleagues were Latinas."
Additionally, Toro warned that "nepotism and corruption are now rampant in the district."
District Denies Wrongdoing
Almost immediately after Toro's email landed in staff inboxes across the district, it was deleted and could not be recovered. Morris then addressed Toro's email blast on November 2 in an all-district email of his own, saying he had "many disagreements" with what she had written, and calling the allegations "inaccurate."
"This new hiring process was developed with extensive opportunities for stakeholder input and through the work of a committee of community stakeholders, district employees from many schools and departments, and administrators from across the district," he wrote. "It was presented to the School Committee for their feedback prior to implementation in 2017–2018."
Two months later, on January 17, 2023, the superintendent, along with members of the Diversity, Equity, and Human Resources department, including Administrative Assistant to Cunningham and HR Generalist Carol Newman Rose, Human Resources Administrator Jennifer Ortiz, and Diversity and Equity Specialist Gordon, gave an update on the hiring process to the Amherst Regional School Committee.
During this meeting, the HR group also addressed "misconceptions" about hiring and how professional status is awarded in the district—both allegations in Toro's letter—but without directly mentioning Toro's letter.
"Tonight, we tried to answer many of the questions we have been hearing from the community," Cunningham noted.
During this meeting, Morris and the School Committee applauded the hiring process, and the Daily Hampshire Gazette published a report afterward touting Cunningham's "significant progress."
Between 2016 and 2022, "Black educators, measured as full-time equivalents, have gone from 33.8 to 55.6 [employees], the number of Latino educators has increased from 49.5 to 76.3, and the number of Asian educators has risen from nine to 21.6," wrote reporter Scott Merzbach, citing data provided by Cunningham. "Teachers of color now make up about 31% of educators at both the elementary and secondary schools, up from about 20% six years ago."
"We are on a good trend as far as diversifying," Cunningham said.
She also noted that before she revised the hiring practices, there had not been "consistency across schools" in addressing diversity in hiring.
Amherst School Committee representative Peter Demling praised Cunningham and her team in the Gazette. "Those numbers of increasing diversity of staff over five years are amazing," he said. "There are so many districts across the state that aren't able to achieve that. It's really a testament to how you've taken it as a holistic view."
Representative McDonald agreed. "[Human resources] is a small but mighty team that's tackling a plethora of small things that together add up to much, much greater than the sum of their parts," she said.
Morris also congratulated HR. "We're a people business," he said. "We're a school. If we don't get the right people, our business doesn't work very well. We're only as good as the individuals working with kids."
Rising Chorus Demands Transparency
But students and teachers across the district echoed a number of Toro's complaints.
In 2020, ARHS graduate Jaydon Perez told NEPM that he had seen the change reflected in general staff more than in academic teachers of color. "The district might be trying to meet quotas for new staff of color, but this hasn't had a significant effect on academics," he said. Perez added that "core classes" are "really the big thing that affects if we pass high school or not."
Diversity data released by the district and DESE of full-time educators includes paraeducators who assist students in classrooms and may serve as hall monitors or in other school support positions.
The Graphic reached out to Westmoreland with a public records request for data on diversity among classroom teachers, which the IT department compiled and delivered on June 13, 2023.
This report shows that in the six years between 2017 and 2023, in the ARPS district (comprising six schools: Crocker Farm, Fort River, Wildwood, and Pelham elementary schools, ARMS, and ARHS), there was an FTE (full-time equivalent) increase of 6.4 Black teachers, 4.77 Asian teachers, 13.7 Hispanic teachers, and 1 multiracial teacher.) The DESE site notes that there are 2 Native American teachers in the district, but district data did not include when they were hired. There was a decrease of 31.5 white teachers.
While teachers said they welcomed implicit bias training, many said the training run by HR before hiring occurred did not allow for vulnerable conversations about bias that could lead to personal change. Instead, retired ARHS chemistry teacher Sharon Palmer said, it felt like "a trap" in which staff were led to doubt their ability to select candidates without help from HR.
"We knew [Human Resources] wanted us to say we wouldn't interview [some people] so [they] could point out how racist we were," she said in a letter to the School Committee this May, noting that as a "biracial woman physical scientist of a certain age," she cares deeply about "racism, sexism, and xenophobia."
But, Palmer added, "No one wanted to speak up. It was not, in my opinion, a learning experience, but rather an opportunity for belittling."
Teachers also noted that the collaboration experienced by interview teams in the previous hiring process was discouraged now. ARMS English Language Learner teacher and curriculum leader Alicia Lopez said the old practices felt "like a community endeavor."
After each interview, a diverse group of committee members would fill out individual rating sheets and then would engage in a spirited discussion about their thoughts on the candidate and their responses. Sometimes they would even call references together.
"This was really helpful because you could see what everyone was thinking," Lopez said. "You could form a more informed opinion."
According to DESE, interviewing committees can and should ask candidates to talk about their resumes. Since "schools are entrusted with the safety and well-being of the students they serve" and "exercising due diligence in screening and hiring school personnel is a vital part of fulfilling that responsibility," DESE encourages interviewing panels to invite candidates to talk about gaps in their resume and explain "why the applicant left previous positions."
"How can a candidate be chosen by a team with only one 45-minute interview, without any prior knowledge of the education or experience of the candidate?" Toro asked. "This process does not follow best practices, nor is it in line with the research of diversity, equity, and inclusion, recruitment, hiring, and retention."
Even though Amherst School Committee member Irv Rhodes told the HR team at January's School Committee meeting that he "love, love, loved" aspects of their presentation about diversity in hiring, he followed up with critical thoughts and questions.
"I'm a hell of a data person, so [more] data [on hiring] would be good for me," he said. He also worried about removing resumes from the interview round.
"When I heard the resumes were not shared with the interview committee, the question that came to me is, 'What information does the interview committee have in order to make a decision as to a particular candidate?'"
Cunningham replied, "The screening committee has deemed the [candidates] able to sit and have the interview."
"I know a lot of times people like to have a piece of paper in front of them and compare the paper to what the person is saying," Cunningham said. "And we're saying, that person is in front of you. Put that paper away and have a conversation with the person that's in front of you."
But multiple staff members on screening committees told The Graphic that candidates they did not screen through were pushed to the interview round anyway. And Lopez said that in her experience, after applicants answered the prescribed questions, there was nothing else for the committee to use to give additional context to the interview, and sometimes no discussion at all happened on the part of the committee after the interviews were over.
"At the end of the interview, especially with virtual sessions, everybody logged off, and they were sent a Google form to submit their feedback," Lopez said. "I don't even know if the person was hired."
HR And Teacher Experiences At Odds
HR Generalist Newman Rose emphasized to the School Committee that, as to who makes final hiring decisions, it's "the principal or administrator [who] recommends the candidate and the superintendent makes the final decision."
HR Administrator Ortiz repeated this claim, noting it is "a misconception" that HR is responsible for hiring or firing.
"While [HR] may form part of the team, HR doesn't make any of the hiring decisions. Ultimately it is the principal's decision to recommend who they will recommend to the superintendent for the final approval for hire," she said. "That's just based on Mass[achusetts] general law. When a decision is made to move a candidate forward … the principal receives the feedback from the interview committee; then, from there, they will make the recommendation to the superintendent. [He gives] the final approval," she said. "We wanted to make sure that information was out there."
Dr. Kerrita K. Mayfield said that was not her personal experience. As an African American science teacher and curriculum leader at ARMS, Mayfield said she was eager to be part of the hiring process, and she served on multiple committees. However, she refused to serve on any future committees after becoming increasingly frustrated by the process—and one interview round in particular.
"Even when the candidate the committee selected was unanimously chosen and highly, highly qualified, they did not get the job offer," Mayfield said, calling Cunningham "the gatekeeper."
"She will decide who [moves] to the [interview round]. And then clearly she decides who gets the job," Mayfield added.
One staff member, a department head who wished to remain anonymous, said he knew of two people who had been appointed to positions in his department without any formal hiring process.
"When I complained about the lack of transparency involved in appointing staff and the lack of department head representation in those appointments, I quoted language from the APEA contract on new hires," he said. Shortly afterward, he was called into a virtual meeting with Cunningham and his building principals.
"They did not ever address my complaint," he said. "Instead, [Cunningham] told me my complaint came off as racist, coming from a white man to a black woman."
One of these hires luckily "turned out to be great," he said, but the process concerned him. "That dressing down I received when I asked for clarity about the hiring process is the closest I've ever come to leaving the district," he said.
Toro told The Graphic that she stands by her letter, and she believes that practices designed to reduce bias "have actually created a space for hiring committees to be blindsided."
Professional Status Inconsistencies
Toro also called out ARMS guidance counselors Dykes and Santos in her letter as "politically favored staff members who have been granted professional status in the district within their first year of work." She noted, "This is a process which usually takes three years and includes positive evaluations by the building administrators. It is an insult to the many highly qualified teachers who have worked hard for their professional status to use it as a favor granted for personal loyalty without regard for dedication and professionalism."
Ortiz told the School Committee in January that how professional status was earned was a question HR had fielded, again addressing allegations in Toro's letter but without directly naming her.
She shared a slide with a phrase at the bottom in bold that read, "There are exceptions to gaining [professional status] after three years."
The superintendent may, "upon the recommendation of the principal, award such status to a teacher who has served in the principal's school for not less than one year," Ortiz explained, especially if "a teacher has obtained such status in any other public school district in the commonwealth."
The Graphic reached out to Sharon to find out if he had recommended that Dykes or Santos earn this status so quickly. He did not reply, but multiple staff members alleged that professional status was granted by Cunningham or Morris, not by Sharon.
Though Ortiz and Cunningham told the School Committee that only staff with licenses who had earned professional status in other districts could be fast-tracked by the superintendent, the DESE educator lookup tool also shows Dykes has not advanced past an Initial license in any field since 2007, though the state requires that teachers do so within five years of earning an initial license.
In addition to Santos and Dykes earning early professional status, Dykes was also appointed to the role of Interim Principal by the office of the superintendent when Sharon took a family medical leave this fall.
Ortiz, Gordon, and Newman Rose did not respond to requests to comment further.
Effects At The Top
Toro also addressed short principal stints across the district over the last few years under this hiring process. In addition to Michelle Hernandez leaving Fort River after one year (2021), Gene Jones left ARHS after one year (2020), and Joseph Smith and Rebecca Sweetman left ARMS after two years (2020).
While Morris hired an independent investigator and former principal, Rick Rogers, to interview exiting principals in 2022 about what he feared was a hostile climate for the principals, multiple staff said they believed the hiring process that selected them was actually the problem, as was a refusal to hear staff complaints when they arose.
"I beseech you to investigate, interview staff members anonymously away from school grounds, and review all hiring processes, beginning now," Toro wrote in closing her letter. "Our children's futures depend on the quality of their education, and educators require respect [and] fairness."
Next Steps
According to a person who was interviewed by Title IX investigator Ed Mitnick of Just Training Solutions, Mitnick has spoken to over 50 people since the investigation was launched in April (each interviewee is granted a number). The results of the investigation will likely not be delivered until late summer. If Mitnick confirms a transphobic school environment at ARMS that limited students' access to education, the report will include serious recommendations for the district.
Though Cunningham's contract expires on June 30, it may automatically renew on July 1. The terms of her contract require the School Committee and the superintendent to give 180 days' notice in order to terminate her contract, but she may be "paid for the 180 days in lieu of such notice."
Given the no-confidence vote, and allegations of unethical hiring and an unsafe environment, DEI expert Baran said the district could benefit from a "diversity, equity, and inclusion audit" that might lead to additional recommendations, and the district should take a closer look at its hiring policies.
Baran said he supports widespread DEI training that may include an implicit bias component, which should not just be for those who are part of the hiring process. These workshops can help people to seriously "consider their own biases" and explore them with others so they can create safer schools, he said.
"Being able to hear feedback from others is a gift that helps us to be more inclusive to others," Baran said. "And it doesn't just happen in a half an hour awareness session or an hour awareness session."
He also believes in "taking the recommendations from that diverse group that you have" on a hiring committee when they say who they think will be best for the job. "That diverse panel of people on an interview committee" is key, he said, "because we all have different biases. We can check each other and in effect cancel out some of the bias."
Baran also said that DEI practices should involve unpacking all kinds of biases and forms of oppression and working to create inclusive environments. "Just because someone is part of one underrepresented group doesn't mean they don't have biases themselves," he said.
In fact, Baran and co-author Jana often work with organizations to create a safer and more inclusive environment for LGBTQIA+ people. "If there was harm done at your school," he said, "people have to think about how they were part of that harm."
"Diversity is great, but inclusion matters just as much," he added. "Without real inclusion, not only are kids going to be harmed—their mental and physical health—but the learning outcomes are going to go down," he said. "This is a language everybody can understand. When people don't feel included in a network of care at school, they don't learn as well."
Baran acknowledged that using proper names and pronouns and learning about inclusive language are not small issues; they are a critical part of "moving beyond a kind of LGBTQ allyship" that downplays or mutes LGBTQ identity. He said that in sessions he has done, some people start off not even knowing what the letters in "LGBTQ" stand for. "The level of understanding is that basic," he said, and requires taking the time to build a foundation of knowledge.
And critically important is not only that organizations deal swiftly with complaints of bias, but that they wholeheartedly commit to learning "why it matters so much that people are free to be themselves and to be valued in their [queer identity]," to be "their authentic selves at school."
"Because it does matter," he said. "And it's actually good for the organization."
When asked what he thought was the best solution for ARPS leadership to repair potentially broken relationships with students and educators, Baran said the district required a "real look" at various policies and procedures and a willingness to reform them to be more inclusive.
"It probably involves some real foundational understanding and maybe individual coaching," he said. "It's not all going to happen tomorrow, and will take planning intentionally."
He also talked about what the district needs to see from its leaders.
"In general, the way to move past things is with leadership that's not defensive," Baran said. "You need real, vulnerable, authentic leadership" that is "willing to build back trust."
———
The Graphic reached out to every person named in this report for comment. Before publishing this report, the students and their journalism adviser also consulted with a lawyer from the Student Press Law Center.