UMass Dining Earns #1 Spot For Seventh Time For Best Campus Food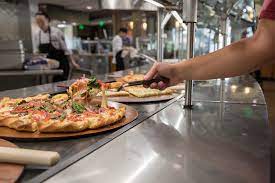 Source: UMass News and Media
For the seventh consecutive time, the University of Massachusetts Amherst has earned the top spot for. Best Campus Food in annual rankings published by The Princeton Review.
The Princeton Review rankings are derived from student reports of their experiences at the schools in its annual "Best Colleges" guidebook. The 2024 rankings are based on feedback from 165,000 students at the schools in the guide.
UMass Dining, the largest collegiate dining program in the United States, is committed to providing the campus community with locally sourced, healthy, sustainable, and globally inspired cuisine, and its leadership is a firm believer in helping to build community through food.
Ken Toong, executive director of Auxiliary Enterprises, which includes UMass Dining, said, "I'm extremely proud of our dedicated, talented, and hardworking team whose commitment to excellence has been instrumental in our continued success. We're immensely grateful for our students', faculty and staff and entire UMass administration for their support and invaluable feedback, which has contributed to shaping and enriching the quality-of-life experience. Without them we would not have been able to achieve this remarkable feat. Their dedication and enthusiasm inspire us to continuously raise the bar and deliver exceptional dining experiences, one meal at a time."
Toong also extended his gratitude to Chancellor Javier Reyes, Vice Chancellor Andrew Mangels and former Chancellor Kumble Subbaswamy for their leadership and continued support, which have been instrumental in UMass Amherst's journey to culinary excellence.
Vice Chancellor Mangels observed, "Congratulations to the entire UMass Dining team for this incredible achievement. This recognition is a testament to the great leadership, dedication, and focus on excellence all year long, which provides exceptional culinary experiences. Go UMass!"