Opinion: Use Town's ARPA Funds To Construct Solar Canopies Over High School Parking Lot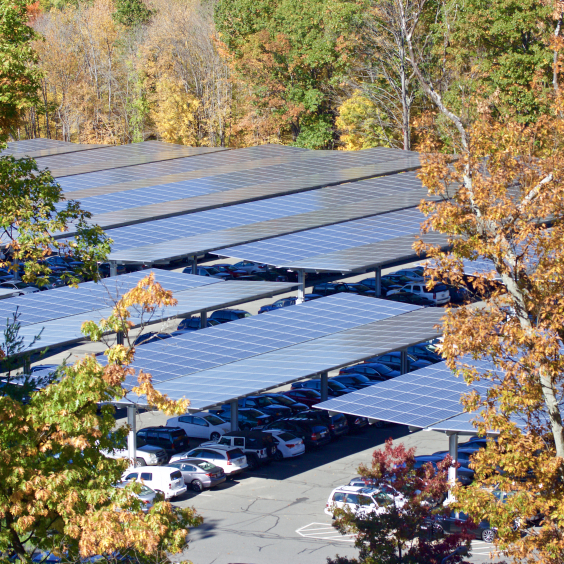 by Amrita Rutter and Jane Scalan-Emigh
Amherst can't seem to agree on solar panels. Though they are often considered to be the end-all and be-all of sustainable energy solutions; they rank staunchly above forested land preservation for some, and rank just as staunchly below for some.
As a town, we have been dawdling with solar panels. Debates on whether we should have a moratorium on solar construction on forested land until further research on its effects on local ecosystems could be conducted took months. Some claimed that solar construction contaminated their properties and expressed concern for wildlife. Others, in turn, called the moratorium supporters NIMBY's and urged that the council forge ahead. There is now opportunity for action that all Amherst residents should be able to agree on: a parking lot solar canopy. Town Manager Paul Bocklemen is currently debating whether or not to use American Rescue Plan Act (ARPA) funds to create a solar canopy over the Amherst Regional High School (ARHS) parking lot. This array would greatly reduce the carbon footprint of our school as well as providing shade for the cars in the parking lot. 
 In a survey performed by the town this year in April, respondents expressed that using roofs and parking lots for solar installations were among the things they were most excited about when it came to establishing solar energy in Amherst. Parking lot solar arrays make up a small but growing proportion of the solar panels across the country. Parking lots are sorely underutilized space in the United States. While five acres is enough to support a 3-giggawat array, it is estimated that only 10-15% of the U.S.' parkings lots are covered. The U.S. Geological Survey estimates that the country's total solar capacity would increase five- to ten-fold if 50% of all parking lots had solar arrays installed over them.
Amrita's first project as a young organizer was, at age fourteen, making a resident capital request for a feasibility study on this very canopy. We have been working on this project for four years now, and to see our town fulfill its potential in this way at long last would be a joy. 
This is Amherst's chance to act. There are no trees to be felled in the construction of the array, no wildlife to be harmed (birds, in fact, may make their homes on the tops of panels!). There is no conflict amongst Amherst's environmentalists here. This is a chance to remind —or perhaps initially convince— the current Amherst Regional High School generation and prove to ourselves as residents that our town does care about climate change and the futures of its children. The allocation of ARPA funds towards this project would solidify our status as a truly progressive town and make Amherst a role model for surrounding towns. Most importantly, it would get us closer to our goal of cutting our emissions in half by 2025.
Sunrise Amherst demands that Paul Bockleman allocate ARPA funds for the installation of a solar array over the ARHS parking lot. The town has stated countless times their commitment to meeting Amherst's carbon emission reduction goals. This is your chance to follow through. 

Amrita Rutter and Jane Scanlan-Emigh are members of Sunrise Amherst and students at Amherst Regional High School.