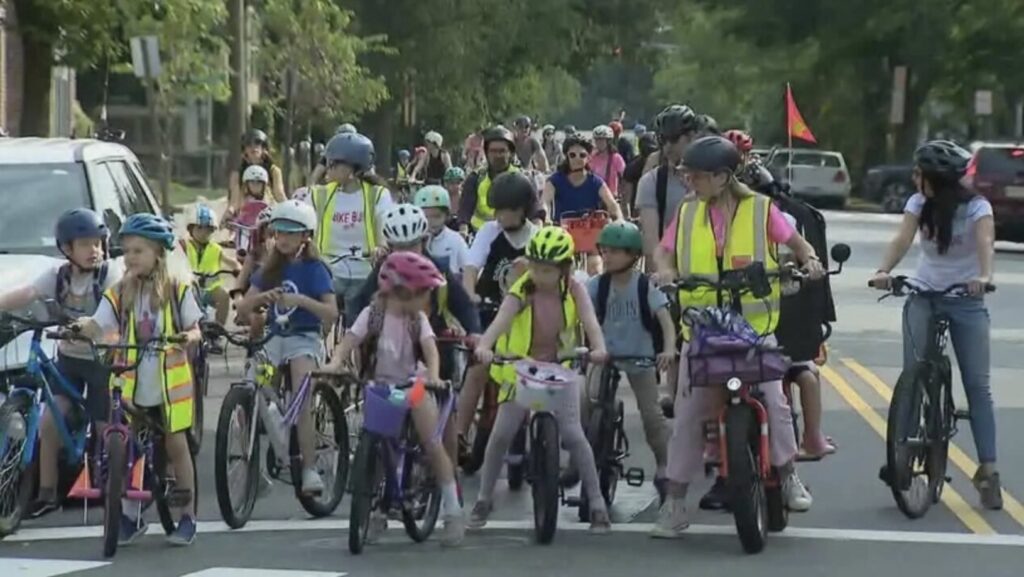 Source: Tracy Zafian
Elementary and middle school families in Amherst will be walking, riding, and rolling to school on Wednesday morning, October 4, as a way to promote active commuting to school.  
"During the pandemic when schools reopened, families got used to driving their children to school," explained Tracy Zafian, chair of the Amherst Transportation Advisory Committee. "It's time to get more students out of cars and traveling to school under their power."
The committee has teamed up with Safe Routes to School, a federal program administered by the Massachusetts Department of Transportation,  to make the town walkable and bikeable for kids, starting with the schools.  
In the Spring of 2022, the committee conducted counts of walkers and bikers to school.  "The results weren't great,"  said Zafian.  "We knew we could do better."
Coordinating with the school district and the Amherst Department of Public Works, the committee is promoting International Walk, Roll and Ride to School day locally.  
"With a new elementary school on the horizon, we've got to look at the safety of our routes to and from school,"  noted Guilford Mooring, Amherst's Superintendent of Public Works.   His department recently launched an engineering study of the two busy traffic intersections that flank the location of the new school to be built at Fort River.
Crocker Farm Elementary, Wildwood Elementary, Fort River Elementary, and the Amherst Regional Middle School are participating in International Walk, Ride, and Roll to School Day (iWalk). Families who wish to attend can contact their school's office for details.   More information on iWalk and the Massachusetts Safe Routes to School program is available here.