What Is the Meaning of Complementary Use?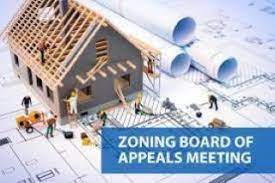 Report on the Meeting of the Zoning Board of Appeals, October 26, 2023
This meeting was held over Zoom and was recorded. It can be viewed here.
Present
Steve Judge (Chair), Everald Henry, Philip White, and Craig Meadows. Associate members Sarah Marshall and Hilda Greenbaum.
Staff: Rob Watchilla (Planner) and Rob Morra (Building Commissioner)
The discussion of a plan to add a second duplex to the property at 798-800 North Pleasant Street (see also here) raised questions about ambiguity in the wording of Zoning Bylaw section 3.01, which states: "The development or operation on a single lot of more than one dwelling or more than one of the Principal Uses described in Section 3.3 is expressly prohibited except where the Principal Uses are clearly complementary to each other, or where otherwise provided by this Bylaw." 
Because of questions of whether a second duplex on the property was allowed, and opposition from the neighbors, the applicants withdrew the application without prejudice (allowing them to apply again without a waiting period), but the Zoning Board of Appeals (ZBA) asked for more clarity about what is allowable under the Zoning Bylaw. To that end, Building Commissioner Rob Morra came to the October 26 ZBA meeting to give his interpretation of the bylaw.
Morra said that two dwellings are not permitted on a property, except under special circumstances when allowed by the Zoning Bylaw. The Zoning Bylaw allows accessory dwelling units, which are smaller structures constructed on a property already containing a single-family home, as long as one of the dwelling units is owner-occupied. The bylaw also permits townhouses and apartment buildings under a different section. However, Morra said that two single-family homes are not permitted on a property, and he feels that two duplexes or a duplex and a single-family home should also not be allowed, as that would be two principle uses on a single property. The "complementary use" referred to in the bylaw would usually pertain to two businesses, such as a carwash and a gas station or an office run out of a home for a business allowed in a zoning district. He said the proposal for the second duplex on North Pleasant Street should not have come before the ZBA.
ZBA Associate Member Hilda Greenbaum stated that many of the restrictions on residential units were put in place to protect neighborhoods when UMass expanded enrollment in the past 15 years without providing enough additional dorm rooms on campus. This is why owner-occupied duplexes do not require a resident manager and management plan, and the permit does not expire at the time of sale, as nonowner occupied duplexes do. It is assumed that student behavior is better controlled when the property owner lives on the premises.
Craig Meadows asked if it is reasonable for an owner of a property with a special permit to come back to the ZBA for a second special permit if, for instance, they want to convert an outbuilding into an apartment after receiving permission for a converted dwelling in the main structure. Morra said that, in that situation, the ZBA would usually revoke the earlier permit and try to combine the permits to keep the permits cleaner. He also said that the ZBA could reevaluate conditions placed on a property, such as parking, if they are not achieving the stated goals.
ZBA members had several questions about converted dwellings as opposed to duplexes. Morra said that converted dwellings involve minimal (or no) new construction. This would apply to conversion of an existing barn to an apartment.
In short, Morra felt that the Zoning Bylaw does not allow two (or more) residential buildings on a single property except for accessory dwelling units, townhouses, and apartment buildings, and that he would advise an applicant not to submit such an application. (The applicant can ignore his advice or appeal his decision or that of the ZBA.) ZBA Chair Steve Judge pointed out that the ZBA has some discretion to interpret the Zoning Bylaw. Everald Henry said that the ZBA could interpret the bylaw differently than planning department staff, but the board owes it to an applicant to render a decision. However, Morra explained that the planning department staff would not be likely to tell an applicant that they should not submit an application unless it clearly goes against the bylaw. This happened when an owner on Fearing Street wished to add two duplexes to a property that already contained one.
Hilda Greenbaum pointed out that the applicants for a second duplex on North Pleasant Street must have spent a lot of money for the landscaping and an architectural plan for a nonviable project. She wondered how the application had advanced so far without the owner learning about its shortcomings. Morra said he had not been asked to weigh in on the project until it was relatively far along.
Aggressive Schedule Set to Review Affordable Home Project on Ball Lane
The ZBA set a schedule to review the comprehensive permit application of Valley Community Development Corporation for 30 affordable duplexes to be built at Ball Lane under Massachusetts General Law, Section 40B. The application review began on October 19 and will continue on November 2, to be completed by January 4, 2024. The Planning Board will discuss the project at its November 1 meeting.
.
.