THANK-YOU PARTY CELEBRATED 259 YEARS OF AMHERST TOWN MEETING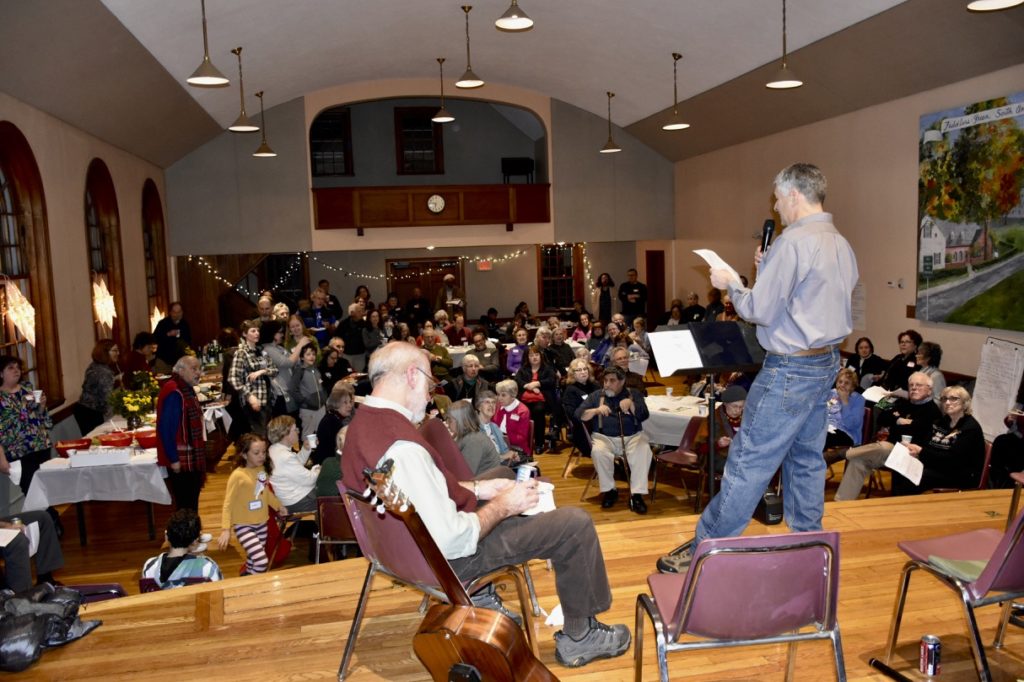 by Art Keene
Former Amherst Town Meeting members gathered at the Monson Memorial Library on the evening of Sunday, Feb, 24h for a party celebrating 259 years of government under the traditional New England system.

Town Meetings govern many neighboring municipalities, and have been common across the region since colonial times. Amherst's Town Meeting, which was open to all residents until 1939 and then had 240 representatives serving three-year terms,, ended last year. In March 2018 after many months of contentious debate, fifty-eight percent of Amherst voters favored a Home Rule Charter, replacing Town Meeting and the five-member Select Board with a 13-member Town Council. Ten voting districts in Amherst were configured into five precincts, and Amherst's first Town Council was inaugurated in December.

Over 120 people attended the gathering on Feb. 24, which featured food and music, and recollections of Town Meeting's work in both the recent and distant past. Town Meeting alumni were joined by State Rep. Mindy Domb, D-Amherst, Town Manager Paul Bockelman, and current Town Councilors Shalini Bahl-Milne, Alisa Brewer, Darcy Dumont, Lynn Greisemer, and Dorothy Pam.

Stories about Amherst Town Meeting in history were shared by former Town Moderator Jim Pistrang, who initially had concerns about the event.


"I worried that people would be bitter, complaining, (about Town Meeting's end) or just plain sad," he said. However, Pistrang said he chose to celebrate the contributions Town Meeting members made to Amherst through time. "We have a lot to be proud of. For 260 years Amherst was governed and guided by Town Meeting, and the result is a pretty great place to live," he said.

Pistrang said that he regretted not studying the history of Town Meeting more carefully. For example, an act from colonial times empowered the moderators to impose fines upon citizens speaking without having been recognized.


"This would have been useful information!" he said.

The Village Horse Shed

There were always differences of opinion in Town Meeting, Pistrang said, adding that towards the end of the 19th century, design of a new Town Hall was a hot topic. He shared an Amherst Recorder item from 1890, which noted that an architect for the "Cathedral of Milan, backed by the wealth of the universe, could not have designed a village horse-shed that would meet with universal favor," in Amherst.

Around 1820, Pistrang said, the town was divided into two factions – those who believed that business downtown should be centered farther north in the East Street neighborhood, and those who favored the present location. The "East Streeters" proposed a new road to enable travelers to bypass downtown and proceed directly to their neighborhood. Town Meeting initially voted in favor of the new road, but 10 days later voted to discontinue it.

Un-building Roads in the Nighttime
The East Streeters took matters into their own hands, Pistrang said, and one day started building the road anyway. Their opponents came out in the middle of the night and destroyed their efforts.

"Eventually we ended up with the road, but it wasn't easy! If you haven't guessed yet, the new road formed a triangle connecting Pleasant Street to Main Street, and of course it was named Triangle Street," Pistrang said.

Pistrang said people joke that Amherst likes to set its own national and foreign policy, and an early precedent was set in 1774. Following the Boston Tea Party, Amherst Town Meeting passed an "extremely long and verbose" Resolution Article. The document gratefully thanked the people of Boston for their "manly opposition to prevent the landing of the East India Company teas, which plan we are convinced was artfully projected to open the gate for the admission of tyranny and oppression."

"It has been an honor and a privilege to serve … all of the members who came before us voluntarily took on the task of governing. We chose to accept the responsibility of understanding our community. We addressed the problems that faced us and made our best effort to improve the quality of our town and the lives of our residents. To all who have served for the past 260 years I say, 'thank you,'" Pistrang said.
The event's coordinating committee included Janet McGowan, Meg Gage, Jacqueline Maidana and Adrienne Terrizzi. Music was provided by the Seisiun Players. There was also a sing-along led by Paul Kaplan, featuring Kaplan's original tune, "Amherst is the #1 Town." Over 120 people attended.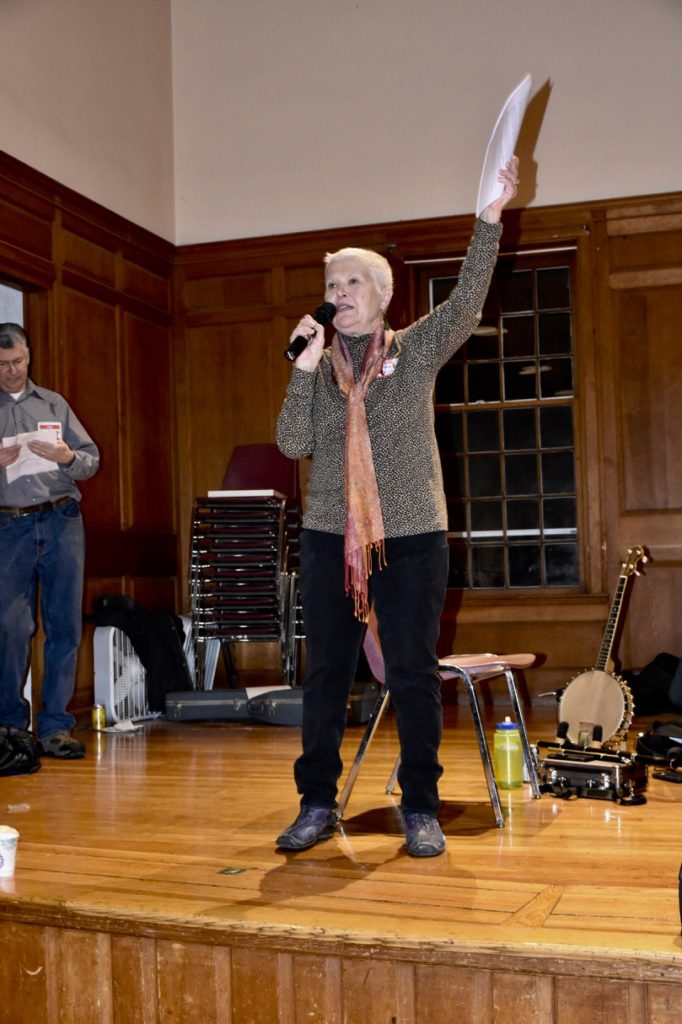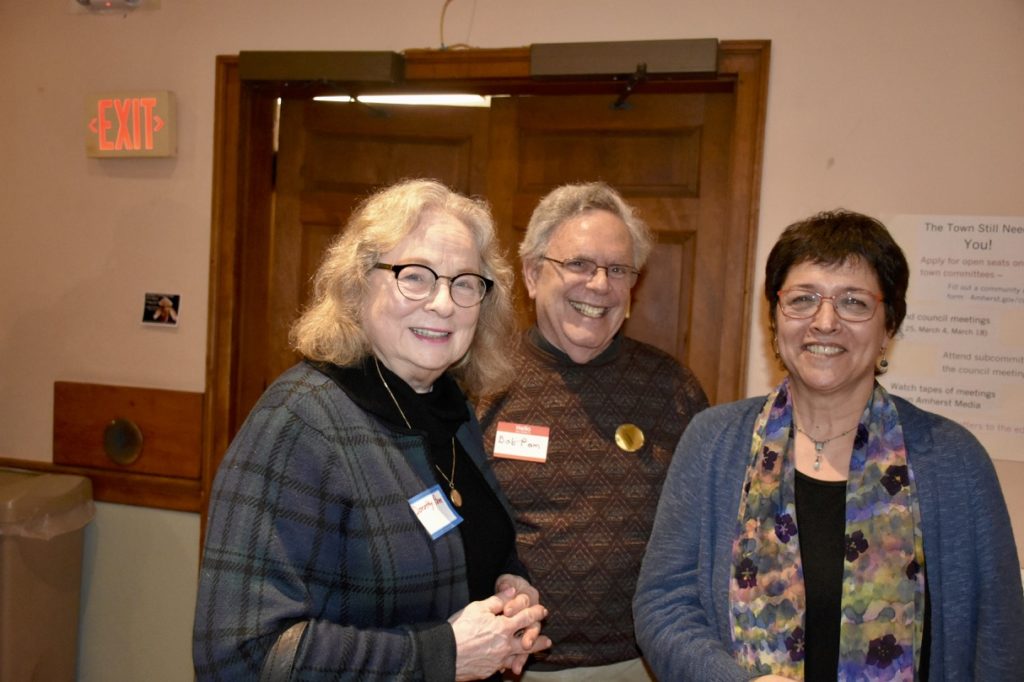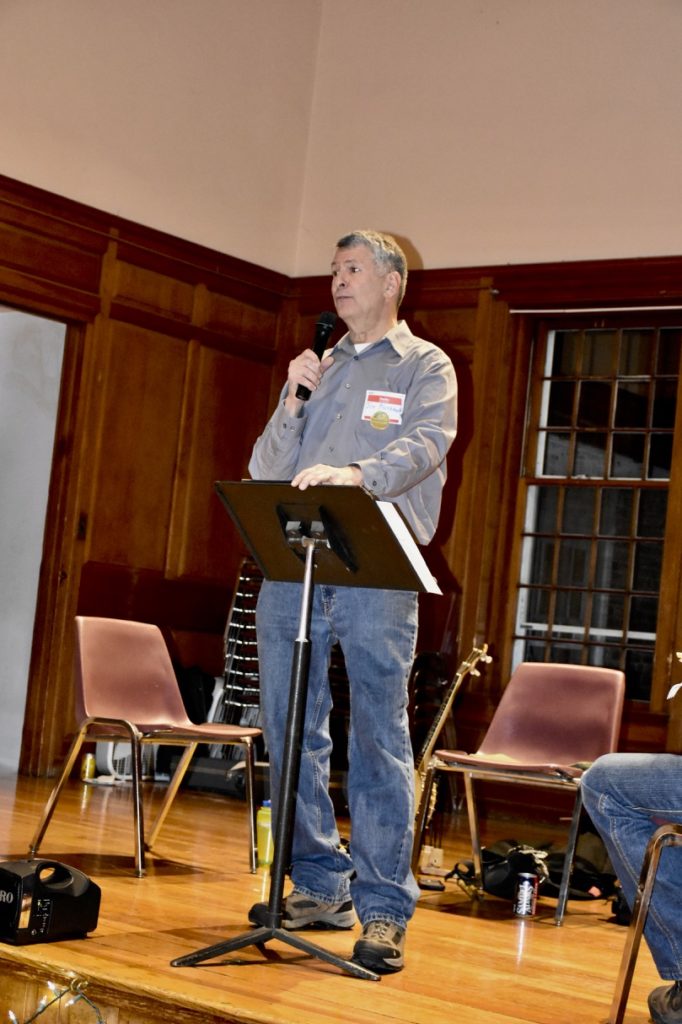 View the new-improved version of Paul Kaplan's song, Amherst is the Number One Town.