JONES LIBRARY BUILDING PROJECT MUST CHANGE TO QUALIFY FOR STATE GRANT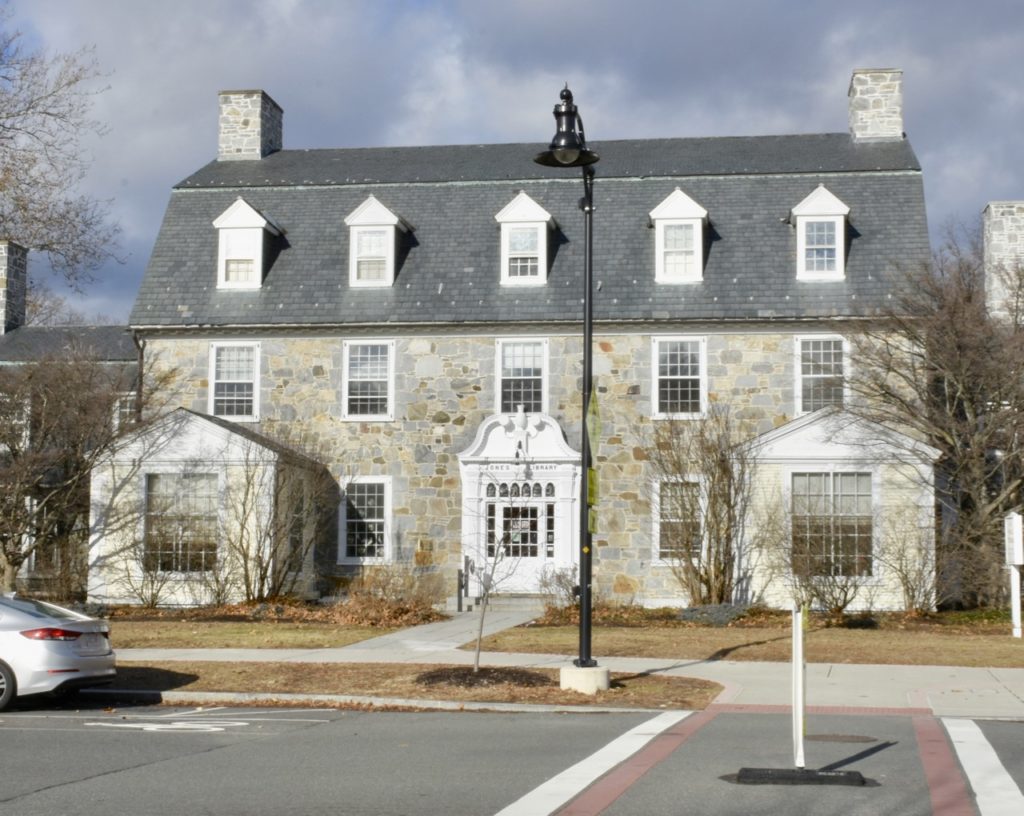 by Terry Johnson
The Jones Library Inc., Feasibility Committee met again on Thursday, January 17, 2019, after a hiatus of over two years, due to the need for a new design to be submitted to the Massachusetts Board of Library Commissioners (MBLC) in order to qualify for a $13.7 million expansion grant.
A large meeting room which was designed for the first floor must be moved to the basement level for the library to receive the grant, according to the MBLC. The library is now fourth on the grant waiting list. Monies may become available as early as 2021. The MBLC also told the trustees to consider preserving more of the Kinsey Memorial Garden by adding a floor in the proposed renovation. The current plan calls for using most of the back garden for additional building space.
Library director Sharon Sharry indicated that moving the meeting room, which is 2,200 square feet, would require redesign of other rooms on multiple floors. Two revised floor plans, drawn by Feingold Alexander Architects (FAA), were presented. After a lengthy discussion, the Feasibility Committee felt that the new plans are not detailed enough to show to the public for input. The committee voted to meet with FAA regarding design questions and about costs for plans and renderings with more details.
At the beginning of the meeting during public comment, Christina Platt of Amherst encouraged the committee to restart the entire project, noting that the current plan would create more than 1,660 tons of waste due to the removal of the entire 1995 addition, and that the plans are not Leadership in Energy and Environmental Design (LEED) certified. Since energy-saving methods were not part of the application, the trustees will not become eligible for an additional $400,000 of energy-related funds, even if they include energy-saving features in the redesign.
The estimated cost of the entire Jones project is $35.7 million, not including interest on any borrowing. The Trustees hope to raise over $2.9 million through a capital campaign drive and $3.1 million from various other state funding agencies. The Jones will ask the town of Amherst for at least $15.9 million.
The library spent $75,000 for the original plans ($50,000 from the MBLC and $25,000 from the town). In an email, Sharry said that since 2014, the library has paid $51,692 for marketing and promotion of the project to Financial Development Agency, an Amherst-based firm.