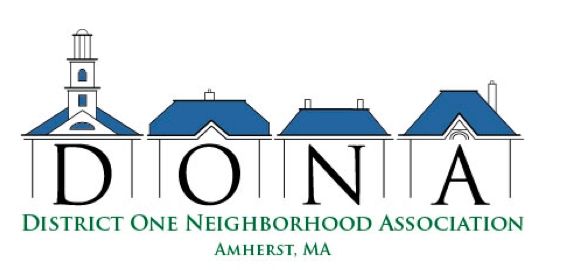 Soon after the inauguration of the new Amherst Council, a few of us in the new District One, the western side of North Amherst, launched the District One Neighborhood Association (DONA). Our goal was to build community and help residents in the district learn ways to stay abreast of the new town government, to have fun, to make their voices heard on issues that affect their lives, and generally to make life better for those who live, work, and play in North Amherst. We seek to turn challenges into opportunities and build on North Amherst's outstanding natural, historic, agricultural, and recreational resources.
DONA operates on several levels, providing ways for friends and neighbors to connect through a mix of social, political, and neighborhood activities. It's particularly crucial to help residents understand how the new government works, where different decisions are made, and how to advocate in a timely way when community input can affect decisions, rather than reading about decisions after they've been made. We're helping build community and neighborhood connection through monthly meetings that provide an opportunity to get to know one another and to address specific concerns affecting District One and the town. We sponsored a holiday potluck and a walking tour of the central North Amherst triangle around the historic district. We provide childcare and healthy snacks at all of our gatherings. We have committees that take on particular topics or pieces of the work of building and maintaining DONA. Our meetings provide a chance for everyone to speak, and we attempt to create our monthly agendas based on resident input.
DONA helps residents amplify their individual voices and concerns. When a District One concern is intense and a position is supported by residents, DONA takes an advocacy position. For example, we are asking the town to install a smart traffic light at the F-rated North Amherst intersection to improve traffic flow and pedestrian safety. It is widely considered the worst intersection in Amherst and the only one without a smart light. We are also advocating for safer traffic patterns on Montague Road, a sidewalk on East Pleasant Street, making the North Amherst library accessible, providing a public toilet at the library, and establishing additional public space there. We are particularly eager to provide helpful input to the town. For example, we look forward to supporting the Town's next application to MassWorks for funding to support traffic improvements.
The primary economic activities in District One are farming and housing for students, two endeavors that are not natural allies. Farming in North Amherst is significant but easy to miss if you only travel on main roads and your life is centered on the campus just to the south. Thousands of students and low-income families live in our district. Seen as a good target for development, North Amherst has been identified as a Federal Opportunity Zone, a feature of the 2017 Trump tax law designed to help blighted city neighborhoods, industrial wastelands, and impoverished rural areas where economic development could have great positive impacts. The designation gives investors significant deferral of capital gains taxes and reduction of taxes for investments made for ten years or more. The Beacon Project on Cowls Road and the proposed Eruptor project on part of the Mitchell farm are recent projects taking advantage of the Opportunity Zone.
The Opportunity Zone designation with its tax incentives, coupled with relaxed 40R and 40B zoning, is both an opportunity and a risk. While people in District One seem to be enthusiastic about economic development that can enrich our neighborhoods, which Atkins market and Jake's restaurant have already done, some are concerned about the problems that can come from rapid dense development. Montague Road already has 5,500 cars each weekday. A recent travel study concluded that Beacon Project will add an additional 2,400 cars. Strong public vigilance is needed during periods of rapid development, and DONA will be paying close attention to be sure that the new economic development does not compromise farming, public access to natural resources, our historic district, or public safety.
Members of our planning team would be delighted to meet with representatives from other districts to share how we are building community through DONA. We will be launching our website soon, so keep a lookout for the announcement. And join us at our Family Potluck and Barbecue, Sunday, August 4 at Mill River Park from 4 to 7 p.m. (To be added to the DONA email list, please contact Meg Gage at: meginamherst@gmail.com)