CHURCH BELLS TOLL 733 TIMES IN AMHERST AS THE COMMUNITY MARKS LUCIO PEREZ'S TWO YEARS IN SANCTUARY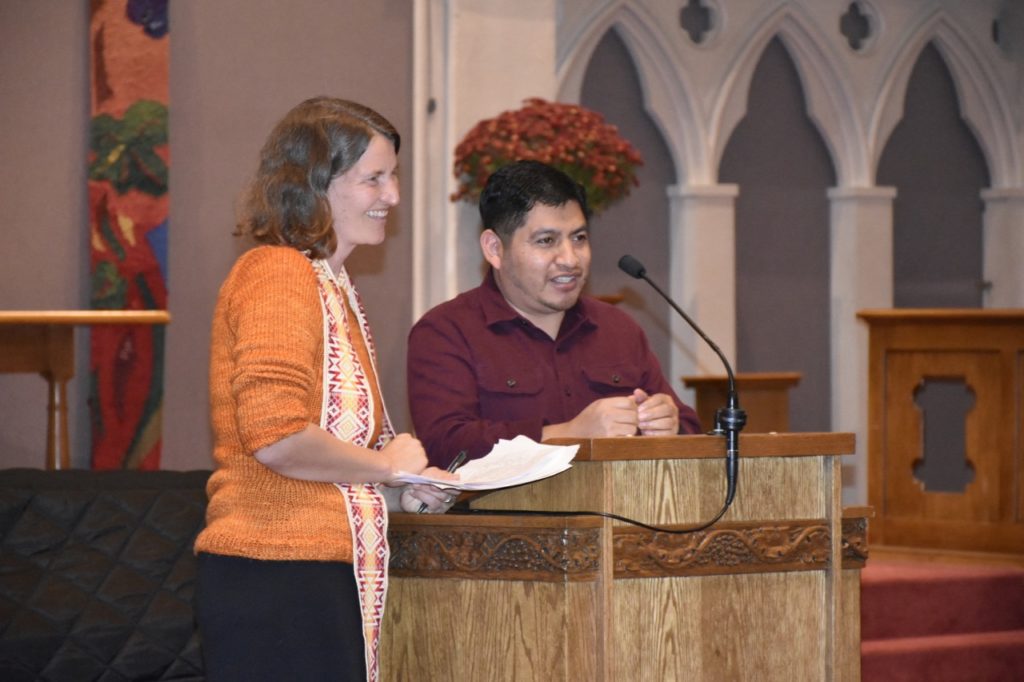 Over 100 people gathered at the First Church of Amherst on the evening of Monday Oct. 21, (10/21/19) to commemorate Lucio Perez's time in sanctuary at the church. The event marked his 733rd day of residence at the church, where Perez claimed sanctuary at order to avoid being deported to his homeland in Guatemala. Perez, who left Guatemala at age 17, is now 38 and was ordered by Immigration Customs and Enforcement (ICE) to be deported in the fall of 2017. Prior to claiming sanctuary, he lived and worked in Springfield. His wife and three children, all born in the US, still reside in Springfield and are shuttled to Amherst to visit several times each week by church members. The church provides Perez with a small room and meals, and he spends his days praying, , reading, teaching Spanish classes and corresponding with others in sanctuary around the U.S. . An interview with Perez exploring his second year in sanctuary can be found here.:
While US Immigration Customs and Enforcement (ICE) does not formally recognize sanctuary as a legal process, they nonetheless have been maintaining a policy of not intruding on what they term "sensitive locations". Over 1,000 congregations across the U.S. have currently agreed to provide sanctuary to people facing deportation and 45 people in eight states have currently claimed sanctuary in participating congregations. Organizing sanctuary for Perez has been a joint project of First Church of Amherst and the Pioneer Valley Workers Center. According to First Church members, Perez and his lawyer, Glen Formica, are still working to get his case reopened. Formica has appealed Perez's case to the U.S. Court of Appeals for the Second Circuit, which is the next course of action when an immigrant receives an unfavorable decision from the federal Board of Immigration Appeals.
An Evening of Commemoration, Gratitude, Song, and Prayer
The evening began with welcoming remarks and a reflection on sanctuary by First Church Rev. Vicki Kemper. She noted that after two years, "we have all gotten better at working together and understanding the challenges that confront us. " She noted that 12 congregants continue to provide food and rides for Perez every week,while others take shifts accompanying Perez inside the building day and night. In all there are ten committees that coordinate all aspects of Perez's sanctuary and 14 other area congregations that contribute to supporting Perez.
She said "none of us could have imagined that two years ago when we announced that Lucio had taken sanctuary here that two years later he would still be here, that two years later he would still be separated from his family and that two years later we would be gathering to mark this day." She noted that the toll that those two years have taken on Lucio and his family are great, but that the experience has created an ever-expanding community, grounded in solidarity and in a commitment to justice. "We come together tonight to be very clear to Lucio and to the world that we continue to stand with him," she said.
Perez followed Kemper with remarks in Spanish, translated by Rev. Margaret Sawyer, who is the lead organizer for the Pioneer Valley Workers Center. Perez expressed his gratitude to the church and all those assembled. He noted that many immigrants without documents face considerable difficulties these days and that two years have been difficult for him as well as for the members of the church. However, Perez said that God gives him the strength to move forward,and his faith is unwavering.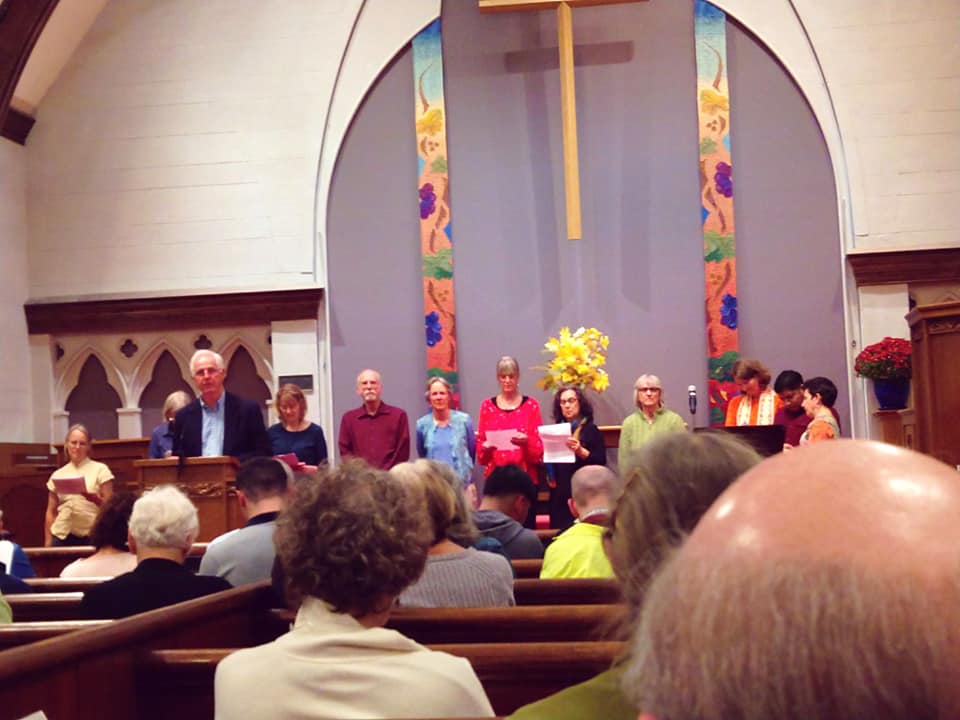 Perez was followed by a litany led by the church's sanctuary committee with each verse ending by the congregation chanting – "we stand with Lucio and his family". It was proceeded by a reflection by Rev. Sawyer who noted that "our congregation says no, forcefully, to what is happening to undocumented immigrants right now – not here, not now, not to this family."

The litany was followed by an invitation to all clergy in the audience, representing numerous denominations, to come forward to lead the congregation in blessing Lucio and his family.
At the close of the proceedings, those assembled shared in the tolling of the church bells 733 times, once for each day that Perez has been in sanctuary.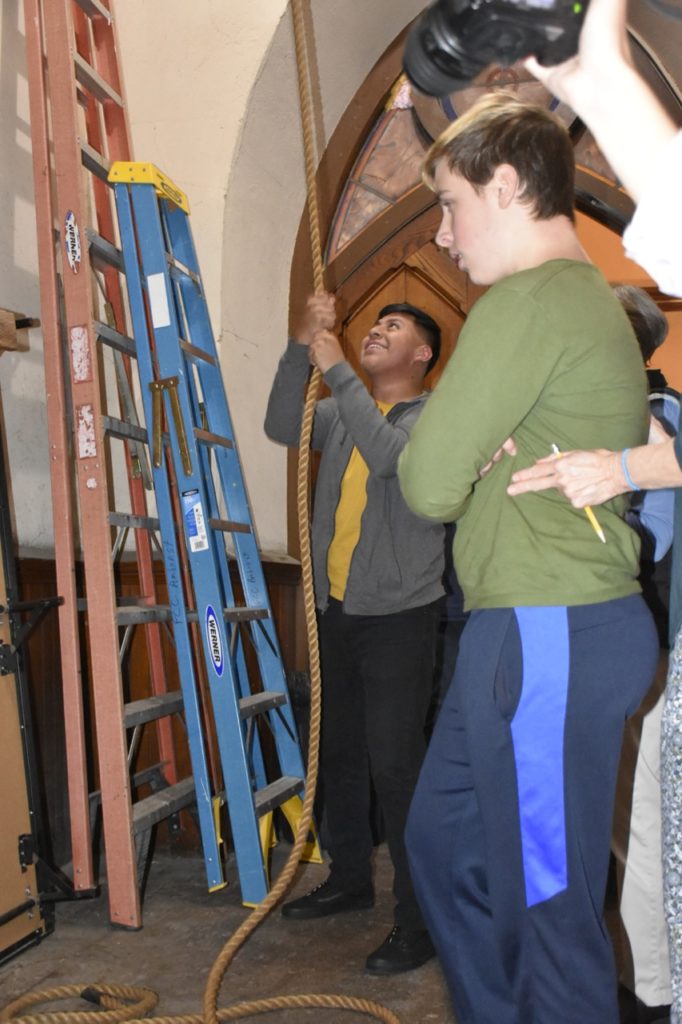 Those attending then celebrated community together over cookies and cider.
Ralph Faulkingham, who chairs the church's Sanctuary Financial Advisory Committee, praised the collective effort required, and reiterated Kemper's observation on the solidary community that has arisen to support Perez.
Faulkingham said, "When we as a church made a decision on September 13, 2017 to offer Lucio Perez sanctuary, we had no idea what we were up to. We at First Church are in awe of how much people in and beyond the Amherst community have pitched in to make this a true community undertaking. There have been 14 houses of worship in the area who rotate providing Lucio his meals, scores of people who have signed up to spend a shift in the sanctuary accompaniment room, near Lucio's room. We want to witness to Lucio and to the community that we all stand with him in sanctuary. Many more have offered rides to Lucio's wife and family in Springfield to visit Lucio frequently. And then there's the staggering outpouring of support for the Immigrant Sanctuary Fund, which covers all our costs of sanctuary, pays for Lucio's legal defense, and supports his family with a monthly stipend to replace the income that Lucio no longer can bring home. We have had 412 different donors, who have given a total of 905 gifts. We also have sent funds to the Unitarian Universalist Society of Northampton and Florence to help support Irida Kakhtiranova, who is now in sanctuary there. The fund that supports Lucio is named the Immigrant Sanctuary Fund, and yes, while most of our money directly supports Lucio's sanctuary, we are careful that the fund supports a class of individuals, not just one individual. Donations are very much still needed and may be sent by check payable to "First Congregational Church" 165 Main Street, Amherst, MA 01002, with "Immigrant Sanctuary Fund" on the memo line, or directly on the church's donation page.