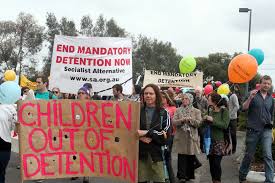 Last month, ten members of Jewish Activists for Immigration Justice of Western Massachusetts spent a week in Brownsville, Texas and Matamoros, Mexico. Our members ranged in age from 62 to 77, and we hailed from Amherst, Pelham, Hadley, Northampton, and Easthampton.
We watched, we listened, we volunteered—and we learned. We even led art and creative writing/visioning workshops for people in the refugee camp. While we were not surprised to see the cruelties…the blatant violations of human rights, due process, and U.S. and international law…the Kafkaesque processes, it was different seeing them up close. And we also saw some things that did surprise us:
A wonderful spirit of hope, helpfulness, and resilience in the refugee camp in Matamoros, in spite of the crowded and primitive conditions (tents jammed together along the riverbank, a few dozen Porta-potties for 2,500 people) and the very slim odds of being admitted to the U.S. (averaging about one-half of one percent)


The love of their own country expressed by many of the refugees, some of whom told us horror stories from surviving multiple kidnappings to needing to stand guard all night in front of his family's tent; they only left because their lives were in danger
We met several of the leaders of Angry Tias and Abuelas (a group of eight!) and Team Brownsville. These two all-volunteer groups run the refugee camp and coordinate volunteers from around the country, with basically no government support. We also met with two lawyers on the front lines, who filled us in on the egregious denial of due process. One of them used to work for ICE but could no longer be a party to human rights abuses. Now, he files class-action suits to overturn U.S. policy and also represents individual asylum seekers.
In the past, migrants were allowed to cross the bridge into the U.S. before encountering their first immigration officer. But now, armed guards are stationed on the actual border line to prevent any refugee from sticking a toe into the U.S. to request asylum (we observed this directly, as a different lawyer tried to bring three families across with special needs children who are supposed to be exempt from MPP, while we stood near them on the international bridge).
And as horrible as the MPP (Remain in Mexico) program is (putting thousands of migrants at risk and setting all sorts of restrictions on their ability to get a fair court hearing), it's being replaced with something much worse: PACR, which fast-tracks people for deportation without ever going in front of a judge. Many of these deportations are sending people to countries where they have no connection: Hondurans are being sent to Guatemala while Guatemalans get shipped to Honduras.
Some of the migrants eventually get to one of the tent courts, where they sit in a tent on the border while a judge someplace else reviews their case over a video monitor. Several of our group observed these courts in two different sessions with two different judges. Migrants have to wait at the bridge from around 4:30 a.m. to get to their 8 a.m. hearing in time, because people without a U.S. passport only get to cross in a very slow trickle. Usually, the case takes three or four hearings over many months. The group I observed on February 13 got their second hearing date of May 15.
Almost none of them receive asylum. They have to complete multiple complex forms, get them translated, get the translations certified, and supply documentation that most of them did not have time to gather as they were fleeing for their lives. Their chances are better with a lawyer, but there are not nearly enough lawyers volunteering. On the plus side, both the judges our group observed were very committed to due process—but that's not enough.
Amazingly enough, several of us were witnessing on the U.S. side of the bridge when a young man actually came through with an asylum paper; his whole family had been killed in his native country. He was released with a small backpack and very little guidance. Fortunately, the witnesses were there to give him a safe place to stay the night and get him to the airport the next day to join his brother in another state.
The saddest thing we saw—and we had to get to the airport at 6 a.m. to see it, because the U.S. government tries to do its dirty deeds when they think nobody is watching—was five busloads of deportees, shackled at the wrists, waist, and ankles, waiting to be shipped off to countries where they are not safe. We could do nothing to stop this, but at least we could surround the first three buses, hold up our heart-shaped signs, and chant in Spanish, "No estan solos" (you are not alone). One woman raised her shackled hands to blow us kisses, and a man found a way to crack open a vent and say "muchas gracias." Then they moved the buses to a remote, guarded area where we could not follow, and the last two buses went directly there. I noticed that the shackles were bright, shiny, and new, and wondered how many tens of thousands of dollars it had cost to get those 200 or so sets, and how that money might be used to help settle refugees into safe new lives.
Shel Horowitz's is a probability marketing specialist, author, international speaker, and TEDx Talker.

Postscript: How You Can Help,
compiled by D. Dina Friedman and Karen Levine

STAY INFORMED:
Join the Witness at the Border Facebook page to learn more about what is going on in Brownsville/Matamoros and get updates on how you can continue to support the struggle for immigration justice.

"Like: the Jewish Activists for Immigration Justice Facebook page, https://www.facebook.com/Jewish-Activists-for-Immigration-Justice-of-Western-Massachusetts- 112449596818372/ and check out our blog: Jewishactivistsforimmigrationjustice.blog.

Email us to sign up for our mailing list: jewishimmigrationjustice@gmail.com
LEGISLATIVE ACTIONS:
Ask your state legislators to support:
• H 3012/S 2061—The Family Mobility Act, (Drivers' Licenses for undocumented residents
• S 1401–The Safe Communities Act
• An effort endorsed (in meetings with us) by Reps. Sabadosa, Carey, Blais, and Domb and Sen. Comerford to have Massachusetts condemn draconian US policies on the border.
Call your members of Congress (202 224-3121) and ask them to:
• END "(un)Safe" Third Country Agreement Policies and stop fast-track detention to third countries
• OPPOSE funding for (ICE) and Customs and Border Protection (CBP) and SUPPORT significant cuts to these agencies.
• SUPPORT progressive pro-immigrant legislation like the National Refugee Protection Act, DACA, and ending private for-profit detention centers.
DONATE TO GROUPS ON THE GROUND:
Below is information about the organizations and individuals we supported, all of whom we met personally and in most cases volunteered with. If you are interested in making a donation to support humanitarian and legal assistance for asylum seekers stuck in Mexico under MPP, we have total confidence that your donations to any of these groups will work to improve the lives of the over 2500 asylum seekers in Matamoros.
–Angry Tias and Abuelas of the Rio Grande Valley. Small team of women dedicated to "health, safety, and support for human dignity and justice for asylum-seekers." They provide information on legal rights, as well as emergency food, water, housing, transportation, clothing, toiletries and other necessities.
Team Brownsville: Local volunteer organization that prepares and serves dinner and sandwiches every evening for residents of the refugee camp and runs "La Escuelita" school program for children and teens.
–Resource Center Matamoros: "A humanitarian organization that provides a safe space where refugees can access legal, medical, and social support services, helping restore their dignity as they move toward self sufficiency."
–Jodi Goodwin: Immigration lawyer who works daily with asylum-seekers on complex cases whose litigation can often lead to court rulings that change policy.
–San Antonio Region Justice for Our Neighbors: Non-profit organization that provides legal advocacy for "immigrants, refugees and asylum-seekers in and out of the courtroom in South Texas" and works for "immigration policies that treat everyone with compassion and guarantees access to legal counsel for all."
–Global-Response Matamoros: Volunteer organization providing daily medical care to the people in the refugee camp.
VOLUNTEER LOCALLY:
•Sanctuary in the Streets: Ride Share and Court Accompaniment Contact sisrideshare@protonmail.com; Sanctuary Accompaniment Volunteer–Contact First Congregational Church at Amherst (lvernonjones@gmail.com) or the Unitarian Society of Northampton. Also get involved with National Sanctuary Advocacy Actions, (i.e. Washington DC on March 24)
• Sponsor and/or help provide support to Asylum-Seeking Immigrants: Contact the Western Massachusetts Asylum Seeker Network or the Trans Asylum Seeker Network: westernmassasylumsupport.com
• ACLU Immigration Protection Project. Needs volunteers to learn and prepare paperwork for asylum cases. Contact statewide coordinator who is in Northampton: Javier Luengo-Garrido, javiluengo@gmail.com, 413-992-8657.