GOVERNOR SIGNS COMPREHENSIVE MORATORIUM ON FORECLOSURE AND EVICTION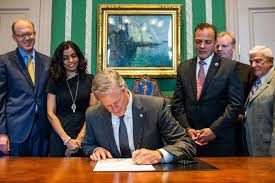 Governor Charlie Baker signed into law the strongest eviction and foreclosure moratorium in the country on Monday, MA HB 4647 bars evictions and foreclosures from moving forward in Massachusetts until after the COVID-19 State of Emergency is lifted, preventing renters and homeowners across the state from being forced out of their homes.
For tenants, the moratorium temporarily halts all stages of eviction. Specifically, it:
stops landlords from sending notices of eviction and filing new eviction cases
stops courts from scheduling non-emergency hearings, entering judgments (including agreements for judgment), and issuing executions
stops sheriffs from levying on executions to remove tenants
applies to most evictions with limited exceptions for true emergencies involving conditions or conduct endangering the health and safety of others
also prevents late fees and negative credit reporting for COVID-19 affected tenants.
For homeowners in 1-4 family owner-occupied properties, it temporarily:

stops residential foreclosures from going forward.
requires lenders to offer a mortgage forbearance for homeowners affected by COVID-19, with payments added to the end of the loan
prevents negative credit reporting for homeowners in forbearance
gives landlords access to tenants' last month's rent to cover expenses
The moratorium also pauses evictions on small businesses and makes it easier to access reverse mortgages.
The moratorium will remain in effect for either 120 days from April 20 or 45 days from the end of the State of Emergency, whichever is sooner. This can be extended by the Governor to ensure it does not end before a reasonable period of time after the State of Emergency is lifted.
Although many of the relevant courts have been closed during the State of Emergency, that has not entirely stopped evictions or foreclosures. Some landlords have been able to continue to file eviction cases, and in some cases, judges were still granting executions. More than 700 cases have been filed against renters in housing courts and district courts since March 16 according to MassLive.
An evictions/foreclosure moratorium fact sheet and sample landlord letter can be found here.