LETTER: THE LAMENTABLE SALE OF LIBRARY'S BIERSTADT MASTERPIECE GIVES US CAUSE TO RECONSIDER PROPOSED DEMOLITION OF 1993 ADDITION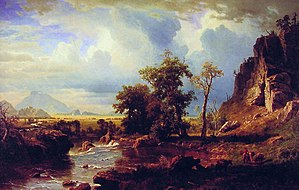 The headline in the November 20,1988 New York Times read, "Town Votes Painting Sale".
"Efforts to spare a valuable painting from the auction block failed after voters at a Town Meeting approved a library's plans to raise money by selling the work, valued at up to $2 million. The meeting rejected a petition aimed at blocking the Jones Library's sale of a painting by the 19th-century American landscape artist Albert Bierstadt."
I was new to Amherst and a new member of Town Meeting in November, 1988. The painting was part of a remarkable art collection that was part of the Jones Library's rich legacy. I was flummoxed. Why sell something of great beauty and enormous lasting value for bricks and mortar that could become rubble?
The Burnett collection of over one hundred items of art for display and interior decoration was donated to the library after William Burnett's death in 1926. He had wanted to establish a public Art gallery for the residents of the town. Part of that collection was Albert Bierstadt's "Platte River, Nebraska 1863".
The President of the Library Trustees spoke of the exciting plans for a much needed addition and promised that, contrary to the fears expressed by many devotees of the Jones Library, a new addition would not look like a supermarket. Someone from the Museum spoke of the treasure we, as a town, were about to give up.
I voted NO. I think it was a standing vote.
The addition, with its atrium and other new spaces, was completed in 1993. Twenty-seven years later that brand new necessity stands in the shadow of a wrecking ball. Part of the Library's demolition and expansion plans.
I don't think another million dollars of public money can be faithfully entrusted to an institution that has squandered its treasure in the past. That is far too much to squander when there are many worthy competitors for CPA Funds.

Molly Turner
Molly Turner is a former Jones Library Trustee (2003 – 2009) and served as President of the Trustees from 2008 – 2009.