Towns Seek Poll Workers for November Election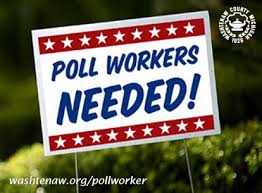 The following local towns are looking for poll workers: Colrain, Greenfield, Hawley, Orange, Whately, Springfield, West Springfield, Amherst, Pelham, Easthampton, South Hadley.
In the past, most poll workers have traditionally been aged 60+. This year, due to COVID-19, there is outreach for younger poll workers. In some districts, people as young as 16 or 17 can work the polls.
Poll workers are paid and receive training.
More information can be found here.
To apply for poll worker positions in Amherst:
Contact: Amber Martin, Management Assistant
Telephone: 413-259-3034
Email: martina@amherstma.gov
Application