Town Establishes Hotline To Field COVID-19 Questions And Complaints About Parties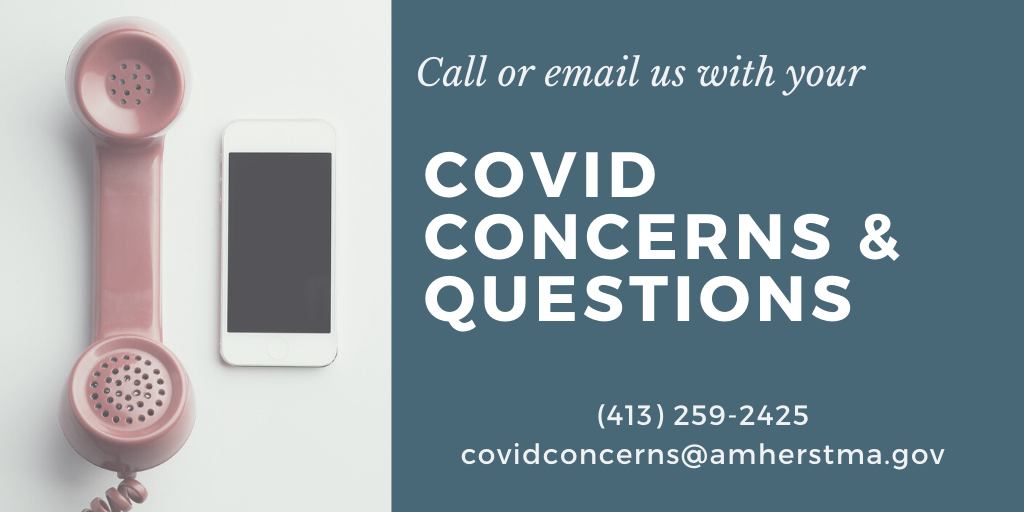 Source: amherstma.gov
The Town of Amherst announced on Tuesday (8/25) that they have established a phone hotline and email address to field questions from the public on issues relating to COVID-19 in Amherst.  According to an article in the Daily Hampshire Gazette, the hotline is also a place where residents can "call for assistance when they see people flouting the town mask-wearing order, not properly socially distancing, or holding large gatherings".
Town Staff will monitor and direct the calls and emails to appropriate Town personnel so that concerns and complaints are addressed efficiently. The Town asks that residents not use this phone line or email address to report emergency situations, which should always be directed to 9-1-1.
Questions and concerns about COVID-19 in Amherst can now be directed to
(413) 259-2425 or covidconcerns@amherstma.gov
According to The Gazette, Town Manager Paul Bockelman announced that "ambassadors are being hired to go to downtown, to village centers and to neighborhoods to remind people of ways they can act to protect themselves.Bockelman said the lead ambassador has been hired and an additional 15 to 20 will join the team, almost all of whom will be UMass students. Though the town had hoped to have this initiative in place for the last weekend in August, it may be delayed until Labor Day weekend."

Amherst residents have expressed concerns about the risk posed to the community by student parties (see here, here, here and here) and have asked that the town and the University to more to monitor regulate students' off-campus behavior in defense of public health.

According to the Gazette, police responded to 10 parties in Amherst last weekend including breaking up a large gathering at 47 South Prospect Street where dozens of college age people were reveling both inside and outside without wearing masks or properly social distancing.