Airflow In Amherst Schools Better Than Expected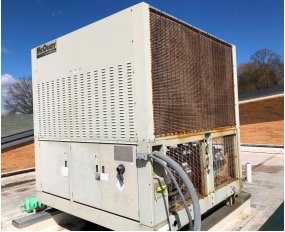 School Committee Chairperson Allison McDonald posted on her public facebook page on Thursday that the majority of rooms at Amherst and Pelham public schools intended to be used in Phase 1 of in-person instruction met or exceeded published recommendations for airflow.
Testing of the Heating Ventilation and Air Conditioning (HVAC) systems that measured airflow at the Amherst-Pelham schools was conducted by Nexus Consulting owner Benjamin Cenedella. The report, which was published on the ARPS website on 8/31, states that Cenedella performed "preliminary air flow testing at all classrooms that are slated to be in use in Phase 1, plus the Overflow Space, Nurse's Office and the Medical Waiting Rooms for each school." Results showed that, with new portable air purifiers in each room, the vast majority have over 5 Air Changes per Hour (ACH). Some spaces tested in the 4 to 5 ACH range, and six spaces below 4 ACH "need repairs and will then be retested." Two spaces are likely unsuitable without a more extensive re-design of the HVAC, according to the report.
Phase 1 includes students in "priority groups," defined as those in PreK-1, beginner English language learners, SLIFE (Students with Limited or Interrupted Formal Education), homeless students, and those in specialised special education programs.
McDonald wrote, "the assessment meets/exceeds published recommendations against which the District is benchmarking. These include Harvard T.H. Chan School of Public Health recommendation of 4-6 ACH for schools, (4-5 being "good" and 5-6 being "excellent"). ASHRAE also recently updated its guidance for reopening school buildings. The District aims to use only those spaces that are above 4 ACH."
In the report, Cenedella did not commit to a definition of a safe ACH threshold. He wrote, "Due to the lack of guidance by governing bodies such as CDC or ASHRAE [American Society of Heating, Refrigerating and Air-Conditioning Engineers] to provide actual ACH guidelines and/or parameters related to HVAC equipment; we are unable to provide ACH recommendations when related to any data gathering associated with Covid testing."
The ASHRAE school reopening guidelines do not provide a minimum ACH threshold, but a checklist for HVAC systems includes a number of parameters beyond airflow, including temperature (to be maintained at 68-78 degrees) and humidity (40-60%). The testing by Nexus focused solely on airflow.
When asked about the Nexus results, Assistant Facilities Director Ben Herrington said, "the outcomes were far better than expected. The few areas that aren't up to our expectations are addressable within reason." Herrington added that while the ASHRAE guidance did not recommend a particular ACH, the conventional thinking is 3 to 6 ACH, with the healthcare industry at 6 ACH and above.
A fall reopening FAQ on the district's website states that "only rooms with windows are being used for classroom spaces, and keeping windows open, weather permitting, has been recommended to districts by public health experts. Removing materials from the rooms greatly contributes to air quality, as does having less density of students. The HVAC system will be set to circulate air for more hours than it typically would be given the current recommendations on ventilation. The district has also ordered HEPA Air Purifiers that also use UV disinfecting light for each classroom."
This summer, construction work was undertaken at Wildwood and Fort River elementary schools to convert "quads" from four to two distinct classrooms of approximately 1,900 square feet each, colloquially referred to as "halfsies, with separate ductwork for air exhausts. The airflow measurements by Nexus on these spaces were marginally better at Wildwood than at Fort River. When accounting for the presence of the new air purifiers, the total ACH was well above 6 ACH at Wildwood (6.71, 6.92 and 7.27 ACH). At Fort River, the rooms tested at 5.07, 5.03 and 5.57 ACH.
Kindergarten classrooms at both schools tested between 4.69 ACH and 5.39 ACH. Without the air purifiers, the airflow was below 4 ACH.
At Crocker Farm, all but three classrooms that are slated to be used in Phase 1 tested above 5 ACH when the air purifiers were in use. Every room that was tested at Pelham Elementary measured above 6 ACH.
The report did not include the Amherst Regional Middle School. Herrington said that was because it will not be used during Phase 1. Middle school students in the priority groups will be educated at the High School or Summit Academy.
At the High School, more than 45 rooms were tested, with five flagged as needing work by the facilities team, and re-testing, before they could be deemed suitable for use for students. Bathrooms and hallways were not included in the testing at any of the schools.
Reached by phone, Amherst Regional High School teacher Krista Larsen, who is on the Health and Safety Committee of the Amherst Pelham Education Association (APEA) — the union that represents teachers, clerical workers, and paraeducators who work for Amherst Pelham schools — said that the agreement between the union and district is to "meet or exceed ASHRAE standards." Larsen said, "looking at ACH is a great start, but other aspects of ASHRAE standards — like temperature, relative humidity and CO2 levels — also need to be considered." Larsen said that the APEA is still in negotiations with the district and has asked for further air quality testing beyond the airflow metrics.
Studies of the three Amherst elementary schools in recent years found that the classroom unit ventilators and exhaust fans were approaching the end of their useful life. In his report, Cenedella wrote, "a majority of the HVAC equipment tested seems to be operating properly." He said that all units tested were equipped with new air filters, and added, "please make sure all HVAC equipment and air purifying units are maintained properly to the ASHRAE preventative maintenance guidelines."
In response to a question about the ACH threshold, McDonald said, "Keep in mind also, the spaces that were assessed in this report are what is needed to accommodate 100% of Phase 1 students, yet 68% of those students are planning to attend in-person classes…so not all spaces are needed and occupancy will be lower."