Letter: Murals For Rise Marijuana Dispensary Should Have Been Subject Of A Public Hearing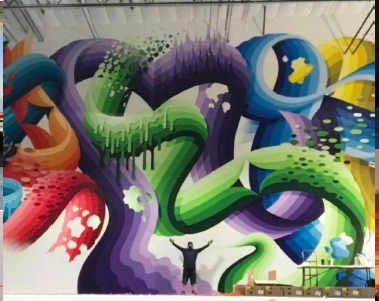 The ZBA [Zoning Board of Appeals] this week voted that murals for three of the four walls at RISE on Meadow Street were changes that are not substantially different from what was allowed in their special permit. This was with zero input from the public, particularly North Amherst residents who drive by this busy intersection daily. The public was not informed that this was on the agenda and residents were not allowed any voice in the matter.
I read the proposal and looked at the "art," which seems more appropriate to NYC than rural Amherst. "Art" is in the eye of the beholder! Bad enough cannabis is providing our only path to economic development, but it doesn't need to sock us in the face each time we drive by. (See link below, pp. 21-28, for a look at the proposed art).
I notice that the ZBA is the final arbiter of what will be painted on those three walls and that this project will be executed in the next month. Is there a way that Amherst residents, North Amherst in particular, can have any input in the process of selecting the final murals?
I sure hope that there is some remedy here.
Hilda Greenbaum

Hilda Greenbaum is a 65-year resident of the Amherst area and a 50-year resident of Amherst, a town meeting member 1975–2018, and a former member of various town boards and committees, including Public Transportation, Assessors, and Zoning Board of Appeals. Her particular interests are land use and historic preservation.