Hearing On The Master Plan: Residents Raise Concerns About Proliferation Of Five Story Buildings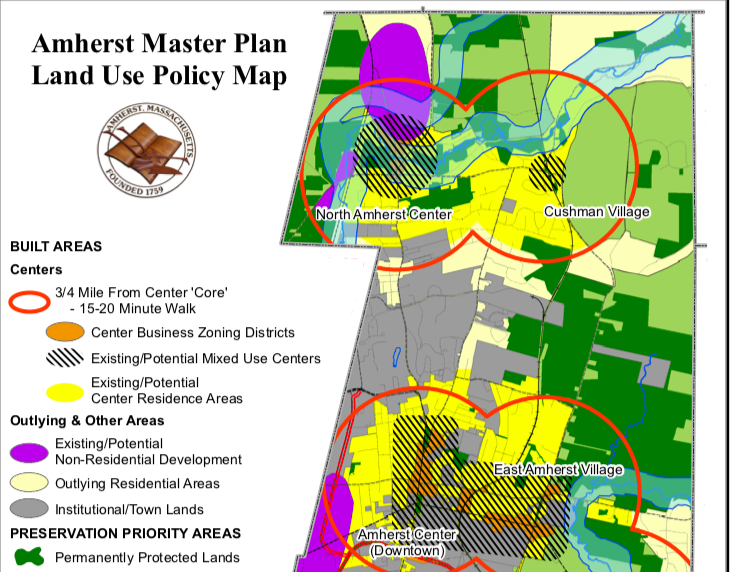 Report on the Special Town Council Meeting and Public Hearing on the Master Plan (9/29/20)
Participants
Town Council: All present except Sarah Swartz (District 1) and Dorothy Pam (District 3). Staff: Town Planner Chris Brestrup and Town Manager Paul Bockelman
The meeting/hearing was held via Zoom webcast and was broadcast simultaneously on Amherst Media's Channel 17. The recording of that meeting can be viewed here.

The meeting of the Town Council was called to order at 6:30 p.m.
Announcements
Applications for Community Preservation Act funding are being accepted until October 12.
The Town's COVID Hotline can be called or emailed for questions or to report concerns. 413-259-2425 or covidconcerns@amherstma.gov.
, The second round of Rental Assistance Program is also now accepting applications.
Public Forum on Master Plan
This Public Forum on the Master Plan is required yearly by the Amherst Home Rule Charter Section 2.13
Primer on the Master Plan
Town Planner Christine Brestrup's summary on the creation and contents of the Master Plan can be read here.
Massachusetts General Law requires that every town have a Master Plan, which is a community's long-term "blueprint" for its future. It is a dynamic document to be modified over time. The current Master Plan was adopted by the Planning Board in 2010 after 40 years of development. A copy may be viewed on the Town website
From 1971 to 1973, the Select Committee on Goals formulated the basis for a Master Plan that conceptualized village centers and open spaces. In 1997 and 1998, another committee developed a plan called "Amherst Visions." Later, Town Meeting voted $65,000 to begin formulation of a Master Plan. In 2006, a consultant was hired with an additional $135,000. Over the next few years, data was gathered through surveys and public workshops. The Master Plan Subcommittee of the Planning Board formulated the current Master Plan, which was approved by The Planning Board in February 2010.
The state requires that the Master Plan contain ten chapters:
Goals and Policies
Land Use
Demographics and Housing
Economic Development
Natural and Cultural Resources
Open Space and Recreation
Services and Facilities
Transportation and Circulation
Implementation
Some of the key directions in Amherst's plan, spelled out in the Goals and Policies chapter, are
* to maintain Amherst 's existing community character;
* to provide housing that meets the needs of all residents while minimizing the effects on the environment;
* to diversify and expand the economic base; and
* to provide an ethic of sustainable economic practices in all Town activities.
Although the Implementation chapter provides an excellent matrix for tracking the Town's progress toward fulfilling the goals of the Master Plan, it has not been used systematically. Several issue-based plans developed since 2010 further the stated goals, including the Housing Production Plan, the Open Space and Recreation Plan, and the Transportation Plan. The Energy and Climate Action Committee is currently working on a town energy plan.
The Town plans to develop a new Master Plan by 2030, but currently Town government and staff are working on recodification of the Zoning Bylaw; this is supposed to take into account some goals of the Master Plan regarding land use, such as encouraging development in already developed areas while protecting open space and farmland, and honoring historic neighborhoods. Amherst has also adopted the Stretch Building Code, which requires more energy efficient building than state regulations, and the Town mandates that new or renovated municipal buildings be net zero.
Discussion
Councilor Cathy Schoen (District 1) asked if the Planning Board considers concepts in Amherst's Master Plan, such as "maintaining small town rural character" and encouraging "alternative forms of transportation" when evaluating development proposals? Brestrup replied that it does take these points into consideration. For example, the proposed design for the new Amherst Media headquarters was reworked in consultation with the Local Historical Commission and the Planning Board so that it fits its historic neighborhood better. And the cluster subdivision near Atkins Market in South Amherst preserves seven acres of open land for public use. Access to public transportation, walkability, and bicycle storage were considered in the plans for the Central Amherst Commons on Main Street and the proposed development on South East Street.
Councilor Shalini Bahl-Milne (District 5) noted that the percentages set for different land uses only add up to 79 percent and asked whether land is still available for commercial use. Brestrup replied that the methods used to calculate those percentages are problematic and no longer in use but she hopes to clarify the figures. She reported that there is some undeveloped commercially zoned land in North Amherst, but it does not have public water or sewer. There are also some pockets off Belchertown Road that are available for commercial use, and some one-story buildings in the center of town and the neighboring limited business district which could be more densely developed.
Public Forum
The Public Forum on the Master Plan was called to order at 7:06 p.m. There were about 20 attendees, including some Planning Board members. The public was encouraged to offer comments or ask questions of Brestrup or the Council.
New Planning Board member Johanna Neumann stated that upon reading the Master Plan in preparation for her interview for appointment to the Planning Board, she felt it is still relevant to Amherst, not only in relation to zoning, but also as a means to fully realize a walkable, bikeable town.
Ira Bryk expressed concern that the viewpoints of many or even most residents are not represented in the current direction of the Town and those in leadership positions. He encouraged the Council to develop a contemporary way to take the pulse of what people want Amherst to look like in ten years.
Ludmilla Pavlova Gilham, who was on the Planning Board when the 2010 Master Plan was developed, said she feels it is a good document, but towns do change. She, too, recommended outreach to bring in new voices.
Several participants expressed their dismay at the large apartment buildings recently built in the downtown area. Jeanne Hardy, who lives near downtown, said she feels that it is critical that we not change the character of the town. She said she likes being close to everything where she lives, but she no longer feels safe because of the large new buildings that have so little setback that one can't even see around the corner. She was also concerned that there is no space for a bike lane in the street in front of Kendrick Place and One East Pleasant and said that it seems as if developers are allowed to use every single inch of space for expensive housing, leaving no green space at all. Some of the buildings proposed for a 40R district also are large with less setback than required of individual homeowners. 
Woody Sherman also expressed the desire for wide sidewalks in the downtown area.
Jayne Pearl, who lives in Echo Hill South, wondered how and why the large buildings were approved. Brestrup replied that the Town adopted a bylaw allowing five-story buildings downtown in 2011. In addition, regarding the lack of parking spaces at One East Pleasant, Kendrick Place, and the building on Spring Street currently under construction, Brestrup said they are in the Municipal Parking District, which does not require onsite parking for residential use. These buildings do not have any affordable housing units because they did not require Special Permits for use, only for dimensions, so the Inclusionary Zoning Bylaw did not apply. Because so many people are upset by these new buildings, the guidelines should be considered when rewriting the Zoning Bylaw, she said. 
Elizabeth Vierling of Cottage Street reiterated that those large downtown buildings are not consistent with the Master Plan. She encouraged more discussion of 40R zoning.
Brian Yellen ,who lives in South Amherst, wants to encourage development of Pomeroy Corners, especially in consideration that the former Hickory Ridge Golf Club presents new opportunities for development. This view was echoed by Ginny Hamilton, also of South Amherst, who emphasized that the Town should encourage affordable housing, which determines who can live in Amherst.
Bruce Baird of East Pleasant Street questioned whether putting 10 percent affordable units in a building that is geared to students helps attain a goal of integrating diverse populations. Brestrup responded that Amherst now has 12.7 percent affordable units, which is good but clearly not good enough. She said that there is a push to build more housing for those making 80 percent or less of area mean income, but there are people who make even more than that who still can't afford to live here. Unfortunately, there are no incentive programs for those earning more. This is a problem that the Planning Department is continuing to work on she said.
The hearing was adjourned at 7:35.