More Than 50 Residents Attend Forum on Proposed "Smart Growth Plan" For Downtown Amherst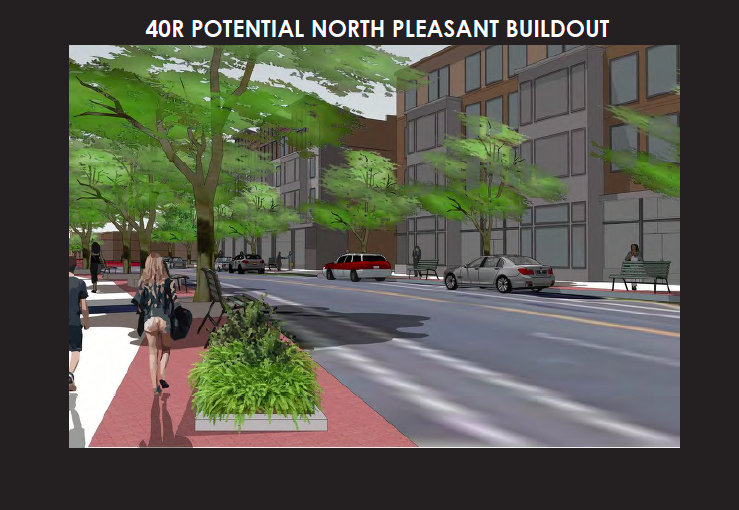 Over 50 Amherst residents attended the fourth and final presentation on 40R Smart Growth Overlay Zoning by consultants Karen Sunnarborg (Sunnarborg Consulting, Jamaica Plain) and David Eisen (Abacus Design, Boston) and 16 offered comments at the Zoom forum held on October 14. The consultants have been working on a plan to create a 40R Overlay District in the downtown area. After interviewing Amherst residents in the summer of 2018, they held public forums in April, June, and December of 2019, and then made a special presentation to the Planning Board on May 6, 2020. Following their presentation to the Planning Board, they received many comments from the public, especially from people who live in or near the area for which they are proposing significant changes.
For a summary of previous presentations on 40R Smart Growth Overlay Development, look here.
Amherst Planning Director, Chris Brestrup, introduced last Thursday's presentation. After giving background on previous work, starting with a $40,000 grant obtained by the Amherst Municipal Affordable Housing Trust, she emphasized that this is still "a work in progress" and that no decisions would be made at this meeting. The Town can still decide that we do not want 40R Zoning or that 40R Zoning would be more appropriate for another part of town. In order to impose 40R Zoning on an area of Town, a Zoning amendment with design and dimensional guidelines must be passed by the Town Council and approved by the State.
The purpose of 40R Zoning is to allow dense residential and mixed use development in an area without requiring the usual approval steps if projects meet design guidelines and include 20 to 25 percent affordable rental or owner-occupied units. Although Sunnarborg had originally said these units must be affordable for 30 years, new regulations are likely to make them affordable in perpetuity. This would mean that up to a quarter of new units in a 40R Overlay zone could be "affordable" for people earning up to 80 percent of Area Mean Income (AMI) for household size; the AMI is adjusted yearly. Developers are not required to use the Overlay regulations; they can opt for the traditional process using the existing Zoning Bylaw.
It was obvious from the consultants' interviews and the many comments they received that Amherst residents are wary of any more buildings resembling Kendrick Place and One East Pleasant Street being constructed downtown. Sunnarborg and Eisen pointed out that those buildings were given permits under the current Zoning Bylaw, and said that the 40R could be an improvement.
Sunnarborg and Eisen took into account some of the feedback they received, and reduced their proposed subdistricts from three to two (see map below). Subdistrict One is mostly along North and East Pleasant Streets; Subdistrict Two is along Triangle Street and the east side of North Prospect. They increased the required setbacks to 15 feet from the curb in Subdistrict One (it is currently 0 feet from the property line) and to the setback of neighboring structures in Subdistrict Two. Building heights would be limited to five stories in Subdistrict One and three stories in Subdistrict Two.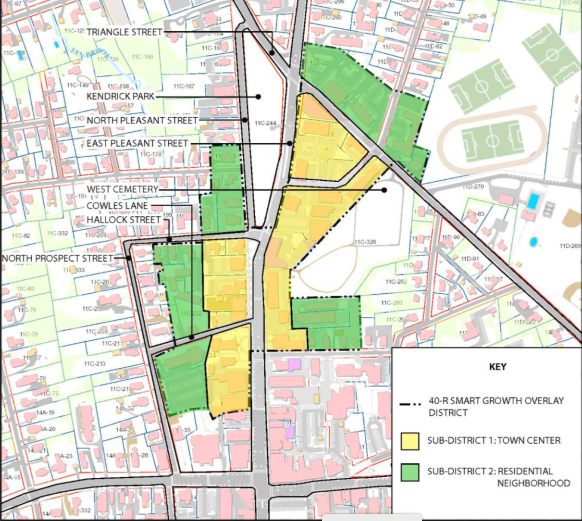 The consultants pointed out that they chose the downtown area as the best location for applying 40R Zoning because of its potential for increased housing density, and the desire to revise the regulations for the General Business (B-G) and Limited Business (B-L) zones. They said that the slowdown in development caused by the pandemic makes this a good time to look at potential Zoning changes for after the pandemic.
Eisen, an architect, presented diagrams of what buildings built under 40R Zoning could look like with retail on the first floor and two to four stories of residential units above. Monolithic five-story walls would be prohibited by the proposed design guidelines, and green space would be required in the parking areas. He said that he has received numerous comments about waivers that the Planning Board could grant, and explained that in an Overlay District a proposal cannot be denied if it meets the guidelines and would not cause "a significant negative impact" on the neighborhood, and that it would be up to the Town to enforce the guidelines.
Public Comment
Sixteen members of the public spoke.
Joyce Berkman wondered about the perceived need for more housing because the University is likely to have fewer on-campus students and staff in the future. Assistant Town Planner Nate Malloy said that many people would like to live in Amherst and this would presumably help people find suitable housing there.
Hilda Greenbaum worried about the shadows that five-story buildings cast, especially on narrow streets, and the loss of small businesses in buildings that would be demolished and replaced by large 40R buildings. Would those businesses survive during construction? Could they afford to move into the new spaces? Eisen commented that the Town could "support" these businesses and "ensure" they survive.
Several other residents also voiced concerns over giving automatic permits for more five-story buildings, as long as they meet the guidelines. Eisen pointed out that these large buildings are permitted downtown at present.
Pam Rooney expressed concern about the loss of Design Review Board evaluation of projects. Eisen responded that design is subjective and that it would be up to the Planning Board to make sure that guidelines are met.
Michael Greenebaum said that the downtown belongs to the whole town. "The more housing that is built downtown, the less desirable it is for the rest of us." He worried about an urban "canyon" of five-story buildings on both sides of North Pleasant Street, and the loss of town input into designs if some basic guidelines have been met. Eisen countered that 40R Zoning would be "an improvement" over the current zoning.
Jeanne Hardy asked if developers could be required to provide underground parking. Eisen said that under those circumstances, developers would ask to build seven- or eight-story buildings so that their projects would be profitable. Hardy also pointed out that the 40R projects in Easthampton and Northampton are not in the cities' downtowns but in an already-existing abandoned warehouse and on the grounds of a closed state hospital. (Note: A 40R Overlay Zone was created for 155 Pleasant Street in Northampton for 155 Live, a 70-unit mixed use, mixed income building.)
Speaking as a private citizen, District 3 Councilor Dorothy Pam noted that the proposed 40R district directly abuts the Lincoln Sunset Local Historic District. She said that improving downtown zoning can remedy the problems that allowed the large buildings recently constructed, without having an entirely new zoning process, especially one that allows for minimal oversight.
Later in the meeting, former Planning Board member Rob Crowner, who worked on the 40R grant application, admitted that the existing zoning laws have not worked as well as the Planning Board that developed them hoped, and said he hopes that existing zoning could be made more restrictive, so that 40R is more appealing.
Elizabeth Vierling said she doesn't think the design guidelines go far enough. In addition, she said she wonders why a builder would choose to build under 40R Zoning instead of the existing zoning. She said she thinks that 40R Zoning would be more appealing to developers in the B-L district on Triangle Street, where current zoning is more restrictive. This would likely have a profound negative effect on Cottage Street.
Jean Jenecki expressed strong concern that the downtown of Amherst would be destroyed by additional large buildings. Eisen said he does not think 40R would unleash a wave of development that would not happen anyway.
Alex Hoar said that he looked at the new four-story apartment complex at 70 University Drive. He noted that a one-bedroom apartment there rents for $2,400 per month there. The complex contains four affordable units, which, he thinks, are being subsidized by the other units. He also said he doesn't want downtown Amherst turned into a residential center.
Ira Bryck pointed out that most of the examples shown by Eisen were four-story buildings, not the five stories proposed for Amherst. He also said that although one could not legislate the use of buildings, the already existing new buildings downtown are unaffordable for families and were clearly built as "dorms."
At this point, the tone of the meeting changed. Bob Greeney agreed with others that the scale of the proposed zoning district is out of character for our small downtown. He also noted that the diversity of opinion of the residents in Amherst is not reflected in the current membership of the Planning Board. Enforcement of guidelines would fall to the Planning Board, he said, and anyone who has been following Planning Board meetings recently is likely to have little confidence that it would uphold the interests of people in this town.
John Page, who volunteers on the Housing Trust and works at the Chamber of Commerce, was surprised at the opposition to the 40R Zoning plan. He said that talk of preserving neighborhoods is a "dog whistle" with racial undertones. He is dismayed that there was more talk about aesthetics, cars, and parking rather than people "who need a place to live."
Current Planning Board Chair Jack Jemsek said he is offended by some of the comments and is "tired of" people referring to One East Pleasant and Kendrick Place as "dorms," and said he thinks that is insulting to people who rent apartments there. As to the integrity and composition of the Planning Board, he said, "We have one of the best Planning Boards ever."
Winnifred Manning said she regrets that Page and Jemsek took some of the residents' comments so negatively. She said she is concerned about the noise from HVAC systems and about outside lighting from new buildings negatively impacting surrounding neighborhoods..
Allison Ozer said there is no reasonably priced housing downtown for a single person who does not qualify for an affordable unit but cannot afford a market rate apartment.
Cinda Jones asked the consultants whether a small developer would be able to build under 40R Zoning. She said she was thinking of her grandfather's building on Pray and Triangle Streets. Sunnarborg said that because of the stringent guidelines and copious paperwork, most small developers hire consultants to market affordable units and vet applications. Eisen said he has designed 40R projects with only 20 and 28 units.
The discussion ended a little after 9 p.m. The consultants will incorporate the comments from this forum into a fourth draft proposal for a 40R Zoning Bylaw. The Town will continue to collect feedback and discuss whether 40R would work for downtown Amherst.