Planning Board Considers Plans For Newman Center And 40R Overlay Zoning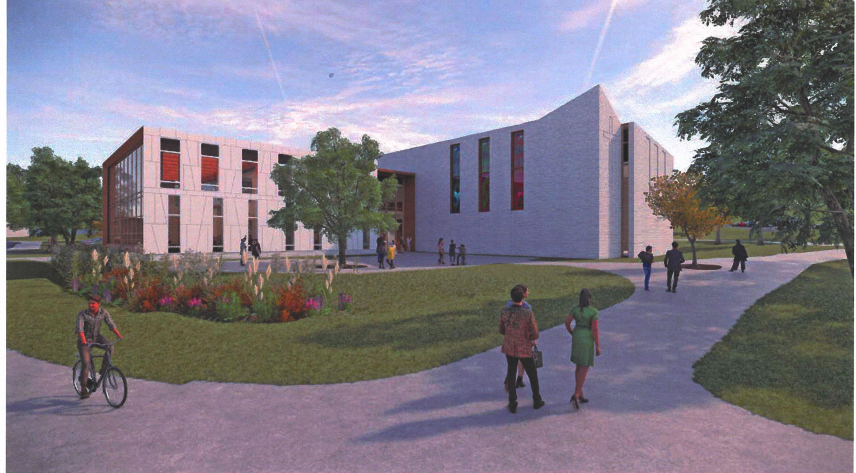 Report On The Meeting Of The Planning Board (11/18/20)

The meeting was held as a Zoom webinar and was simulcast on Amherst Media Channel 17. The recording of the meeting can be viewed here.
Participating
Planning Board Members: Jack Jemsek (Chair), Maria Chao, Thom Long, Andrew MacDougall, Janet McGowan, Doug Marshall, and Johanna Neumann
Staff: Town Planner Christine Brestrup and Administrative Assistant Pam Field-Sadler
Highlights:
Reviewed plans for a new Newman Center at UMass
Discussed the pros and cons of 40R Overlay Zoning
Declined to reopen a public hearing to reconsider nighttime lighting at the Emily Dickinson Museum, which is inconsistent with the current bylaw
Deferred a discussion of the resident-manager requirement for properties with six or more tenants
Plans for a New Newman Center at UMass
Vinsu Shah and Eileen Casciari from CBT Architects and Father Gary from the Newman Center presented their plans to build a new Newman Center across North Pleasant Street from the current building. The site is now a parking lot. The plans show an L-shaped building with a 400-seat chapel, a white brick façade on the chapel, and white masonry on the wing with a café, student center, and second-floor research center. The stained glass windows from the existing chapel will be used in the new building. There will be a rain garden in front of the Center. Some of the existing parking lot will be retained.
Town Planner Christine Brestrup pointed out that because the project is located in an Educational District, the Planning Board can comment but does not issue the permit, and that the purpose of this presentation is to inform the Board. Janet McGowan asked about the energy efficiency of the building. Architect Eileen Casciari stated that the proposed building meets the state building codes and that it uses high-efficiency glass and sustainable materials. She said it would probably qualify for LEED certification, but the Diocese has chosen not to apply.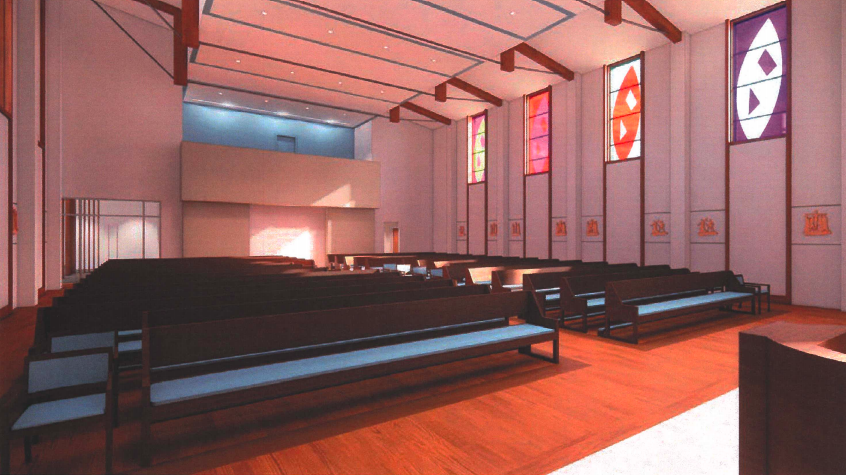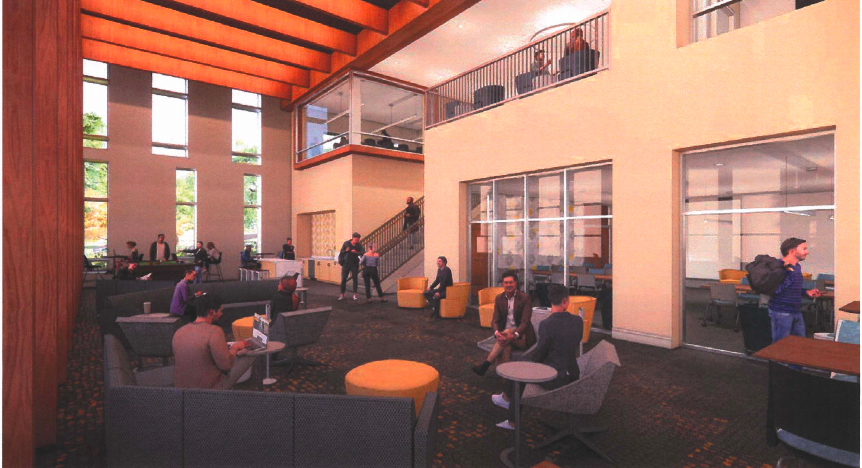 40R Smart Growth Overlay Zoning
John Hornik, Chair of the Amherst Municipal Affordable Housing Trust (AMAHT) and Trust member Rob Crowner joined the meeting for further discussion of whether 40R Zoning is appropriate for Amherst, and if so, it is appropriate for the downtown area as recommended by consultants. The matter was also discussed on November 17 by the Town Council's Community Resources Committee.
Brestrup gave a brief summary. Amherst applied for and was awarded a grant to hire consultants to develop a bylaw potentially establishing an overlay zone in which denser development would be allowed if 20 to 25 percent of the housing units are affordable. The State is promoting these overlay areas as a way to build more housing and increase the number of affordable units. The State can give participating towns $3,000 per affordable unit. The consultants, Karen Sunnarborg and David Eisen, held four public forums about 40R Overlay zones in 2019 and 2020. They identified several potential sites for an overlay district–East Amherst, Pomeroy Village, North Amherst, and the downtown area — and settled on Downtown because of the level of interest of developers and property owners. They gave a presentation to the Planning Board in May and, after receiving many comments and concerns from residents, held another public forum on October 14 addressing many of the concerns.
Brestrup said the Planning Board should consider whether this is something that people in Amherst want. In Amherst center (General Business, B-G), opportunities to increase density are limited, she said, without allowing six floors. (Current zoning permits five-story buildings.) There would be opportunity for development, however, in the limited business (B-L) zone north of Triangle Street, including Cottage Street, where current zoning precludes dense residential buildings.
Later in the meeting, she said, "I've heard 40R is perhaps more suited to big developers and that it's very complicated, with a lot of rules and regulations. It may not be appealing to local developers, who might prefer more traditional types of developments."
Hornik said the study had been initiated by the Housing Trust to allow increased density and encourage affordable housing in Amherst. The Housing Production Plan proposed in 2013 recommended the creation of over 500 affordable units in the subsequent ten years, but even though some new units have been built, there is a grave need in Town. Chapter 40R Zoning allows design guidelines consistent with New England towns. An added incentive is that the Town would receive favored status with Mass Works, which provides grants for roads and other infrastructure.
Rob Crowner stated that, in addition to more affordable housing, creating a 40R Overlay could fix limited business (B-L) zones that don't really work. These are supposed to be transitional zones that border residential neighborhoods, but it hasn't worked well. 40R might address issues that the Planning Board has dealt with for many years, along with introducing "form-based design."
Chair Jack Jemsek said he was favorably impressed with the consultants' October presentation and agrees that Amherst needs more affordable housing. Maria Chao was pleased that the consultants responded to residents' concerns. Andrew MacDougall suggested that it might be prudent to establish overlay zoning in one of the village centers, such as East Amherst, before using it in the center of town.
Janet McGowan said that although one of the priorities passed by the Planning Board last summer was to fix Downtown zoning, creating a 40R zone would not do that. Design guidelines should be established for the entire Downtown and all large residential buildings should be required to include affordable units. She said she is very concerned that small businesses, which make downtown inviting, will not be able to pay the high rents likely in new buildings built under 40R.
Thom Long said that although there is much pushback to 40R and although downtown represents a lot to many people, there is "unlocked potential for development" there. Johanna Neumann spoke with enthusiasm about more development, which she said would make a more vital downtown. Doug Marshall said he is in favor of greater density and that residents should be able to walk to services and places of employment, but he feels that the Town would be giving up important income by requiring affordable units in the downtown area because it is prime real estate. He said 40R might be better in B-L near the center or Town or in East Amherst or on University Drive.
Several members of the public commented. Ira Bryk said he would like buildings downtown to be three stories or less, with services on the first story and offices or apartments above. He said that it is a good process to begin with the results you want and then work towards that, and that because people will do what they are allowed to do, guidelines have to be developed with great care.
Joyce Berkman also expressed reservations about 40R and the vision of a greatly expanded population. "There is a great deal of talk about the declining number of people under the age of 18, the decline of student populations — Southwest could be apartment houses in the future." She envisions a diversity of shops, services, and activities, alongside restaurants and bars, and recalls Louis' grocery store, the bowling alley, pet shop and more here. "If you don't think of housing stock first, then think about businesses and what would genuinely attract families to Amherst." As for the talk she's heard about people "having an urban experience in a small town," she said, "Really? That doesn't exist — it's called a city."
Pam Rooney, a former chair of the Planning Board, cautioned the Board to think carefully about what they pass because we will be living with it for the next hundred years "There could be more density behind some of our current buildings without a 40R district…. People should really understand and visualize what they are approving. They should visualize allowing five-story buildings, visualize allowing buildings that go right up against the sidewalk…. We're talking about a Storrs, Connecticut 'look' as opposed to an organic — kind of messy — downtown Amherst. And how many units are we talking about, how many affordable units?"
Ken Rosenthal, a former chair of the ZBA, suggested that the Board should look into the history of the downtown, which used to be family-friendly, with a large population of people who wanted to walk to buy groceries and other necessities, walk to work, walk to service providers. The trend of people working from home could be a great opportunity for Amherst, he feels. "People move to places where they want to live," he said.
Jeannie Hardy questioned the need for densification in the limited business zone and said that not much affordable housing would actually be gained by establishing a 40R. "If we want affordable housing," she said "we should build it. To create a 40R Overlay in the name of affordable housing is [misplaced]."
Ted Trobaugh supported the idea that the Planning Board should look at the desired goals and then how to get there.
Crowner pointed out that disliking the new buildings in downtown Amherst is not a reason to oppose 40R. "If we don't like what the zoning allows, we should change the zoning," he said, adding that current zoning requires larger lots than are available in the B-L district.
The Planning Board voted 7-0 to continue this discussion at a future date.
Emily Dickinson Homestead
McGowan proposed reopening the question of remodeling the grounds of the Emily Dickinson Museum, after the site plan review was approved on November 4.  Since it was approved, she learned that Zoning Article 11.217 specifies that outdoor lighting cannot remain lit after business hours, with no exceptions other than for safety. It also requires that all lighting be downcast, except for signs. According to the lighting plan, there will be 19 lights on granite posts shining light upwards onto the houses. The Museum wants to light the two houses until 10 p.m. every night. Brestrup opposed reopening the question, but said the 2007 article should be clarified. McGowan's proposal was defeated 6-1, and the previous approval of the site plan review stands.
Resident Managers
Former Planning Board member Bruce Carson wrote a letter to the Board about a situation in his neighborhood. An absentee landlord rents his house to three students. He now wants to convert his garage into a two-bedroom apartment for another three students. That number of tenants requires that he have a resident manager. Carson is afraid the landlord will make one of the six students a resident manager, which he fears will not provide enough supervision. He would like a better definition of a resident manager and thinks it should require at least some experience.
This discussion was deferred to a later meeting. Marshall suggested that Brestrup or Building Commissioner Rob Morra explain the obligations of a landlord and resident manager.
The meeting adjourned at 9:07 PM