Librarian Delivers Joy to Readers, One 'Wimpy Kid' at a Time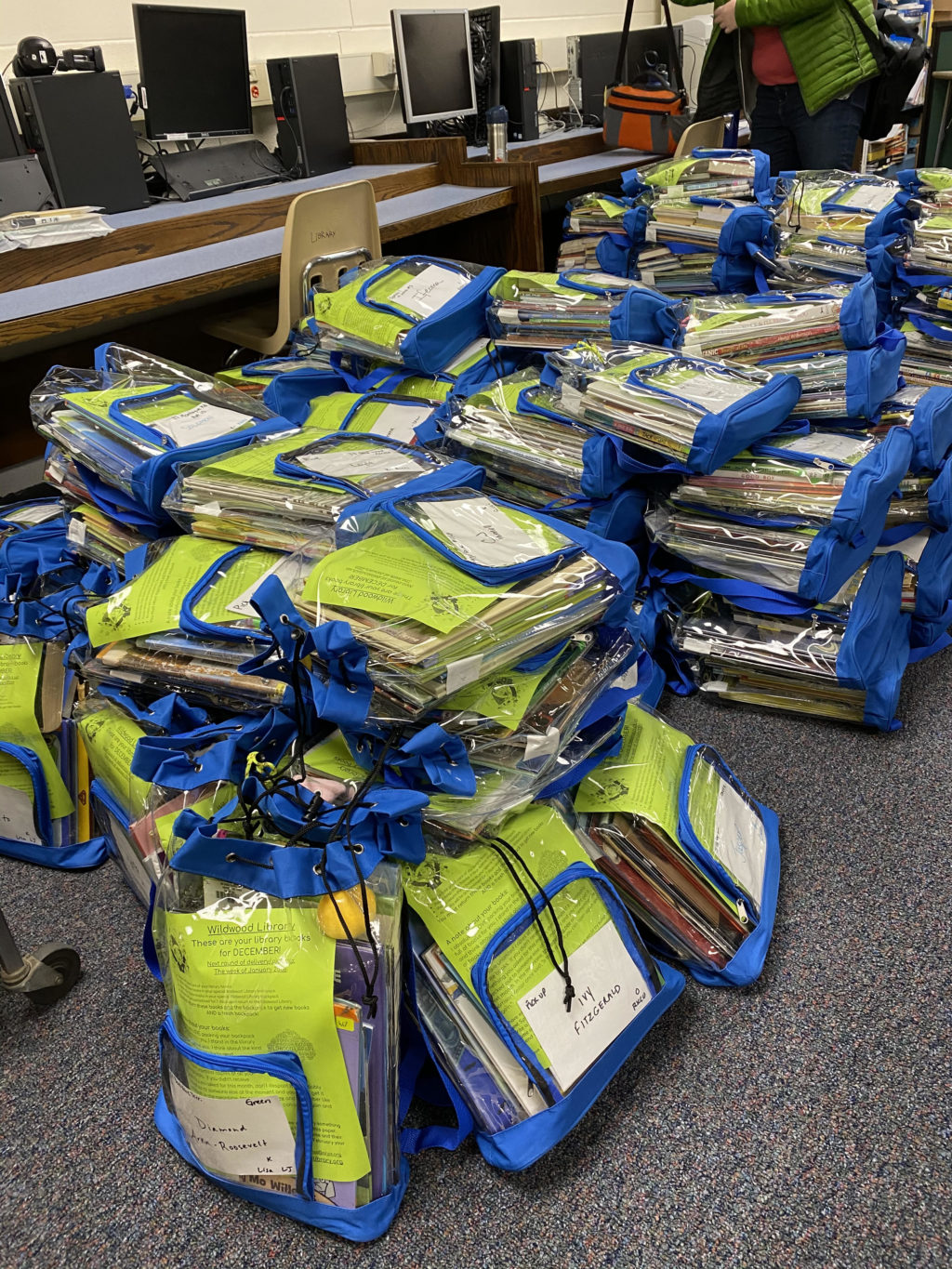 Parent Organization nominates Susan Wells for School Librarian Of The Year
Wildwood Elementary School Librarian Susan Wells, with the help of two paraprofessionals, Jenn Catt and Sarah Tatro, has spent another week packing hundreds of backpacks filled with library books for Wildwood students, a process she recently shared on the library's YouTube channel.
Now in the third month of the wildly-popular book distribution system, Wells has filled backpacks for 323 of 368 students (88%), up from 222 in October, thanks to the support of office staff Joyce Gooden and Sheyla Maldonado who made calls to the families of those that hadn't yet participated. The families of about 20 students responded that they did not need books at this time.
A committed group of five parent volunteers will deliver backpacks of books to homes throughout North Amherst next week, while Wells herself will handle the deliveries to all the apartment complexes using a school bus next Tuesday and Thursday. Families that prefer to pick up can do so next Wednesday and Thursday at the school entrance.
According to Wells, 2,860 books have been checked out in this round, up from 2,175 last month. (The average circulation during the school year is 400-600 titles per week.) Wells said a growing number of students are using the library's online holds system to signal to her which books they would like. Using the holds system both helps Wells in deciding what to pack for the student, and makes it more likely that the student will get what they want.
To help meet the demand for high-interest titles, and with school budgets frozen, Wells approached the Wildwood Parent Guardian Organization for funding support to purchase more books. According to PGO Treasurer Laura Hunter, the PGO provided a grant of $700, and will be providing another $900 grant in the near future. Wells used the grant to purchase additional copies of the most-sought-after titles as well as whimsical backpack charms.
In addition to PGO support, multiple copies of popular titles like Diary of a Wimpy Kid, Big Nate, and Dork Diaries were recently donated by the former paraeducator at the Wildwood Library, Jenny Haugsjaahabink, according to a post on the library instagram account.
In recognition of the book distribution project and the many other curriculum-enriching initiatives that Wells has spear-headed, the PGO nominated her for School Librarian of the Year, an annual award presented by the School Library Journal and sponsored by Scholastic. The winner will be announced in March and will receive a $2,500 cash award and $2,500 for digital/print products for their library.
Wildwood parent and PGO volunteer, Laura Muller, coordinated the effort to submit the nomination, gathering testimony from dozens of Wildwood families and interviewing Wells. "The first step in being a lifelong learner is to be a reader," Wells told Muller. Reached by email, Muller said the general sentiment was that kids are awed by how well Mrs. Wells knows them and sent books they did not know they would like, but did. "Many parents expressed gratitude for Mrs. Wells instilling a love of reading in even the most reluctant of readers," Muller said.
While the book distribution project has required a significant amount of work outside of school hours, Wells has no regrets. "The project has brought me tremendous joy and illustrates what is possible when a community works together toward a common goal," she said. "I feel so fortunate to be a member of this community of readers!"