Report on the Town Council Meeting (December 7, 2020)
Excerpt: A Resolution to End Structural Racism passed the Town Council unanimously, following an initiative launched earlier this year by Reparations for Amherst. The resolution states that the Town embraces its racial diversity, and seeks to implement policies that address racial equity and social justice.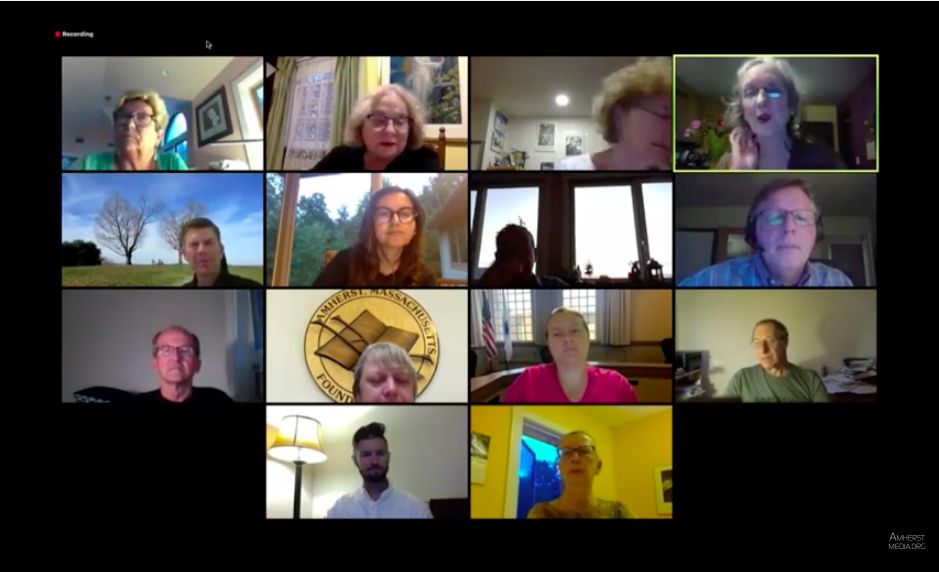 Highlights
Council heard reports on the State of the Town, Schools, and Library
Unanimously passed a Resolution to End Structural Racism
Heard Report of Rank Choice Voting Committee
Requested further information about proposed capital projects
Heard Community Resources Committee's proposed priorities for zoning changes
Debated process for Town Manager reappointments to committees

Participating
All Town Councilors

Announcement
Town Manager Paul Bockelman announced that UMass will begin offering free COVID testing to asymptomatic members of the general public at the Mullins Center on December 14. https://www.umass.edu/newsoffice/article/umass-amherst-partners-state-launch-major

State of the Town, Schools and Library
The first 45 minutes of this meeting consisted speeches on the State of the Town, Schools, and Library presented by Council President Lynn Griesemer (District 2), Town Manager Paul Bockelman, School Committee Chair Allison McDonald, and Library Trustee President Austin Sarat. A presentation for the first three can be found at
https://www.amherstma.gov/DocumentCenter/View/53945/7a-State-of-the-Town-with-Schools . (Sarat gave his report without slides.) All stressed the success the Town has had, despite the challenges of the pandemic. As Bockelman stated, we began the year with great plans for Destination Amherst, a plan to improve the downtown area for residents and visitors, but when COVID happened, all priorities were reordered. Some projects were postponed, and some staffers were reassigned. A core team of administration, safety officials, and the health director met at least once a day for much of the spring and summer. All departments stepped up, and millions of dollars was raised through grants.
Griesemer said that, despite not meeting in person since March, there were 44 Council meetings this year, not including committee meetings. Eight councilors are serving as liaisons for other Town committees. The Council was productive, passing the Percent for Art Bylaw; Wage and Tip Bylaw; Responsible Employer Bylaw; and the Ban on Wild and Exotic Animals in traveling shows and circuses.
Temporary zoning was enacted to permit expanded outdoor dining and services. Councilors continued to communicate with residents through virtual meetings.
The Farmers Market was moved to the Common to allow social distancing. Despite a limited budget, the Department of Public Works continues to improve streets and sidewalks. The new playground at Groff Park was completed, and the Dog Park has continued to progress. After the acceptance of Amherst into the Massachusetts School Building Association program, the Town has begun to plan for a new elementary school. With the acceptance of an anonymous gift, planning has begun for an expanded, updated North Amherst Library.
Griesemer ended by thanking Bockelman and Council Clerk Athena O'Keeffe, as well as the residents who serve on committees and the staff who support them. She also thanked Amherst Media for recording the many virtual meetings.
School Committee Chair McDonald highlighted the diversity of the school population and the difficulties of providing adequate services for remote learning to all. She also presented graphs of school funding over the years.
Library Trustees President Sarat discussed how the library adapted to COVID, delivering more materials, providing mobile hotspots for residents to check out, purchasing more e-content, and providing outreach every Saturday at the Farmers' Market. The expanded ESL program continued to serve residents who are learning English. Sarat stressed his enthusiasm about the proposed library expansion and said he "does not want to put the future on hold" and that "a great town deserves a great library." He advised the Town Councilors not to fear the uncertainties of the future, adding that libraries provide shelter and information as well as books..
The annual reports of the schools, library, Oliver Stone Elector, and the Amherst Housing Authority are included in the meeting packet at https://www.amherstma.gov/DocumentCenter/Index/3756

Public Comment
Hosea Shabazz: read remarks from his mother, Dee Shabazz, regarding the proposed Resolution to End Structural Racism, in which she said that the Resolution is a good start, but she encourages more feedback from and consultation with the Town's BIPOC community. She suggested the formation of a committee of BIPOC members to evaluate proposals, because most of the Town's staff and officials are white and many meetings are held at inconvenient times for working people.
Amilcar Shabazz submitted a revised Resolution to the Council that incorporates the United Nations Proclamation Against Discrimination. See http://undocs.org/a/res/74/137
Jennifer Paige and Kathleen Anderson also supported the remarks by Dee Shabazz. Anderson did note that white residents of Amherst have been meeting to discuss their own racism.
On another subject, Bill Kaizen commented that schools should be reopened. He noted that all neighboring towns offer some kind of in-person education. The current agreement with the local public-school teachers' union (Amherst-Pelham Education Association) is in effect for the rest of the school year. He fears more families will leave the district if the Town does not take positive steps to open in the fall.
Janet Keller commented that proposed zoning changes are opaque. She hopes for more transparency from the Community Resources Committee and believes that inclusionary zoning should be added to the zoning changes being advanced.

Resolution to End Structural Racism and Achieve Racial Equity for Black Residents
In the wake of the George Floyd killing last May, Michele Miller, Matthew Andrews, and Corinne Andrews formed Reparations for Amherst (RFA), a group dedicated to recognizing, and compensating for, unfair treatment of Amherst residents of African descent. This group met throughout the summer and began meeting with Councilors Pat DeAngelis (District 2), Alisa Brewer (At-large), and Shalini Bahl Milne (District 5) in the fall in order to draft a resolution decrying structural racism. See https://www.amherstma.gov/DocumentCenter/View/53900/6b-Structural-Racism-Draft-Resolution-12-2-2020—Final . The group requested input from various communities and then sent the draft proposal to the Town Council's Governance, Operations and Legislation Committee, which revised it. The group also developed a ten page document on the history of racism in Amherst, which can be read at https://www.amherstma.gov/DocumentCenter/View/53893/6b-Historic-Timeline—Structural-Racism-in-Amherst This document shows that slavery did exist in Amherst. Miller pointed out that although healing starts with acknowledgement, much additional work needs to be done. She said that people of African descent should determine what reparations will look like. The RFA sponsored a well-attended symposium about reparations. See https://www.amherstindy.org/2020/12/05/virtual-amherst-symposium-on-reparations-draws-nearly-300-attendees/ on December 1.
The three sponsoring Councilors spoke in support of the resolution. Bahl Milne noted that the experience of the Black population in Amherst is different from that of other minorities. There is a lack of data on race in Town. She thought it is important to act locally. Brewer stressed the need to implement the resolution, not just accept it.
Darcy DuMont (District 5) raised the issue of including the UN resolution against racism, as suggested by Amilcar Shabazz, but most of the other Councilors said they want to keep the emphasis on the local situation. The Resolution passed unanimously.

Rank Choice Voting
A presentation of the report of the Rank Choice Voting (RCV) Committee was presented by its chair, Tanya Leise, and can be read at https://www.amherstma.gov/DocumentCenter/View/53896/8a-Ranked-Choice-Voting-Commission-Report-2020-12-01 . The committee met 23 times over the past year and a half, and drafted a comprehensive report that outlines how RCV works in various situations, such as tie votes. The Town would need new voting machines to enable RCV. One cost estimate was $70,000 for 11 tabulators and software. These machines could also handle standard voting. It was noted that extensive voter outreach and education would be needed because the ballots would be quite different from the current ballots. These changes would be for local elections only and would have to be approved by the State.
According to the Charter, Chapter 10.10, the Council must accept the RCV Committee's report but can amend it.
The timeline for implementing RCV is uncertain because the necessary hardware and software must be obtained. RCV is unlikely to be operational by the election next November. Some Councilors said they are worried that the drastic change in voting will disenfranchise some residents. Members of the RCV Committee stated that in their tests, residents caught on to newly designed ballots for rank choice voting fairly quickly, and that election officials could aid voters who have questions in the first few elections.
Because of the complexity of the RCV report, Griesemer elected to continue discussion at the December 21 meeting. The RCV was dissolved, but its members will be available to answer questions as the procedure is implemented.

Capital Projects
At the November 14 Council retreat, the Councilors had discussed the need for additional information about the four major capital projects proposed for the near future: Jones library expansion, elementary school, and new facilities for the Department of Public Works and Fire Department. Griesemer then drafted memos to each of the involved departments citing the information needed before funding priorities are determined. The memo to the Library is the most detailed,since the Trustees have requested approval of Town funding by April 2021. Griesemer asked for feedback on the memos from other Councilors. https://www.amherstma.gov/DocumentCenter/View/53928/8d1-DRAFT-Memo-to-Jones-Library-regarding-Renovation-Expansion-vs-Repair-as-of-12-5-2020 and https://www.amherstma.gov/DocumentCenter/View/53929/8d2-DRAFT-Memo-to-Town-Manager-regarding-DPW-and-Fire-EMS-Headquarters-as-of-12-5-2020

Zoning Priorities
Over the past several months, the Community Resources Committee of the Council has been discussing zoning changes in Town. It has requested feedback from the Planning Department, Planning Board, and other Councilors. From this information it has identified the goals to be accomplished in the next three months and those likely to take six months to a year. The full report can be found at https://www.amherstma.gov/DocumentCenter/View/53927/2020-12-05-CRC-Report-to-Town-Council and a summary at https://www.amherstma.gov/DocumentCenter/View/53942/2020-12-07-CRC-Zoning-Recommendation-Presentation. The full report contains a draft Comprehensive Housing Policy and a review of proposed 40R Overlay Zoning.
The three-month goals identified by the Council Committee are to improve downtown zoning, allow duplexes and triplexes in all neighborhoods, revise the Demolition Delay Bylaw, decrease regulations for unit types and sizes in apartment buildings, decrease regulations for setbacks, lot sizes, and frontage, and allow more projects to be permitted using the Site Plan Review process rather than the more burdensome Special Permit process.
The CRC plans to concentrate next on the Village Centers, looking into what types of businesses are allowed and what types are desirable. They will also look into housing throughout Town and will consider ending single-family zoning in all areas of Town.
They suggested that money previously allocated for Downtown and Gateway planning consultants could be used to develop Form-based Zoning and Design Guidelines for Downtown Amherst.
There was considerable discussion about this report. Cathy Schoen (District 1) praised the detail, but said the Council should first articulate an overall vision of what Amherst should be and then act to implement it. In addition, she does not agree with the rush to make drastic changes, many of which would not be able to be undone, and she questioned why inclusionary zoning was omitted.
DuMont said that there should be an impact analysis about how the proposed changes would affect neighborhoods and the environment. She asked for clear, comprehensive explanations of the changes, with fewer references to footnotes, zones, and tables, emphasizing that it is important for all of the Councilors to understand what these changes mean. Also, she added concern that preserving modestly priced housing in town does not seem to be part of the report.
In contrast, George Ryan (District 3) said he has been waiting two years to improve zoning and is excited to begin working on it. CRC member Evan Ross (District 4) is also eager to move on these zoning changes. He said the Town should allow smaller lot sizes with smaller dwellings, as well as allowing more accessory dwelling units and more multifamily units, and that COVID has made the need for more housing stability clear.
Brewer stated that the report takes the priorities of Town Councilors into account and that we do not need to create a new vision, because the Master Plan is already our vision. However, she also said she thinks that the report is too big and technical to be useful, and that she wishes it included inclusionary zoning.
Planning Director Chris Brestrup noted that Northampton hired a consultant to develop a vision for its downtown. However, she said she feels that we have a good idea of what people here want and that a consultant is not necessary.
CRC Chair Hanneke said that the CRC plans to invite representatives from the Planning Department, Planning Board, Housing Trust, Environment and Climate Action Committee, and Zoning Board of Appeals to upcoming meetings to further discuss the proposals laid out. She did not mention gathering public input, although a public hearing is required before zoning changes can be made.

Appointments to the Personnel Board
Bockelman submitted his recommendations for filling the five vacant positions on the Personnel Board to the Town Services and Operations Committee (TSO) when it met on December 4. The Library employees and Town staff each choose one representative, and Bockelman appoints the other three. TSO voted 4 -1 to accept his nominations, with DuMont objecting. Her objections stemmed from the reappointment of Tony Butterfield to a three-year term, when he has served on the Personnel Board since 2006. She also objected to the fact that the vacancies had not been advertised. Bockelman said that Butterfield is very valuable to him as an advisor on this Board and that he does not have a policy on term limits. He also said that he does not think reappointments need to be posted or interviews held.
Several Councilors voiced concern about this process. Ryan stated that the interview process was not followed. If vacancies are not posted, we cannot encourage new people to get involved in Town government. DeAngelis pointed out the inconsistency in that Bockelman failed to reappoint a member of the Disability Access Committee who had served two terms, stating the need for new members, but then wanted to reappoint someone who had served for 14 years. Hanneke questioned his reasoning for giving Butterfield a three-year term, when there are one and two year positions open.
Ryan, however, said that Bockelman's reasons for reappointing Butterfield are compelling, especially because the Town has a new Human Resources Director. Steve Schreiber (District 4) said the Council should respect the Town Manager's ability to "do his job" although he agreed that vacancies should be posted.
Although Hanneke proposed several amendments to the Appointment Memo, to approve all appointments except Butterfield or to move Butterfield to a one- or two-year term. The amendments were defeated and the slate of appointments was passed 10-2-0 (DuMont and Hanneke against and Sarah Swartz District 1 absent).
In other appointments, Ryan announced that the GOL Committee will hold interviews for the vacancy of a nonvoting member of the Finance Committee on December 16. He posted the Statements of Interest of the applicants on the Town website https://www.amherstma.gov/DocumentCenter/View/53966/Holloway-SOI and https://www.amherstma.gov/DocumentCenter/View/53967/Jane-Sheffler-SOI
The meeting adjourned at 11:44 p.m.