Culture Club: Dua Lipa's Retro Chic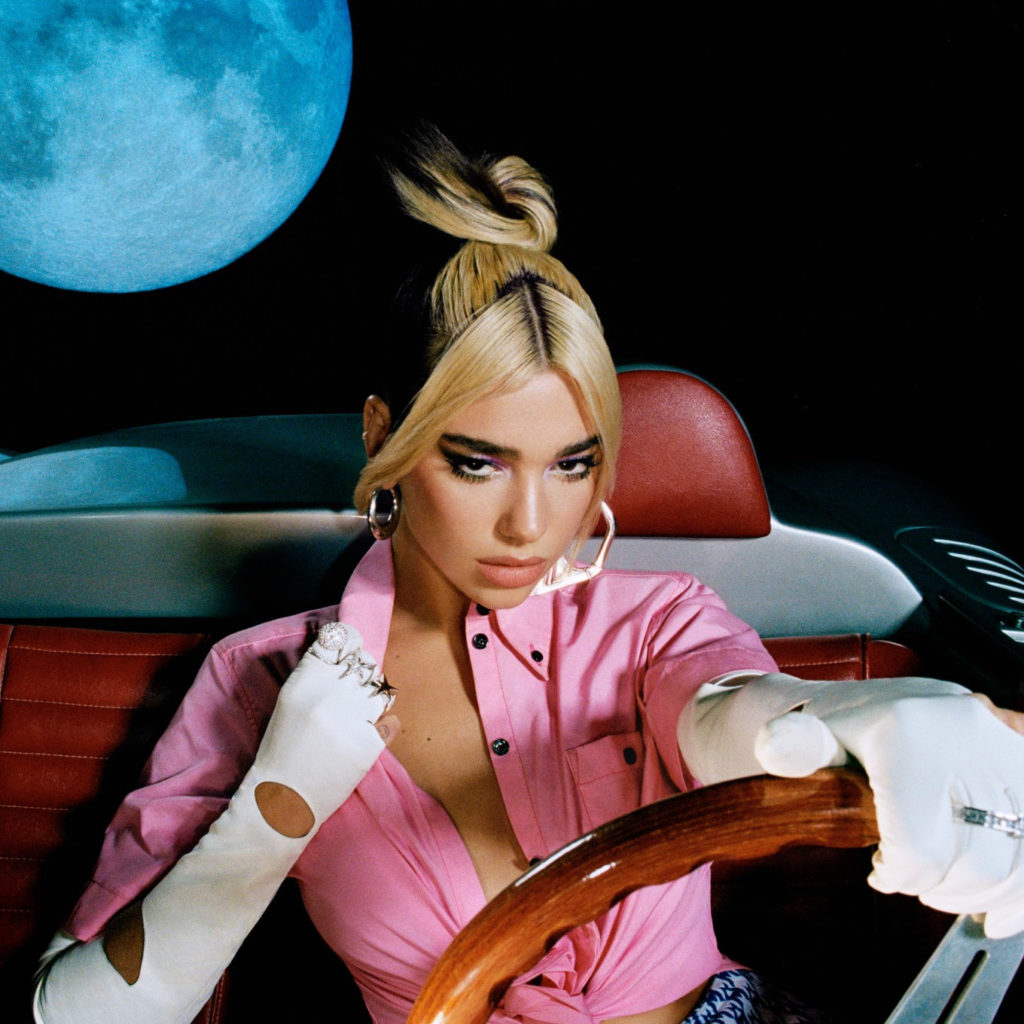 Dua Lipa, the award-winning pop singer, is my COVID crush. Her first name means "love" in Albanian, and her parents are from Kosovo, although she was born and mostly raised in London. She released her new album Future Nostalgia at the start of the pandemic. Its hits, informed by disco, feminism, and '80s pop, have been some of the few bright lights in a dreary year.
I first heard Lipa in the car where, from the moment we sit down, my kids start bugging me to turn on the radio. For the past six months, Lipa's songs "Don't Start Now" and "Break My Heart" have been so ubiquitous that it's easy to flip channels only to hear them again and I haven't gotten tired of them yet. Her new single "Levitating" is even better.
Lipa's voice is strikingly low. She's a borderline contralto who can punch higher when she needs to. She doesn't rely on vocal fry to sound weathered and doesn't autotune herself into the baby robot voice that characterizes so many overproduced pop singers today. There's a squeak at the edges of her range that can be annoying. Otherwise, her voice has a slinky intimacy whose come-hither passion is alluring. And she's physically beautiful, which never hurts record sales—she looks like a young Sandra Bullock, if Bullock was a fashion model from the Balkans.
The album begins with Lipa rap-singing a la Prince circa the Black Album. Within seconds she names drops John Lautner, an obscure reference to an architect that made my ears, trained by years as an art and architectural historian, perk up. Lautner, a former student of Frank Lloyd Wright, was behind the "Googie" style of 1950s space-age futurist architecture that now looks so retro. This is a heady way to begin a pop album and signals that what follows will be a similarly retro-chic mashup that harkens back to the '80s mega-pop and Y2K neo-disco.
The rest of the album's lyrics focus on strong women fighting successfully to make their way in the world. Both "Don't Start Now" and "Break My Heart" are anti-love songs about leaving bad relationships behind and standing on your own. The last song on the album is the anti-ballad "Boys Will Be Boys," which opens with the remarkable lyric: "It's second nature to walk home before the sun goes down/ And put your keys between your knuckles when there's boys around/ Isn't it funny how we laugh it off to hide our fear?/ When there's nothing funny here." The chorus is a rebuke fit for the Me-Too era: "Boys will be boys/ But girls will be women." That's quite a way to end a pop album and one-ups even Madonna or Janet Jackson.
PLEASE ignore the "radio-friendly" version of "Levitating," which features the obligatory cameo by Da Baby, a second-rate rapper not worthy of a Lipa track. The original version is a perfect pop confection with no need for outside support. It features an otherworldly sample that sounds like a Martian chorus joined by synthesized handclaps. As Lipa's voice lilts across a bouncy, Funkadelic-inspired bass line backed by an arpeggiated string riff, she purrs, "You can fly away with me tonight," offering a vision of much needed escape during quarantine.
Lipa describes the construction of "Levitating" in detail on the Song Exploder podcast. Among the many details she reveals, she says the "sugarboo" referenced in the song is not a boy but the nickname she uses with her besties, which turns the song into an homage to flying across the dancefloor with friends. For now, when none of us can go out, gliding around the house to her hits is keeping my family afloat until a vaccine makes nights out possible again. 
---
Culture Club is a column that will fill out the Indy's news and opinion coverage with discussions of all things related to cultural affairs in Amherst. It takes the word "culture" most broadly, to mean all the arts of all stripes, from literature and poetry to visual arts, dance, and theater. Potential columns will range from updates on cultural events in town to reviews of TV shows, exhibitions, records, and anything else related to the arts and humanities that seems especially noteworthy. Please send me suggestions for future columns at wkaizen@gmail.com.

William Kaizen is an art historian and public art advocate. He is the chair of the Amherst Public Art Commission