UMass-Amherst Dorms Will Be At 39% Capacity For Spring Term. All Students On "Modified Quarantine" After Arrival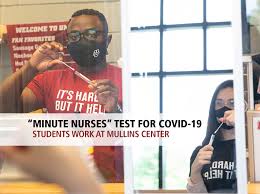 Incoming Students Will Be Tested For COVID-19 Twice, Told To Avoid Interactions While Awaiting Results
The UMass-Amherst campus has adopted a "guarded operational posture" as it prepares for the arrival of thousands of undergraduate students starting next Monday, January 25.
"We're cautiously optimistic at this point that things are going to go well," said Mary Dettloff, UMass deputy director of communications. About 5,400 UMass students will be on campus for the semester beginning February 1, and 7,000 to 8,000 off-campus, Dettloff said Friday, (1/22). The university maintains that it has protocols and a "proven infrastructure" initially established last fall, to test for COVID-19 and protect public health. It cites a "moderate number of cases" with most from a known source, warranting increased personal precautions.

Officials will be paying close attention to a combination of COVID-19 indicators, including case numbers in Hampshire County, weekly positivity rates at UMass and in the Town of Amherst, along with quarantine space capacity and inventory supply levels, according to the UMass website. The university's operational stand will also depend on state and federal guidance, and the campus' ability to manage contact tracing. A Public Health Response Team will meet daily, the website states.

The UMass COVID-19 Dashboard of statistics shows that as of Friday, 206,372 COVID-19 tests have been performed at UMass-Amherst. The results show 746 confirmed cases in the community since last August, including 615 among off-campus students, 29 on-campus, and 102 cases among faculty and staff. UMass was averaging eight new COVID-19 cases per day for the seven days ended January 20.
Meanwhile, the Town of Amherst listed 143 "active" COVID-19 cases on Friday, and a total of 1,054 since the pandemic began. Most of the instruction provided by UMass will still be virtual this semester, Dettloff said, although most students living on campus will have at least one in-person class.
Not All Students Eligible For Dorm Residency Accepted Invitation
The semester is starting two weeks later than usual, and there will be no spring break. Long weekends for Presidents' Day and Patriots Day have been cancelled, to minimize student travel to and from potentially high-risk regions. Instead, two "Wellbeing Wednesdays" are planned for students. Commencement is set for May 14 and 15, but according to the revised UMass 2021 calendar, "no decisions have been made about whether the ceremonies will be virtual or held in person."

Although UMass officials had previously said its residence halls could be up to 60% full, Dettloff said not all students who were eligible to live in dorms decided to do so. Instead, the 5,400 students who will be in dorms reflect about 39% of normal capacity. "There were some (students) who decided it was better for them to stay home," she said.

UMass had said it would allow some students who wished to have a specific roommate to do so, but the "vast majority" will be in single rooms, Dettloff said. Those invited to live on campus included undergraduates enrolled in mandatory face-to-face classes or athletics, first-year students and new transfers. Students depending on UMass for housing and dining, or requiring specific academic accommodations, were also invited to live on campus.

The return will be phased, with students traveling by air or enrolled in in-person classes set to arrive from January 25 to 27, and all others from January 28 to 31. A spring move-in instructional video for UMass students is here.
Modified Quarantine Required Until Second Negative Test Result
Students are being told they must get a COVID-19 test at the Mullins Center upon arrival, and be tested again on their fourth day here, limiting all interactions until they get a second negative test result. They must avoid interactions with others during that time, leaving their room or off-campus residence to "pick up food, get tested or receive medical care," according to the UMass website. After the second negative test, students can participate in face-to-face classes, research and campus activities.
"Back-to-campus quarantine is a modified quarantine … you are not required to entirely separate yourself from other people. Rather, you should limit your interactions," the website states.
Both on and off-campus students will be required to undergo testing twice a week during the semester, and to perform a daily self-check, based on a symptom checklist. They will also be required to follow the university's Interim Pandemic Policy. Visitors will not be allowed in campus or in residence halls, and student gatherings of greater than five people will require a plan pre-approved by UMass Environmental Health & Safety.
UMass will be asking townspeople to avoid campus, and is urging students to limit their off-campus activities, in an effort to create "kind of a bubble" around the student population, Dettloff said. "We're asking students to remain on-campus as much as possible," she added. Nonetheless, UMass can't control the movement of off-campus students, who "can come and go as they please."
A list of frequently-asked questions and answers about UMass and its functions during the COVID-19 pandemic are here.