Council Approves Purchase Of Belchertown Road Properties For Construction Of Affordable Housing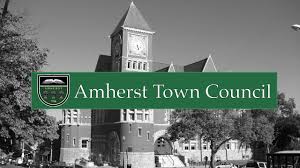 Report On The Town Council Meeting Of 1/25/21
The meeting was conducted as a Zoom webinar, was simulcast on Amherst Media Channel 17, and was recorded. That recording can be found here.
Present: all councilors. Staff: Town Manager Paul Bockelman, Clerk of the Council Athena O'Keeffe, Superintendent of Public Works Gulford Mooring, Health Director Emma Dragon

Highlights
Health Director discusses the availability of COVID Vaccines
Council approves borrowing for purchase of Belchertown Road property for affordable housing
Anti-Racism Measures added to Town Manager Performance Goals
Possible redesigns for Pomeroy Village intersection discussed
New committee assignments for councilors announced
The work of the Community Safety Working Group (see here)
Resolution Condemning the Violence at the U.S. Capitol Building on January 6 approved (see here)
Elementary School Building Committee preliminary report says that two K-6 schools is not an option without enlarging Crocker Farm school
At this meeting, a three-minute timer was introduced for comments by both the public and Councilors.
Belchertown Road Property Acquisition
After a brief discussion, the Council voted unanimously to proceed with borrowing $600,000 to purchase 2.6 acres at 76, 78 and 80 Belchertown Road to be used for affordable housing. The Affordable Housing Trust will contribute the additional $200,000 required. The loan will be repaid from CPA funds, but this will not deplete the CPA funds available for other projects.
Both the Finance Committee and Community Resources Committee unanimously recommended that the Town Manager arrange the purchase, and authorized him to enter into a long-term lease with a developer. The Town attorney said that the Town cannot rent out the two houses currently on the property because CPA funds cannot pay for property management. (A developer, however, could rent the existing structures.) CPA funds can be used to create housing for those earning up to 100 percent of area mean income (AMI), which is $119,000 for a family of four, or $83,000 for a single person. However, some state grants require a maximum income of 80 percent of AMI.
Finance Committee Vice Chair Cathy Schoen (District 1) noted that the roads and sidewalks in the area are in poor repair, but the CRC noted that the location of the property is appropriate for housing, and it is possible that the project can be combined with the East Street School development.
Announcement: Open Meeting of Parents
Council President Lynn Griesemer (District 2) announced that all Town Councilors are invited to the February 4 Open Meeting Of Parents, sponsored by the School Committee. The meeting will be held on Zoom at 6 p.m. and is open to the public. The Zoom link can be joined here. 
State of COVID-19 in Amherst
Health Director Emma Dragon gave a brief overview of the state of COVID vaccination in Amherst . Between January 11 and 15, a total of 692 vaccines were given at the Bang's Center to first responders, healthcare workers, and those living or working in congregate settings. All of the paramedics and school nurses, as well as the public health nurse, and  the Town's COVID ambassadors participated. Dragon said she feels that the Town can administer 2,500 vaccines per week, especially if the high school is used as a vaccination site. Right now, however, there is a shortage of vaccines in the state. Each local health department is limited to 100 doses per week.
UMass is designated as a "general vaccine site." A "mass vaccination site" at Eastfield Mall is scheduling appointments for people who are currently eligible to receive the vaccine. Local pharmacies are expected to be able to administer the vaccines, but so far the only nearby pharmacy is the CVS in Greenfield. Some vaccines may also be administered through healthcare facilities. The sites administered by the Amherst Health Department will be for Amherst residents only.
Phase 2 of vaccine administration began on January 27. First served will be those over age 75, then those with two or more comorbidities. Next would be teachers of PreK to Grade 12, frontline workers, and those over age 65. Home healthcare workers are eligible now under Phase 1.
The Town is doing outreach with this information in several languages. Seniors can call 259-3038 and leave their name and phone number to receive updates on vaccine availability and how to make appointments. In addition, Dragon and Senior Center Director Mary Beth Ogulewicz will host a call-in show on February 2 at 7 p.m. The most up-to-date information can be found here. Information is updated every Tuesday and Thursday.
Town Procures Grant for Pomeroy-West Street Intersection
Amherst recently received a $1.5 million grant from MassWorks to upgrade the intersection of West Street and Pomeroy Lane in South Amherst. Assistant Town Manager Dave Ziomek, Superintendent of Public Works Gulford Mooring, and Town Planner Chris Brestrup presented the history of the project, which can be viewed here. 
The Town has had control of Route 116 between Amherst College and Country Corners Road since 2004. It unsuccessfully applied for a grant to redesign the intersection in 2013. Now that the money is available, the Town must choose between enhanced traffic signals or a roundabout. The plan will also include improved sidewalks, bicycle lanes, and turn lanes. If a roundabout is chosen, it would be about the size of the Triangle Street roundabout. Either design would cost about $1.65 million.
The Town plans to consider the impact on nearby neighborhoods and businesses and to study traffic volume and safety features. Public input will be solicited. In Public Comment, Aaron Hayden, Chair of the Transportation Advisory Committee recommended that the design take into account pedestrian and bicycle traffic, not only the most efficient ways for cars to move. Myra Ross of the Disability Access Advisory Committee pointed out that roundabouts are difficult for those with visual or mobility disabilities.
Councilors gave their opinions about the safety or dangerousness of roundabouts. Councilor Cathy Schoen (District 1) said that roundabouts seem less safe than traffic lights for pedestrians and bicycles. Councilor Andy Steinberg (at large) said they are safer than traffic lights for pedestrians and bicycles because pedestrians spend less time in each travel lane than if they cross the whole street at once. Steve Schreiber (District 4) said that he thinks the Triangle Street rotary is safer for bicycling than a traffic light. Evan Ross (District 4) said that rotaries decrease auto emissions because cars keep moving and don't have to stop and idle.
Sarah Swartz (District 1) wants a thorough report on how close a roundabout would be to neighboring businesses and parking lot entrances and exits. Mooring responded that both plans would involve taking some surrounding land. Pat DeAngelis (District 2) said it is important for the Town to contact the Disability Access Committee to gather their input on intersection design. Alisa Brewer (at large) agreed that this is especially important in that location because the group of nearby apartment complexes off East Hadley Road is designated an Environmental Justice Neighborhood.
The timeline for the project is to conduct outreach to area businesses and hold two public forums this March and April. A final design would be developed in May and June, and voted on by the Town Council. The money would be awarded in June 2021, after which the Town would conduct an engineering survey, with the contract for construction being awarded in March 2022.
The matter was referred to the Town Services and Outreach Committee with a report due back to the Council by May 3.
Town Manager Performance Goals
After considering developments nationally and locally since the Town Manager goals were approved in September of 2020, Councilors decided that three significant goals needed to be added. The first is adding a paragraph stating that the two vacant positions in the police department not be filled until residents, through the Community Safety Working Group and the Town Council, have fully explored options for alternatives for providing community safety services and presented them to the Council by March 31, 2021 (changed from January 31,2021).
The Council also added the goal of exploring the possibility for a seasonal or year-round homeless shelter and affirming Amherst's commitment to ending structural racism by exploring, recommending, and implementing policies and procedures which address racial equity and social justice.
Although Griesemer recommended that the latter two goals be referred to the Governance, Organization and Legislation Committee, most Councilors were ready to vote on them at this meeting. All three additions to the performance goals passed unanimously.
Councilors' Committee Assignments
Steinberg, Schoen, and Mandi Jo Hanneke (at large) were appointed to the Joint Capital Planning Committee (JCPC). 
George Ryan (District 3) and Schoen were appointed to the Budget Coordinating Group (BCG) with an 11-2 vote. Brewer and Hanneke objected to Schoen again being on both JCPC and BCG, but Schoen pointed out that the BCG met only once during the past year, and that was with the whole Council.
Nonvoting liaisons to Town committees were also appointed. They are:
Amherst Municipal Affordable Housing Committee: DeAngelis
Board of Health: Ryan
Board of License Commissioners: Brewer
CPAC: Schoen
Council on Aging: Dorothy Pam (District 3)
Disability Access Advisory Committee: DeAngelis
Amherst Recreation: Schreiber
Transportation Advisory Committee: Darcy DuMont (District 5)
Preliminary Report from the Elementary School Building Committee (ESBC)
ESBC Chair Schoen said that the committee received its certification of enrollment from the state, and building two K-6 schools is not an option unless the Town would pay for enlarging Crocker Farm. The two viable options are moving the sixth grade to the Middle School and having two K-5 schools, or maintaining three K-6 schools, but only one would be new; either Wildwood or Fort River would remain as is.
Town Manager Report
The full report can be read here.
Bockelman pointed to the anxiety surrounding getting the COVID vaccine. The COVID hotline has been inundated with calls.
He noted that college students are returning to Town this week. UMass estimates that about 5,500 students will be living on campus and about 6,700 off campus. All on-campus students will be required to quarantine for four days between their first and second COVID tests.
He noted that both Community Participation Officer Jennifer Moyston and Communication Director Brianna Sunryd presented at statewide conferences recently. Moyston spoke at the Massachusetts Municipal Association meeting on diversity recruitment and Sunryd at the Massachusetts Municipal Councilors Association business meeting on Local Government Digital Engagement .
Bockelman is establishing office hours. Residents can sign up to talk to him one-on-one on Fridays. To schedule a time, email townmanager@amherstma.gov or call his office at (413) 259-3002.

The Community Chat on Thursday, January 28 featured the plans for renovating the Pomeroy Village intersection.
In response to concerns from the public and Councilors about treatment of BIPOC residents by UMass police, Bockelman said he broached the idea of the university working with the Community Safety Working Group at one of his meetings with university officials, but has yet to receive a response
The meeting adjourned at 11:10 p.m.