Internationally Renowned Climate Activists Vanessa Nakate and Varshini Prakash '15 To Deliver 2021 James Baldwin Lecture on First Day of Classes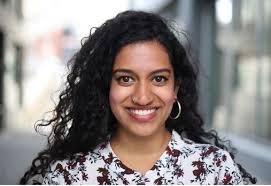 Source: UMass News and Media
The James Baldwin Lecture and Feinberg Series co-present a free virtual event, "Young People Fighting for Climate Justice," February 1 at noon. Young people — particularly youth of color and youth from the Global South — have transformed the climate and environmental movement. The event features two young organizers who have been central to this process. Ugandan climate activist Vanessa Nakate and co-founder and executive director of the Sunrise Movement Varshini Prakash '15, will reflect on their personal experiences in the climate movement and share their organizing strategy, insights, and visions for the world they're fighting to win. A live virtual question and answer period will follow.
Vanessa Nakate is a 24-year-old climate activist from Uganda and a leading voice on issues of climate justice and race. She is founder of the Rise up Climate Movement, which amplifies the voices of activists from Africa. Additionally, she spearheads a campaign to save the Congo Rainforest from deforestation and a project to install solar stoves in schools. She is author of the forthcoming book, "A Bigger Picture: My Fight to Bring a New African Voice to the Climate Crisis." In January 2020, Nakate was cropped out of an AP photograph of youth climate activists at Davos, garnering international attention around how youth of color activists have been erased from media representations of the climate movement.
Varshini Prakash is the Executive Director and co-founder of Sunrise, a movement of young people working to stop climate change and create millions of good jobs in the process through the Green New Deal. Prakash has been a leading voice for young Americans, including when she helped lead a mass demonstration for the Green New Deal with Rep. Alexandria Ocasio-Cortez that went viral and put the climate crisis at the top of the political agenda for the 2020 elections. Prakash's work has been featured in the New York Times, MSNBC, The New Yorker, BBC, The Washington Post and more. In 2019, she was named to Forbes 30 under 30 list for law and policy, and TIME 100 Next, a new list of rising stars who are shaping politics, popular culture, science, and more. As an undergraduate at UMass Amherst, Prakash was an organizer of the successful UMass Divest Campaign.
The event will be moderated by Toussaint Losier, Assistant Professor in the W.E.B. Du Bois department of Afro-American Studies at UMass Amherst, and introduced by Joye Bowman, Associate Dean of the College of Humanities and Fine Arts.
The James Baldwin Lecture addresses issues connected to social, economic, and political justice and underpinnings in institutional racism. Established by a UMass alumnus and community leader Dr. Allen J. Davis '68, the lecture is presented by the UMass Amherst Department of History, the W.E.B. Du Bois Department of Afro-American Studies, and the College of Humanities and Fine Arts and honors the life and legacy of the late James Baldwin.
The biannual Feinberg Family Distinguished Lecture Series is made possible by UMass alumnus Kenneth R. Feinberg and associates and offered by the UMass history department in collaboration with more than three dozen community and university partners. The 2020-2021 series, titled "Planet on a Precipice," is exploring the history and possible futures of the environmental emergency. All events are free and open to everyone, and recordings are available on the Feinberg Series website: blogs.umass.edu/feinberg.
To register for next Monday's event, visit https://blogs.umass.edu/feinberg/young-people-fighting-for-climate-justice/