Active COVID-19 Cases At UMass Climb Past 600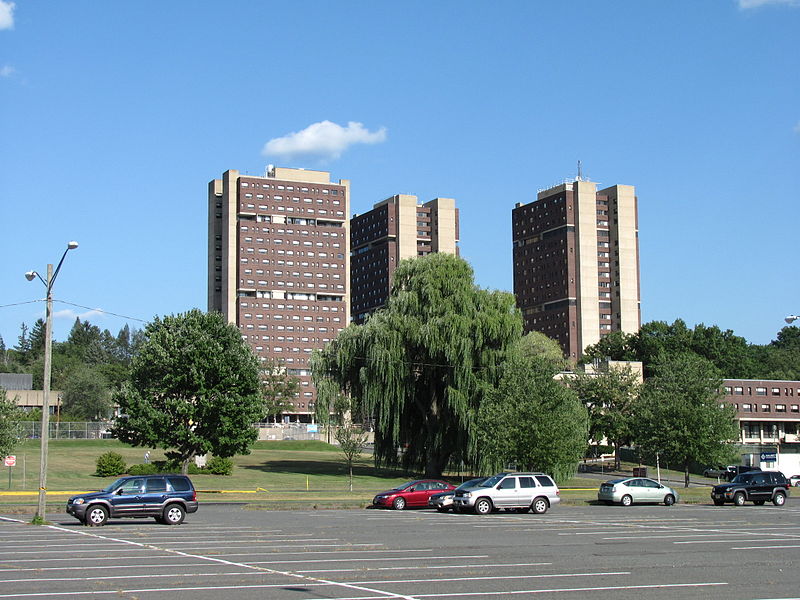 Lockdown Prevents Many Working Students From Reporting To Jobs
It was a challenging week for the UMass Amherst community, as students adjusted to lockdown measures which officials hope will slow the major COVID-19 surge which accompanied the spring semester. As of Friday (Feb. 12) the UMass COVID-19 Dashboard showed 603 active cases, including 51 from the 2,679 tests conducted on February 10. The graphs indicate a possible downward trend in daily numbers, from a high of 125 positive cases found on February 8 when 4,880 people were tested.
About 5,400 students are living on-campus, and 7,000 to 8,000 off campus, UMass officials have said. The rapid rise in COVID-19 cases began soon after the spring semester's start on February 1.

Under the lockdown initially imposed February 7, students were initially directed to stay in their rooms and not go for walks, except to pick up grab-and-go meals and be tested twice-weekly for COVID-19.

"We expect to provide an update to our community on testing trends again over the weekend, including exercise guidelines," Executive Communications Director Edward F. Blaguszewski said via email Friday.
On Saturday, UMass announced that the restriction on outdoor exercise was "lifted immediately" based on its assessment of the week's COVID-19 test results, although students must be masked and maintain social distancing while outdoors.
Blaguszewski did not offer replies to the Amherst Indy's questions about the number of UMass students who are symptomatic, or receiving medical treatment.

All Classes Are Now Remote
All in-person classes have been shifted to remote, and students are barred from working in-person at off-campus jobs, which has resulted in financial hardship for some. "There is a lot of frustration around the decisions that have been made," said Student Government Association (SGA) President Sonya Epstein, a junior who spoke to the Amherst Indy on Thursday. Freshmen who are new to campus this spring and other students find that isolation is taking a significant personal toll. "We've heard from a lot of students … that they are feeling very lost," Epstein said.

The new restrictions will be in place until at least February. 21, and "will only be lifted when public health conditions improve substantially," Chancellor Kumble R. Subbaswamy wrote February 7, when the campus risk level was elevated to "high."
There have been 1,485 COVID-19 cases at UMass since August, including 965 among off-campus students, 395 on-campus, and 125 cases among staff and faculty. As of Friday. February. 12, the Town of Amherst had 556 "active" cases, for a cumulative total of 1,676 since the pandemic began.
Students Urged Not to Return Home Out of Concern for Viral Spread
It is unknown how many students have chosen to leave the dorms and seek other places to live as a result of the lockdown, but the UMass "Frequently Asked Questions" page includes information posted February 12, on how to cancel housing assignments for the spring. UMass has directed students not to return home while the campus risk level is high, "out of significant concern that travel may increase the spread of the virus." If students do move out of dorms, it is "highly unlikely" they could return, the website states, because of the quarantine/isolation time and resources that would be necessary.
Under current conditions, students are not allowed to gather in any spaces, and guests are barred from dorms. All campus athletic activity has been halted. Failure to comply with self-sequestration and other directives violates the Code of Student Conduct, and "will result in disciplinary action, which may include removal from residence halls and/or suspension," Subbaswamy stated.
Theta Chi Fraternity Must Cease All Chapter-Related Functions
Major news organizations including NBC reported this week that over 350 UMass students have been referred to the conduct office for violating social distancing and mask guidelines. Following reports of large parties at the Theta Chi fraternity the weekend before classes began, the fraternity was placed on interim suspension last Monday, pending an investigation by the Student Conduct and Community Standards Office. (See a related article here.) Theta Chi's national chapter has said that videos which appear to show a large, maskless indoor party at the fraternity may be at least a year old.
Blaguszewski said that Theta Chi has been directed to cease all chapter-related functions. UMass Amherst is "very aware" of reports of gatherings at fraternity and sorority houses, and has done "extensive communication and outreach" to them about capacity limits and public health guidelines.
However, UMass does not believe the COVID-19 surge is solely the result of big parties. "Student socialization in large and small groups, both on-campus and off-campus, contributed to the recent increases in cases of COVID-19 at UMass Amherst," Blaguszewski stated.
Theta Chi is a Registered Student Organization (RSO), Epstein said. Any action by the SGA concerning Theta Chi will depend on whether the fraternity is found to have violated UMass policies. RSOs can be moved from active status to frozen, locked or inactive status, for problems such as disciplinary issues, hazing and alcohol use, according to the RSO Handbook.
Additional Security and Residential Life Staff May Be Needed in Dorms
Five residence directors and their families were moved out of the John Adams and Washington towers on campus this week, Epstein said, to provide additional isolation space for students who have tested positive. (The residence directors were given housing at the North Apartments, UMass officials said.) Other students who tested positive are in isolation at Hotel UMass and in the Lincoln Apartments building.
Some large gatherings have taken place inside dorms, according to Epstein, who said that additional security and residential life staff could help reduce off-limits social activity. Meanwhile, students are being urged to speak up about conduct violations. "Students have to be holding each other accountable," Epstein said.
Students Who Can't Work Advised to Seek Unemployment, Grants
Students are directed not to report to jobs that are physically off campus. As a result of the situation, a distance learning center for Amherst Regional Public School (ARPS) children, which is run by Amherst Recreation and employs a significant number of UMass students, had to close. However, ARPS Superintendent Michael Morris said this week that the center anticipates reopening after the public schools' break.
UMass students employed on-campus in essential jobs, including at testing and vaccination clinics continue to work, while remaining students unable to work remotely "should consult with their supervisors as to how their work schedules will be affected," the UMass website states.
UMass created an Employment Assistance Grant program of $300, and is also urging the students to apply for state Pandemic Unemployment Assistance (PUA.) The university is "acutely aware" of the difficulties that its decisions regarding in-person work have presented "to so many of our most vulnerable students," a February 11 UMass press release said.
However, the grant program "does not have sufficient funds to support every student impacted," the SGA and Graduate Student Senate (GSS) stated in a press release Thursday. The state program also doesn't distribute financial assistance rapidly enough for those who need immediate help.
"Students should not be forced to choose between their jobs to pay for basic necessities and facing possible conduct charges, or staying at home and being at risk of housing, food and other financial insecurities," Epstein and GSS President Justin Burch wrote. Epstein reported being in communication with the administration about compensation for students who can't work at their on-campus jobs due to the lockdown.
Package Restrictions Lifted, "Virtual Communities" Are Being Built
UMass had restricted package deliveries to students to one per week for the spring semester, but reversed the decision this week, amid reports of students lacking school supplies or textbooks. (See related article here.)
Meanwhile, Epstein said that student organizations are working hard to promote virtual communities at UMass and offer virtual events, including speakers and game nights, to provide social connections for students.
Overall, the situation is very stressful, with many students scared by the rapid caseload rise, and hoping for a decline that will allow some restrictions to ease. "I've been trying to stay optimistic," Epstein said. "I think we'll be able to get through this."
Editor's Note: This article was updated at 5:25 p.m. on Feb. 13, to state that UMass had lifted its initial prohibition on outdoor exercise.