Planning Board Considers Changes To Rules For Mixed-Use Buildings And Inclusionary Zoning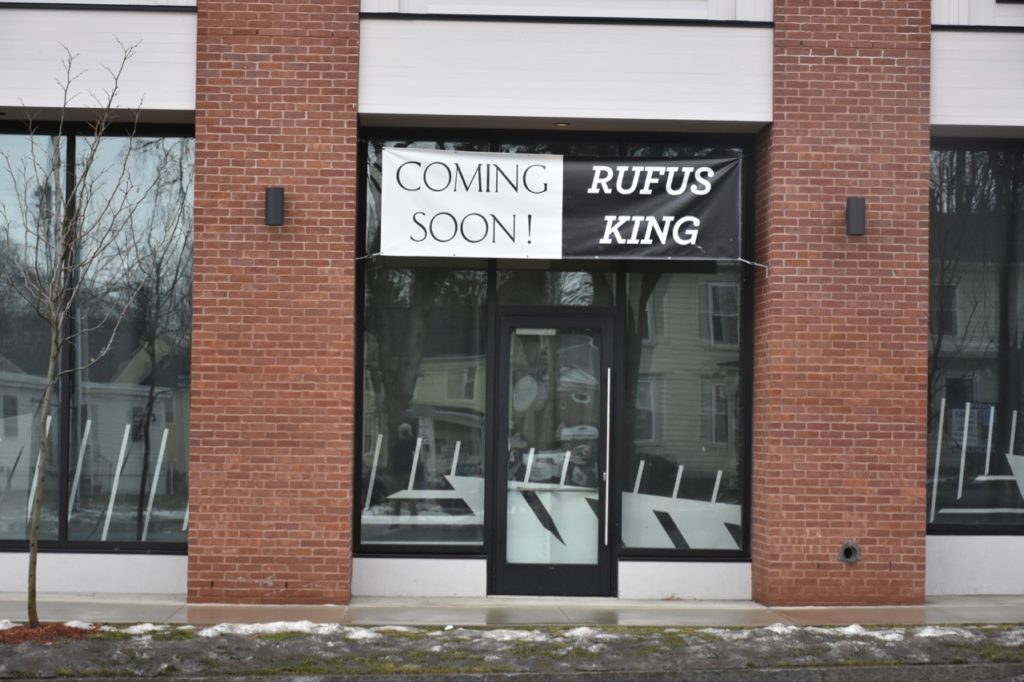 The March 31 Planning Board meeting was held via Zoom and broadcast on Amherst Media Channel 17. A recording of the meeting can be viewed here. 
Participating: All planning board members. Staff: planners Nate Malloy and Chris Brestrup, Building Commissioner Rob Morra,, and Administrative Assistant Pam Field Sadler.
The Planning Board heard presentations from the Planning Department on proposed requirements for mixed-use buildings and inclusionary zoning. These are part of an ongoing effort to refine and update the Zoning Bylaw. The Community Resources Committee (CRC) of the Town Council heard these proposals on March 30. The presentations can be viewed in the Planning Board packet. 
Proposed Mixed-Use Building Standards
Malloy's presentation proposed a revised definition and design guidelines for mixed-use buildings (see Article 3.3 of the Zoning Bylaw). These new standards seek to "provide quality development consistent with the character of buildings, streetscapes and other community features traditionally found in the downtown and village centers of Amherst." A mixed-use building is one that contains commercial space and at least two dwelling units.
In the proposed guidelines, the bylaw would require that a minimum of 50 percent of the first floor be devoted to commercial use, with parking behind the structure encouraged. The guidelines specify that 20 percent of the building footprint be open space in front of the building, allowing for wide sidewalks and green space. Requirements for façade design and rooftop utilities were also proposed. All future plans for mixed-use buildings would be subject to review by the Design Review Board (DRB), regardless of location.
Most comments from board members centered on the proposed design guidelines. Doug Marshall thought the guidelines should apply not only to mixed-use buildings, but to all construction downtown and in village centers. Maria Chao thought the design specifications were overreaching and that although the town needs design guidelines, this is not the right place in the bylaw for them.
Malloy mentioned that the CRC thought the proposed 20 percent percent for open space in front of the building is too much. Janet McGowan pointed out that lot lines aren't always parallel to the curb, so the 20 percent should be measured from the curb. Chair Jack Jemsek wondered if the wider sidewalks could be used as vendor space for small stands. (Morra said that this use would require a permit, but could be added after the fact with a site plan review.)
Brestrup indicated that this is not a final proposal. The CRC will discuss it further and it will probably be brought before the Planning Board again before it is presented to the full Council. Among other things, the CRC has requested improved definitions of "apartment buildings."
Public Comment
The proposed Mixed-Use Building Bylaw was fairly well received by others in attendance. Councilor Dorothy Pam (District 3) noted that the building at One East Pleasant Street is only six feet from the curb at one point. She liked the idea of 20-foot sidewalks with interesting places to sit and for people to interact. Marshall that the curb in front of One East Pleasant could be moved out, if the Town desired, to improve the width of the sidewalk.
Hilda Greenbaum wanted to know how much of the proposed bylaw could be sidestepped by granting waivers to developers, and pointed out that numerous waivers were granted in permitting One East Pleasant. She also noted that the recommendations of the Design Review Board, an important component of the draft plan, are often ignored completely, for example when the mixed-use building currently under construction on Spring Street was approved despite the review board's serious reservations.
There was some concern about what kind of businesses would occupy mixed-use buildings. Planning Board member Andrew MacDougall wanted to specify retail uses, but others noted the decrease in retail businesses in town and were concerned about requirements that would result in empty storefronts.
Ira Bryck said that "although the Town can't dictate use, it can design for desired uses." If we want diversity downtown, we should build housing that appeals to students, and families, retirees.
Gerry Weiss was emphatic in telling the board that "we need to get this right" before allowing more large buildings to be constructed downtown. He endorsed a proposed 180-day moratorium on certain categories of building permits, now before Town Council.
Proposed Revised Inclusionary Zoning Bylaw
Malloy said that although Amherst has an inclusionary zoning bylaw (Article 15), the threshold for requiring that developers provide affordable dwelling units is too high. It exempts mixed-use buildings as well as any building that does not require a special permit for use. 
The Planning Department recommends that the inclusionary bylaw be amended to require that new structures creating ten or more new residential units include at least 10 percent affordable units. (Exceptions would be permitted for traditional subdivisions and institutional use.)
He pointed out that in Amherst, even rents in designated affordable units are too high for people with housing vouchers. As an example, he explained that Aspen Heights on College Street, is marketing its affordable units, but according to the Department of Mental Health, none of its voucher holders can afford to live there.
John Hornik, Chair of the Amherst Municipal Affordable Trust, said that Amherst is becoming a community of older White people. The numbers of families with children and people of color have decreased over the past 20 years. He said this revision of the Inclusionary Zoning bylaw would encourage greater diversity in the town.
Planning Board member Thom Long was concerned about the provision in both the existing and proposed bylaws that allows developers to create compensatory units off-site to fulfill up to 50 percent of the required number of affordable units. He found this provision problematic and pointed out that it could segregate low-income residents, excluding them from the higher rent buildings.
Malloy said that this provision had been recommended by consultants in the formulation of the original bylaw. It has not yet been used. It requires that developers apply for a special permit and justify why they could not provide the units on site.
Another provision allows developers to buy their way out of providing affordable units by giving money (now $19,000 per unit) to the Affordable Housing Trust. This provision has also never yet been used.
Chao wanted to be sure that this bylaw would not discourage large developments that would bring more housing to town, and expressed concern that they might be built in other towns rather than Amherst. She expressed concern about disincentivizing the building of affordable housing here and suggested that the Town hire a consultant to study the bylaw. Jemsek thought that if affordable units are provided in a building, the cost of market-rate units would increase to make up for them.
Hornik responded, "Amherst is a cash cow" for developers, who see a profitable market in building housing for students. He said, "UMASS is not in Easthampton.".
Marshall wondered how long affordable units will remain affordable. Malloy said that recent changes in state law require that they remain so in perpetuity.
McGowan noted that two consultants for the existing bylaw had recommended that 15 percent of units be affordable. She said that the new bylaw is conservative, but she likes that it is simple and clear, and has few loopholes, unlike the current one. She said that developers are getting a lot from the town, and they can provide what the town needs. If the draft bylaw had been in place earlier, she noted, Amherst would now have 40 more affordable units in the recently-built projects.. She pointed out that the Town has given density bonuses and tax credits to encourage creation of affordable units in some projects, such as North Square.
Malloy doubted that a consultant would be worthwhile. This proposed bylaw is not aggressive. As McGowan stated, previous consultants had recommended that it require 15 percent affordable units in all buildings with six or more new units. The Town has considered using an organization such as Way Finders to maintain a waiting list of prospective renters and to be in charge of marketing available units.
Public Comment
Weiss said the original Inclusionary Zoning Bylaw was misinterpreted 12 years ago, and has rarely been applied.  A modification was passed in 2018 by Town Meeting but it has not gone far enough. He said that former Amherst Finance Director Sandy Pooler felt that developers needed to be "made whole" and not risk losing money by providing affordable units. And in response to Chao's assertion that the bylaw might  discourage development, he  told the participants about a conversation he had with the Town Planner in Cambridge, who said  that developers "always say they won't build, if a prescriptive law is passed, but they always build in the end." Weiss also cited the need to specify a mix of income levels so that  housing vouchers can be used.
In response to the concerns about developers, Bryck pointed out that behavior can change, recalling that people resisted using seatbelts and recycling at first, but got used to both of them when they became law. The same would probably hold for requiring inclusionary zoning, he said. Pam noted that the proposed bylaw would add stability to buildings because year-round residents would be more able to occupy them.
Pam Rooney said that, although she supports the proposed bylaw, she is against density bonuses that might allow extra floors or greater lot coverage to be permitted.
Janet Keller said it is important to reduce barriers for people to become members of the community, and that in her work with the Amherst Community Land Trust, she sees how hard people households work to save money and build their credit in order to buy a home. Ken Rosenthal wanted the Planning Department to consider affordable houses, such as condominiums, not only affordable rentals.
Meg Gage said that inclusionary zoning is an important signal of the kind of town Amherst wants to be. "Just because something is profitable doesn't make it a good idea," she said. In the newly-built North Square project, she noted, all of the affordable units were rented "just like that" and families are now living there. "We can afford this," she said.
The measures will be discussed further by the CRC before being presented to the Town Council, and there will be a public hearing, as required for all zoning changes.
The Planning Board will next meet on April 7 at 6:30 p.m.