Second Vote Needed For North Common Redesign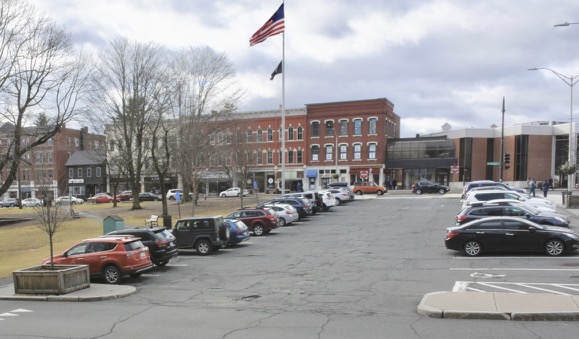 Amherst Town Council failed to hold a required public hearing before voting to adopt a new design for the North Common and consequently will have to  hold a second vote, following a public hearing to be scheduled some time in May. The Council first voted to approve a design for the North Common by a vote of 8-5 on March 22.  The approved design eliminates all parking in favor of creating green space. Some new angled parking spaces would be added on Main Street and the east side of Boltwood.
The designs had been discussed at two Council meetings and in the Town Services and Outreach (TSO) Committee to reduce the four proposed designs to the recommended two—one eliminating half of the North parking lot and the other eliminating the whole lot. Downtown businesses and the Grace Church favored the design with some parking, as did some Councilors whose districts were farther from the center of Town.
In the past week, two Councilors brought it to the attention of Council President, Lynn Griesemer, (District 2) that, according to the Town Council's Public Ways Policy, Section 2c approved May 6, 2019 and amended March 8, 2021, a public hearing is required before approving any permanent change to public parking. . Griesemer asked for an opinion from the Town Attorney, and received a letter stating that a public hearing was indeed necessary. The Attorney, Devin Braun, also said that referral again to the TSO committee or the Town Manager may be required before a final vote is taken if new information is brought forth at the public hearing.
The Public Hearing will be posted to be held before a regularly scheduled Council meeting in May. The proposed design options will be made public, and public comment will be solicited. In the March 22 vote, the design eliminating all parking was opposed by Councilors Cathy Schoen and Sarah Swartz (District 1), Pat DeAngelis (District 2), Darcy DuMont (District 5), and Alisa Brewer (at large).