Boards Weigh In On Designs For Garcia's Restaurant And Pomeroy Lane Intersection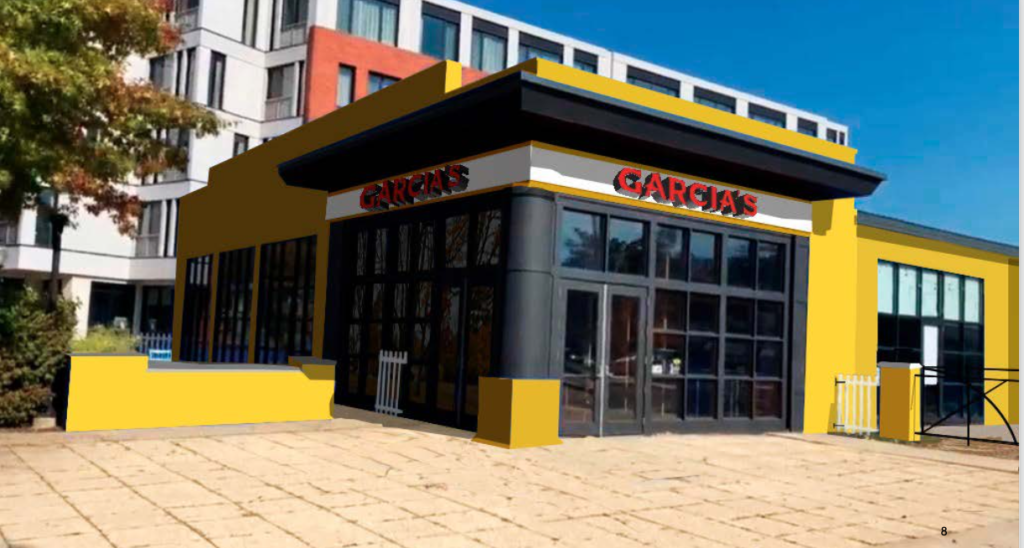 Report On The Meetings Of The Local Historic District Commission And Design Review Board ( April 5, 2021)

The meetings were held via Zoom and were recorded.

Participating:
Local Historic District Commission: All members were present except Peggy Schwartz. Staff Liaison: Maureen Pollock.
Design Review Board: All members were present except Thom Long. Staff liaison: Ben Breger
Design Review Board
Garcia's Restaurant
Garcia's Mexican Restaurant came one step closer to opening in the former Bertucci's site when the Design Review Board approved the design. Comments from the Board concerned plantings to fill in a spot by the main entrance used by former occupants and the paint color. Members liked the yellow against the contrasting dark color but felt it was too bright, though admitting that it was difficult to determine from a photograph the actual intensity. The owner, Federico Mendiola, has other color swatches including a pimento orange which he also liked. The Board suggested that he try the paint on a portion of the building but they left the decision as to what intensity of yellow worked best and did not need to see it again. With this approval in hand Garcia's can apply for a special permit for a Class II restaurant with a full liquor license from the Zoning Board of Appeals.
Pomeroy Lane Intersection
Planning Director Christine Brestrup presented "concept" plans for the Pomeroy Lane/West Street intersection for Board comments regarding the merits of keeping the signaled intersection or replacing it with a round-about. Differing from a rotary, which is designed to move traffic along swiftly at more than 40 m.p.h., the smaller round-about is "traffic-calming." Plans to redesign this busy intersection have been pending for more than 25 years. Problems with the intersection are that it is "car-centric" with no sidewalks or bike lanes, and traffic moves can be backed up during rush hours and school dismissal time for the nearby Crocker Farm Elementary School.
Members noted some of the downsides of a round-about at this location. Even though round-abouts are considered environmentally-friendly because they reduce idling, they can be difficult for pedestrians and bikers to negotiate and may cause serious safety issues for visually-impaired pedestrians. Most members felt that a signaled intersection is more appropriate and will attract customers to this constantly growing village center. A decision must be made by June.
Local Historic District Commission

Garage Replacement At 30 Fearing Street
The Local Historic District Commission approved replacing a garage at 30 Fearing Street in place of one which they allowed to be demolished at an earlier meeting. The new free-standing garage will have stucco siding like the adjacent 1930's house and will have a similar design.